ClearOne Audioconferencing in UAE
Professional Voice Solutions for Any Workspace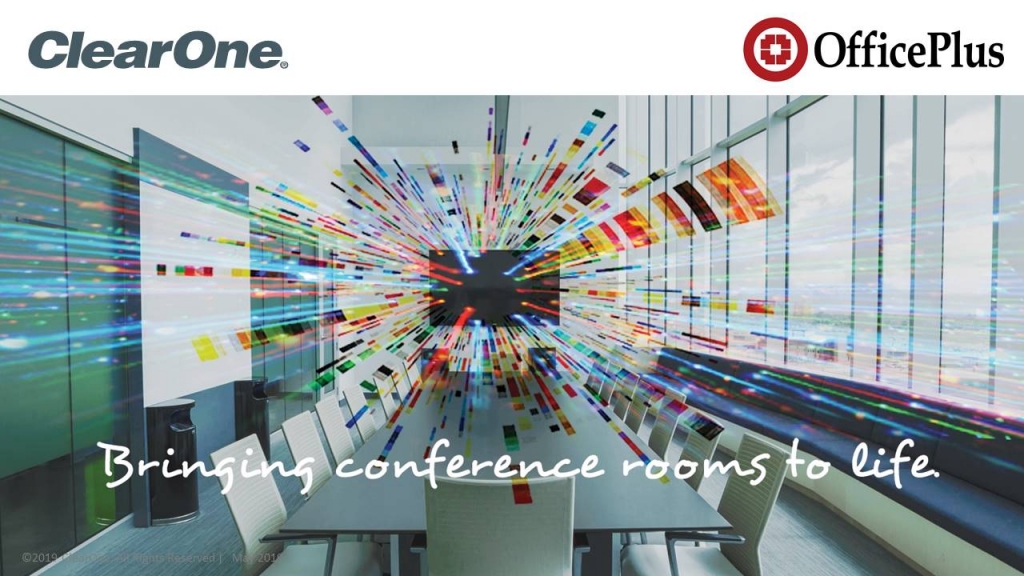 The ClearOne Advantage
Clear, intelligible audio elevates the user experience in any workspace—from cubicles and huddle spaces to executive offices, boardrooms, and auditoriums. When you choose ClearOne, you get the highest-quality audio and visual solutions and a team committed to your success.
HDConference Audio Technology
Clearone's exceptional HDConference audio technology enables fatigue-free and natural-sounding audio using the most advanced audio signal processing for extended conversations. These include:
A variety of professional-grade audio-conferencing choices
Audio beamforming with adaptive steering – think of it as smart switching
Acoustic Echo Cancellation for full duplex audio
Automatic gain and level controls for consistent performance
Equalization for personal audio preferences
Bluetooth connectivity to add mobile devices
ClearOne Audioconferencing in UAE
At OfficePlus we are pleased to represent ClearOne the leading global provider of audio conferencing solutions. The reliability, flexibility and performance of ClearOne's comprehensive solutions save organizations time and money by creating natural environments for effective and efficient personal and group communication. ClearOne audioconferencing in UAE are suitable for a wide range of environments ranging from professional audioconferencing to premium audioconferencing to tabletop audioconferencing to personal audioconferencing. As an official dealer of ClearOne we have helped our corporate customer base in Dubai and Abu Dhabi to enhance collaboration, presentation, distance communications and multimedia experience.
ClearOne audio conferencing in UAE dominates space with over 54% global market share and is a pioneer in audio conferencing technologies. We have developed a broad portfolio of award-winning products that benefit from our innovative leadership in areas such as distributed echo cancellation, automatic microphone mixing, signal routing, equalization, automatic level control, compression, and other advanced audio processing functions.
OfficePlus is the authorized partner of ClearOne audioconferencing in UAE. Our installed base of customer spans across key verticals like HealthCare, Finance, Oil & Gas, Government, Education etc. This is hardly surprising because as an certified reseller of ClearOne our customers are assured of great support and access to the entire product portfolio. The dedicated team at OfficePlus has over a decade's experience in serving the ClearOne audio conferencing in UAE . At OfficePlus we truly understand the challenge of making communication transparent and seamless so that our customers can focus on the business and not the underlying technology.
At OfficePlus we stand committed to providing the highest quality hands-free audio for any environment, analog or VoIP, from personal conferencing on PCs and cell phones, to office desktop conferencing, to large professional conferencing venues such as boardrooms, training centers, meeting rooms, courtrooms and auditoriums.
As a certified reseller of ClearOne our customers are assured of great support, right from product demonstration, installation and ongoing support. So whether your requirement is to enhance the next skype call, Microsoft OCS call, Microsoft Lync Unified Communication call, integration with enterprise telephony systems of Cisco, Nortel or Avaya or use within webconferencing applications like LiveMeeting, Sametime, and WebEx do send in your inquiry at ClearOne@OfficePlusUAE.com. We can surely enhance and simplify your next audio conference meeting.
If you have any requirments for ClearOne audio conferencing products in Dubai, Abu Dhabi, Sharjah or anywhere in UAE, give us a call to +971 2 6767019.
Conference Phones
Conference phones with full-duplex audio that can be daisy-chained for unmatched scalability and control to cover medium to large conference rooms.
MAX EX & MAXAttach EX – Unrivaled audio clarity, room coverage and control for your analog phone system
MAX IP & MAXAttach IP – Link up to four phone units and experience rich voice clarity in any meeting environment. A fully expandable VoIP tabletop conference phone providing unrivaled audio clarity using HDConference® audio processing.
MAX Wireless & MAXAttach Wireless – Enjoy wireless conferencing for small and medium-sized rooms with wireless phones that support secure, encrypted transmission.
Speakerphones
Flexible USB speakerphones, powered by ClearOne's HDConference™ audio, provide unmatched audio clarity and enhance the conferencing experience.
Group Speakerphones – Daisy-chain these speakerphones for exceptional audio coverage and distributed mute and volume controls. CHAT 150 & CHATAttach 150 speakerphones provide unmatched audio clarity and simple connection to multiple devices in executive offices, huddle spaces, and conference rooms
Personal Speakerphones – Upgrade personal collaboration with exceptional speakerphone audio.  Chat 50 Speakerphones with market-leading HDConference® audio technology provide crystal-clear conferencing sound for collaboration from a desktop, on the go, or in small or home offices.
We'd love To Meet You In Person Or Via The Web!