Enhance your Collaboration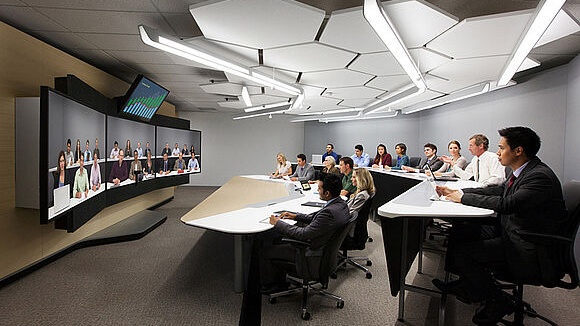 Poly Telepresence in UAE
Make it feel like everyone's together in the same room. The Poly Telepresence in UAE is collection is the gold standard for speakerphone technology that delivers the clearest sound to every participant, in every location.
Polycom Videconferencing in UAE
Our advanced audio innovations allow each conference phone to intelligently adapt to different room environments. So everyone can hear and be heard, even when more than one person talks at a time. You'll eliminate confusion and enhance productivity.
Help teams move faster with desk phones that are intuitive-to-use from day one, feature the industry's best sound quality and are so reliable you'll never need to purchase any other phone.
How do we pack all of that into one device? It's simple, we are continually refining and improving our Open SIP designs and partnering with the world's best providers to deliver the best phones money can buy.
Poly Telepresence in UAE addresses the following Categories in the UC Space
VOICE
Conference Phone
VoIP Desk Phones
VoIP Adapters
Installed Audio
Microsoft Solutions
Voice Accessories
CONTENT
VIDEO
Mobile/Personal
Room
Immersive Telepresence
Collaboration Infrastructure
Microsoft Solutions
Video Peripherals
INNOVATIONS
Poly Telepresence addresses the following products through Office Plus UAE
OfficePlus LLC is the authorized reseller and sales partner for Polycom in the UAE. As part of the Polycom partner program, our customers are offered the complete suite of Polycom Conference Phones including Analog Conference Phones, VoIP Conference Phones, Microsoft Conference Phones & USB Speakerphones.
With our special agreements with Polycom distributors in UAE, we offer Polycom products to our customers at the best price backed by warranty and support packages. Our customers in the UAE are also informed of the latest product launches from Polycom Telepresence in UAE. Our Customers can also experience the demonstration by calling into our full-fledged demo center or having us demonstrate the Poly Telepresence in UAE.
To connect with us drop in an email at Polycom@OfficePlusUAE.com or call us on +971 2 6767019 to speak to our representative.
Poly Videoconferencing
We understand what makes meetings more human – for everyone in the room and those dialing in from around the world.
Poly G7500

Help teams share ideas and express themselves clearly—in Ultra HD 4K.

Poly Group 500

 solution is ideal for conference rooms and other collaborative environments, from small meeting rooms to larger rooms with dual screens

Poly Group 700

 is designed to be integrated into larger meeting rooms, training rooms, classrooms, and other workspaces that have more complex requirements.
Poly Telepresence in UAE
With easy to install,  easy to manage, and easy to use solutions, we help you get the best out of your meetings.
Poly Medialign

delivers the industry's best video collaboration with an innovative, modern design that deploys anywhere in minutes.
Poly RealPresence Touch is a touch interface for Polycom® RealPresence® Group Series and Polycom Immersive Telepresence solutions.
Poly Telepresence Systems
Enhance your collaboration with the cloud-based Poly Lens. Get a clear picture of your devices, with a spotlight on how your spaces are being used.
Poly Studio

Meet Poly Studio, the premium USB video bar built for small rooms and big ideas.

Poly Studio X Series

The Poly Studio X50 video bar delivers radical simplicity in a small, elegant package.
We'd love To Meet You In Person Or Via The Web!