Videoconferencing Rental in UAE
Creating Customer Connections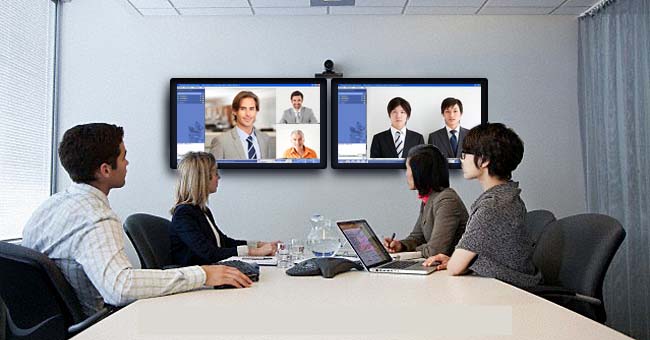 Videoconferencing Rental
At OfficePlus, we are passionate about videoconferencing. To take care of your short term requirements we provide complete video conferencing systems for rent. The videoconferencing system can be installed at your office or alternatively can be installed at a venue like a hotel so that your event requirements are met.
Video Conferencing Rental
Are you looking for Video Conferencing Rental in Dubai ? Office Plus LLC offers full Video conferencing system for rental meeting your demands with no investment. Call anywhere around the world from UAE with our VC Cloud Connectivity Solution that is included and never worry about connectivity problems. During the whole event just provide us with a simple Cable Internet of any type (ADSL, etc.) and have a worry free conference.
The activated Group Call License to enable calling facility with up to 100 other Room Systems in the same call no matter the brand(Polycom, Cisco, Avaya, Lifesize, etc.). We offer you the possibility to integrate with your own AV System (Speakers and Mics) through universal Mini Stereo ports on the Codec: In and Out. On-call engineer to assist you during the whole event via remote access or onsite.
Our inventory of videoconferencing codecs includes the latest high definition systems. So the quality of videoconferencing link with us is significantly higher ensuring a great experience during the video meetings. All of our videoconferencing endpoints are compatible with ISDN and IP networks and can communicate with the leading video conferencing manufacturers like LifeSize, Polycom, Tandberg, Sony, Aethra, Vidyo systems. Since video Conferencing is the corner stone of our business our technical expertise in the field of videoconferencing is unparalleled in UAE which spans for over a decade. You can rest assured that connectivity with us is assured.
Our rental division will assist you by recommending the right videoconferencing system for business meeting, conferences or event. The most important factors when it comes to renting or hiring a videoconferencing system are to understand the environment in which the video meeting is held. So we would like to know the following details related to your videoconference equipment rental needs.
Is your video conference schedule in a board room or a banquet hall?
The total number of people who will be attending the video meeting. These details help us to decide on the camera, microphone, speaker and display requirements that are needed to have the best videoconferencing experience.
The Network that will be used during the videoconferencing rental. Is it IP, ISDN BRI or ISDN PRI? It is important to note that bandwidth is an important factor that determines the quality of video conference call. So if you have higher bandwidth this would translate more speed at which video calls can be made or received resulting in better quality.
Do you need host multipoint video conferencing calls at your end? If YES how many sites will be part of this videoconference?
Our videoconferencing equipment rental services are available throughout the UAE. To make bookings please fill the form below.
Alternatively If you are ready for a videoconferencing rental, just drop in an email at rentals@officeplusuae.com with your specific equipment requirements or just give us a call at +971 2 6767019
| Part Number | Description |
| --- | --- |
| LifeSize Room 220 | Lifesize Room 220 – 10x – Phone, 2nd Generation |