Transmission fast and stable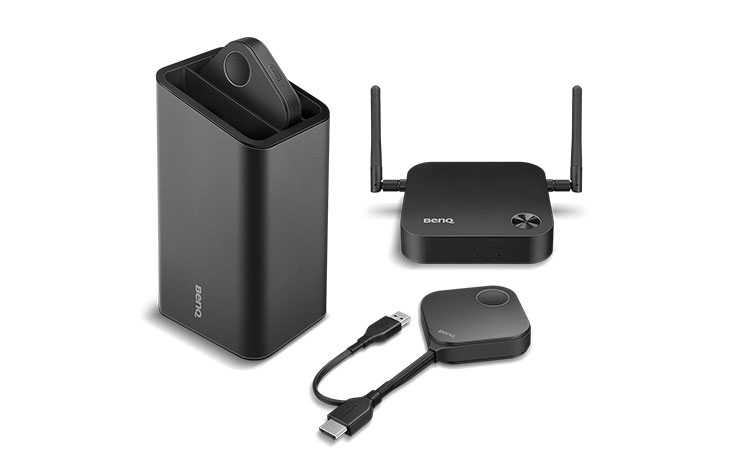 BenQ InstaShow
InstaShow™ Plug & Play – One Button to Start Full HD Wireless Presentations
BenQ's InstaShow™ WDC10 is a unique no software solution that allows multiple presenters to lead from any device. The plug and play operation requires no driver installation and is compatible with any OS or hardware platform*, making it simple to use.
BenQ InstaShow – Overview
Instant Visual Communication and Collaboration for the Modern Enterprise
It's human nature to resist change, which is why new technology can be intimidating. BenQ InstaShow in UAE requires a zero learning curve, plugging right into your daily routine to start sharing instantly. Anyone that tries InstaShow immediately knows how to use it for collaborative presentations. InstaShow is a wireless solution that ushers opportunities in network collaboration without additional facility investment or training. Any business customer, even those without Wi-Fi infrastructure, can deploy InstaShow for employees and visitors to enjoy simple and quick wireless presentations without awkward moments setting up, allowing instant teamwork and immediate results.
Instinctive Collaboration
One Simple Button to Start Presenting
Just a single button, BenQ InstaShow in UAE is an all-hardware solution that simply plugs into the source laptop. It takes mere seconds to start presenting wirelessly. There is no software at all to install, configure or execute, reducing downtime and uncomfortable silences to kick off a productive meeting.
No Software Setup or Maintenance
BenQ InstaShow wireless presentation in UAE significantly enhances corporate efficiency and agility by offering a natural, intuitive way for up to 16 presenters to start presentations without waiting and wasting valuable meeting time. With conference rooms always at a premium in today's enterprise settings, InstaShow significantly boosts corporate productivity by maximizing time and teamwork. Additionally, because it has no software to configure or update and no OS compatibility to maintain, InstaShow is free from IT support.
Join Anytime with Simple Pairing
Pairing the BenQ InstaShow transmit button to a receiver host is equally simple. It just takes holding down the pairing key on the host for five seconds and doing the same on the transmitter for automatic wireless pairing. The host can even be put into pairing mode via web control for cases where it is installed onto a ceiling-mounted projector or otherwise hard to reach location.
Presenter-Controlled Video Mode Switching
Our exclusive InstaVideo function optimizes BenQ InstaShow wireless presentation audiovisual settings to spontaneously switch from clear presentation mode to smooth video mode with stereo sound at the click of a side button. This is all done without IT support, cable clutter or complex software settings. By letting presenters quickly customize displayed content, users can confidently blend text, graphs and charts, pictures and video to create a powerfully effective meeting, all done wirelessly in Full HD.
Powerful Compatibility on Any Platform
Users can freely present on any device with a standard HDMI input, utilizing content from a wide range of devices such as laptops, and Blue-ray/DVD players. Furthermore, InstaShow exclusively offers extended desktop mode in both Windows and OS X to enable the presenter view. Presenters can privately view or take notes, backup data and monitor other applications during the presentation while still delivering an inspirational performance.
BenQ wireless presentation in UAE – Professional and Reliable Performance
Trustworthy Security Protection
AES 128-bit security encryption and WPA2 authentication protocol ensure that corporate intellectual property remains private and safe from tampering or unintended disclosure. The security handshake also assures smooth, high quality wireless streaming of presentations. This allows presenters to share confidential information without the concern for security breaches during the presentation. InstaShow™ also supports HDCP to ensure all content with digital rights management will play smoothly without delay, error messages or interruption.
Optimal Intelligent Resolution Matching
Utilizing EDID, InstaShow automatically configures the source notebook's resolution setting to match the display device pixel-by-pixel for perfectly clear picture quality, whether it is a projector, flat-panel display, monitor or TV. InstaShow users can focus on the meeting rather than adjusting resolution settings or requesting IT support to adjust display timing.
Assurance of All-Hardware Solution
InstaShow provides integrated hardware encoding and decoding, providing peace of mind for assured wireless presentation performance regardless of the operating system capabilities of the source notebook.
OfficePlus LLC is the authorized reseller and sales partner for BenQ in the UAE. As part of the BenQ partner program, our customers are offered the complete suite of BenQ projectors including BenQ InstaShow. With our special agreements with BenQ distributors in UAE we offer BenQ products to our customers at the best price backed by warranty and support packages. Our customers in UAE are also informed of the latest product launches from BenQ's entire range of Laser Projectors and wireless presentation solutions. Our Customers can also experience the BenQ InstaShow by having us demonstrate the BenQ InstaShow wireless presentation in UAE.
To connect with us drop in an email at BenQ@OfficePlusUAE.com or call us on +971 2 6767019 to speak to our representative.