ClearOne Professional audio
Professional Voice Solutions for Any Workspace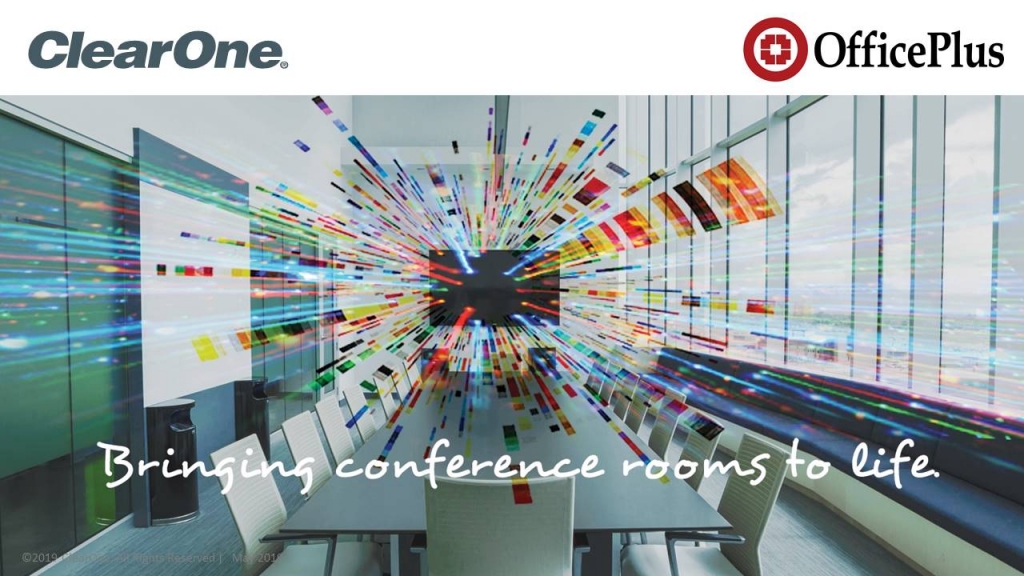 ClearOne professional audio in UAE
ClearOne connects you to the world. ClearOne's easy-to-use, affordable conferencing, collaboration, and streaming solutions deliver an unequalled user experience with unprecedented levels of functionality, reliability, and scalability.
ClearOne audio in UAE
ClearOne is a global company that designs, develops and sells conferencing, collaboration, streaming and digital signage solutions for voice and visual communications.
High quality audio conferencing systems are critical for enabling productive meetings where decisions are made quickly and important issues are addressed.
ClearOne's professional conferencing products are the most sophisticated, feature-rich systems on the market, offering unrivaled audio processing performance.
CONVERGE Pro 2 is the industry's most advanced professional audio DSP platform for conferencing and sound reinforcement applications.
Aesthetics, Performance and Ease of Use
ClearOne's noticeably enhances professional home office aesthetics, performance, and ease of use.
Installs cleanly and discreetly
Smart speaker ready including Alexa, Cortana, Google & Siri
Critical components are placed out of the way
Your professional home office is always business ready
Concentrate on meetings, not on technology
ClearOne professional audio in UAE addresses the following categories in UC Space :
Digital Signal Processors (DSPs)
Microphone
Amplifier
Expander
Environments that ClearOne professional audio systems used in these areas:
Boardrooms
Conference rooms
Training centers
Lecture halls
Courtrooms
Telemedicine facilities
Different Productline available from ClearOne through OfficePlus in UAE
ClearOne Converge Pro 2
ClearOne Converge Wall Mount Bluetooth Expander
ClearOne BMA CT
ClearOne Beamforming Mic Array 2
ClearOne ceiling microphone array
ClearOne Converge Huddle
ClearOne Converge PA460 Amplifier
ClearOne Interact Pro
ClearOne Converge Pro
ClearOne Beamforming Microphone array
OfficePlus LLC is the authorised distributor and sales partner for ClearOne in the UAE. As part of the ClearOne partner program our customers are offered the complete suite of ClearOne professional audio systems in UAE at the best price backed by warranty and support packages.
Our customers in UAE are also informed of the latest product launches from ClearOne professional audio in UAE. Our Customers can also experience the latest ClearOne Professional Audio productline by an onsite live demonstration.
To connect with us drop in an email at ClearOne@officeplusuae.com or call us on +971 2 6767019 to speak to our representative.
ClearOne DSP Mixers
Industry-leading professional audio conferencing systems bring state-of-the-art audio technology to any workspace, from huddle spaces to the largest meeting venues and boardrooms.
CONVERGE Pro 2 is the industry's most advanced professional audio DSP platform for conferencing and sound reinforcement applications.
ClearOne Converge Huddle is a professional audio DSP mixer that addresses today's AV needs in huddle rooms and similarly-sized meeting spaces.
ClearOne INTERACT Pro is  a professional audio conferencing solution with true stereo echo cancellation at an unbeatable price.
ClearOne Microphones
Professional microphones that complement DSP mixers for uncompromised audio pickup and sound performance in any setting.
ClearOne BMA CT –  is a patented ceiling tile beamforming mic array that blends in perfectly with today's drop ceilings.
ClearOne Beamforming Mic Array 2 –  is the professional-grade microphone array with beamforming and adaptive steering, ClearOne's next-generation Acoustic Echo Cancellation and Noise Cancellation.
ClearOne Ceiling Microphone Array – enhances any conferencing application which demands high-quality audio.
ClearOne Amplifier
A powerful and compact high-efficiency Class-D audio power amplifier. ClearOne amplifier is optimized to work with ClearOne's DSP mixers, and it also works with any third-party mixer.
We'd love To Meet You In Person Or Via The Web!