Effortless Like Never Before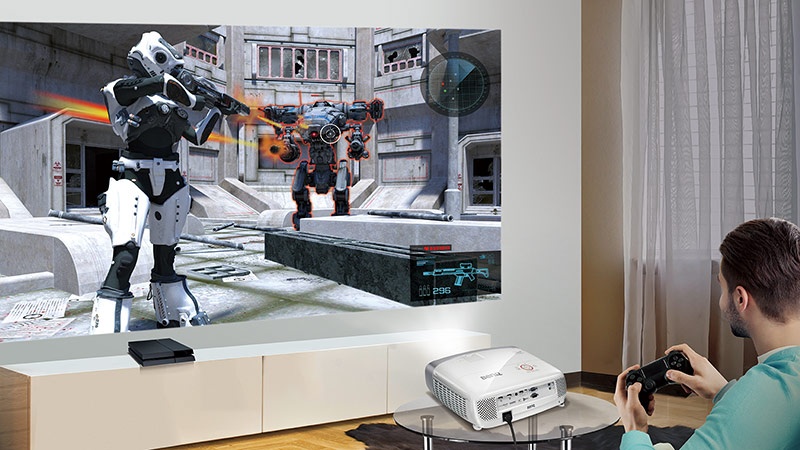 BenQ Projectors in UAE
Standing for "Bringing Enjoyment 'N' Quality to Life", the BenQ brand continues to involve in the areas of life that matter most to people – that have the greatest impact on the enjoyment and quality of LIFE today. We put people at the heart of Design and Technology.
BenQ Projectors in UAE – Overview
At BenQ, we believe that design and technology function best when they serve the real needs and wants of people. This concept is at the core of our people-driven approach to design and technology. We listen to business professionals, families, doctors and patients, teachers, and even gamers, continually asking questions to understand how we can best use design and technology to serve their needs. We also carefully research and analyze the marketplace and market trends, observing how technologies and products can be put to use most effectively while advancing design and technology to better fit people's ever-changing lifestyles and needs. From here, we determine how we can further improve the quality of people's lives and help them to achieve their goals.
Because using design and technology to serve the real needs and wants of people matters.
Bringing Enjoyment 'N' Quality to LIFE
LIFE defines the four areas of business that BenQ operates within today. These include: lifestyle, business, healthcare, and education.
The four letters of the word LIFE represent our involvement in these four areas:
Living Better
People are living better with BenQ digital lifestyle devices.
Increasing Efficiency
Businesses are increasing efficiency with the help of BenQ professional electronics, software and energy management solutions.
Feeling Healthier
People of all ages are feeling healthier thanks to BenQ medical services, medical equipment, and healthcare products.
Enhancing Learning
Educators and administrators are enhancing learning with the help of BenQ projection systems.
BenQ addresses the following categories in UC Space
Projectors
Monitors
Interactive Flat panel/ Signage
Wireless Presentation
BenQ Projectors in UAE addresses the following types of projectors in UAE:
BenQ Laser projectors
BenQ Smart projectors
BenQ lamp projectors
BenQ Entertainment projectors
BenQ Home projectors etc
Environments that BenQ UC products are used in UAE:
Office
Huddle Room
Small Room
Medium Conference Rooms
Large Conference Rooms
Board Room
Multi-purpose Room
Classroom or Training Room
Video carts
Auditorium
OfficePlus LLC is the authorized distributor and sales partner for BenQ in the UAE. Our customers in UAE are also informed of the latest product launches from BenQ Projectors in UAE.
Our Customers can also experience the demonstration of BenQ projector solutions in UAE by calling into our full-fledged demo center.
To connect with us drop in an email at BenQ@OfficePlusUAE.com or call us on +971 2 6767019 to speak to our representative.
BenQ DLP Projectors
BenQ Home Cinema Projector – brings the thrill of watching big screen visuals to your living room.
BenQ Entertainment Projector – BenQ Home Entertainment lets you enjoy the merry times together in ambient living room light. Never miss an exciting moment!
Portable Projector – BenQ projectors bring incredible projection freedom for you.
BenQ Smart Projectors in UAE
BenQ Business projectors –  BenQ business projectors produce high brightness for effective teamwork, collaboration, and note-taking.
BenQ Interactive Classroom projector – BenQ Interactive Classroom Projectors empower collaborative learning with pen or touch annotation and short / ultra-short throw projection based on brilliant laser or lamp light sources.
BenQ Laser Projectors
Installation Projector- BenQ's professional installation projectors are designed to deliver ultra-high image quality in corporate meeting rooms or exhibition spaces of all sizes.
BenQ Large Venue projectors – BenQ Large Venue Projectors feature ultra-high brightness from BlueCore Laser and dual-lamp light sources, superb image quality, and enduring performance for mass public spaces, with powerful installation flexibility for museums, stages, and gala events.
We'd love To Meet You In Person Or Via The Web!