ClearOne Conference Phone
Tabletop Conference Phones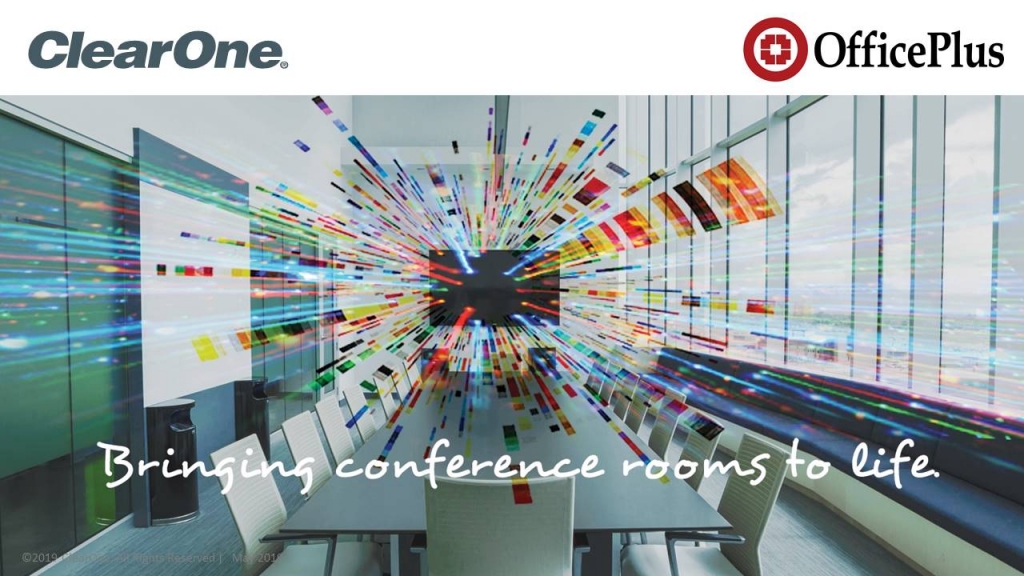 ClearOne Conference Phones in UAE
ClearOne conference phones are needed when a group of people wants to use the phone at the same time. A typical phone with speakerphone functionality has the ability to deliver far-end audio and able to pick personal voice however it's not enough to be used in a group meeting.
At OfficePlus LLC we have a wide variety of conference phones that works with Analog telephone line & SIP (open SIP) standard conference phones. They are also available in wired and wireless. The trend of USB audio and Bluetooth is on.
ClearOne Conference Phones in UAE
ClearOne Conference phones with full-duplex audio that can be daisy-chained for unmatched scalability and control to cover medium to large conference rooms. At OfficePlus we are pleased to represent ClearOne the leading global provider of Conference Phone solutions. The reliability, flexibility, and performance of ClearOne's comprehensive solutions save organizations time and money by creating natural environments for effective and efficient personal and group communication.
ClearOne addresses the following Categories in the Audio conferencing Space:
ClearOne Speakerphones in UAE
Personal Speakerphones
Group Speakerphones
ClearOne Conference Phones in UAE
Envi0ronments that ClearOne audio conferencing products are used in UAE:
Huddle spaces
Conference rooms
Different Productline available from ClearOne through OfficePlus in UAE
OfficePlus LLC is the authorized distributor and sales partner for ClearOne in the UAE. As part of the ClearOne partner program, our customers are offered the complete suite of ClearOne Conference Phones in UAE that can be plugged into the USB port at the best price backed by warranty and support packages.
Our customers in UAE are also informed of the latest product launches from the ClearOne Conference phones in UAE division. Our Customers can also experience the Audio conferencing device demonstration by calling into our full-fledged demo center on any of the commonly available UC calling platforms like Skype, Skype for Business, Web-Ex, LifeSize Cloud or Collaborate Space.
To connect with us drop in an email at ClearOne@OfficePlusUAE.com or call us on +971 2 6767019 to speak to our representative.
ClearOne Wired Conference Phone
A fully expandable VoIP tabletop conference phone providing unrivaled audio clarity using HDConference audio processing.
ClearOne Max Ex provides premium, full-duplex audio in small conference rooms as a single unit and in larger rooms by linking up to four phone units for unrivaled microphone and loudspeaker coverage.
ClearOne Max IP delivers unrivaled audio clarity and room coverage for your VoIP phone system.
ClearOne Wireless Conference Phone
ClearOne has the industry's first dual-phone wireless tabletop conferencing system.
Max Wireless and Max Attach Wireless provides expanded wireless coverage for medium-sized conference rooms, delivering clear, full-duplex audio through two complete phone units – all with no cables in the way
We'd love To Meet You In Person Or Via The Web!