Choose the Version that is Right for You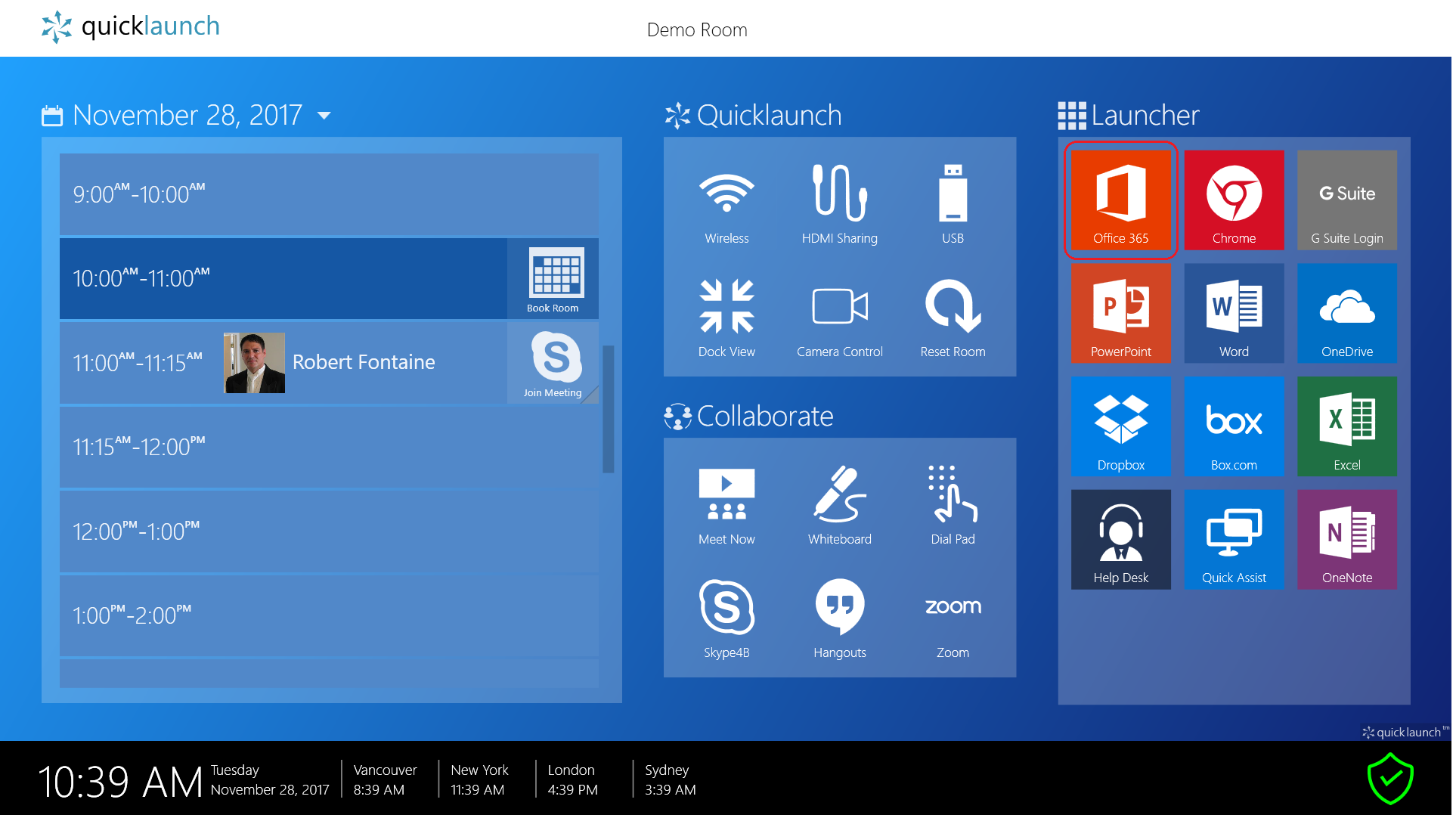 Quicklaunch
The fastest and most secure way to launch and control any meeting regardless of the conferencing provider.
Quicklaunch in UAE – Overview
The Quicklaunch is a one-touch collaboration software that ties together everything you need for a meeting into one compact, easy-to-use software.
Quick Launch is separated into four main sections for applications that can be customized and branded for any company. The first area is collaboration, where IT administrators can create tiles for various video conference providers such as Bluejeans, GoToMeeting, Lifesize, Vidyo, WebEx of Zoom. The next area includes camera QuickLaunch integrations for camera control (works with HuddleCamHD and PTZOptics cameras) and Intel Unite wireless presentation software. The next tile includes "Utilities" for room management including the popular "reset room' feature. The reset room button allows users to reset the room to a known state and erase any private data that has been cached during the meeting. Quick Launch has been built for enterprise security compliance and allows for advanced customization of privacy features.
Quicklaunch in UAE – Features
Save over 10 minutes per meeting
The consistent user interface, join, easy in-meeting functions
Increase meeting productivity by 25%
Launch applications, access data and content, group email, and more!
Reduce meeting space costs
Reduce training costs
Reduce travel costs
Multiple platform support, ease of use, fully integrated, remote user experience
Secure applications, Data, PC Optional lock-down mode
Room reset, customizable lockdown settings, delete temporary files, history, cache
Reduce IT support requirements
Designer Mode, in-room monitoring support, tickets
Centralized configuration
Import, export, themes, and actions
Quicklaunch addresses the following Products in UC Space:
OfficePlus LLC is the authorized distributor and sales partner for Quicklaunch in UAE. Our customers in the UAE are also informed of the latest product launches from Quicklaunch.
Our Customers can also experience the Quicklaunch demonstration by calling into our full-fledged demo center.
To connect with us drop in an email at Quicklaunch@OfficePlusUAE.com or call us on +971 2 6767019 to speak to our representative.
We'd love To Meet You In Person Or Via The Web!