Work better, together. Webex is your one place to call, message, meet.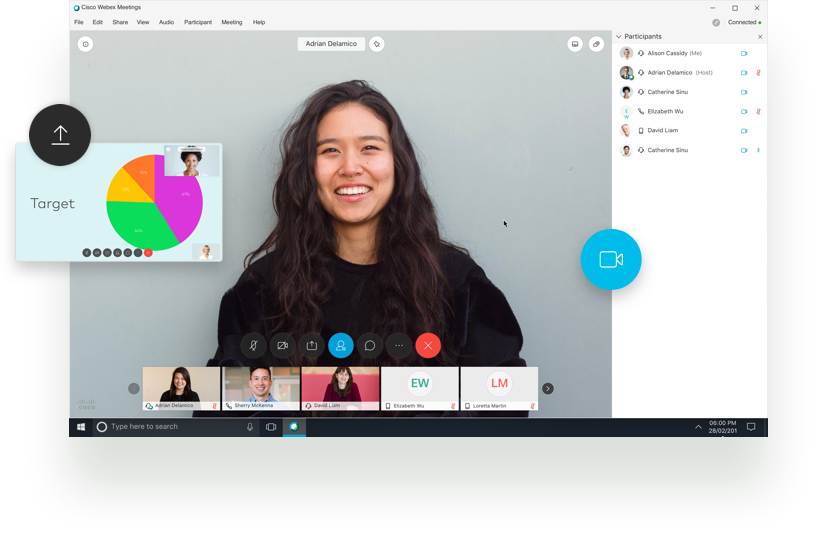 Hassle-free video conferencing that just works.
Feel like you're there.
Build stronger relationships with video-first experiences that bring you face-to-face.
Elevate your brand.
Showcase the best you with video conferencing that is simple but powerful.
Be anywhere, reach anyone.
Increase your business reach, while reducing office and travel expenses.
Cisco Webex in UAE – Features
Webex Meetings
Webex meetings helps you to Bring everyone together, face-to-face, with video conferencing and screen sharing on any device.
Webex Teams
Webex Team collaboration happens all in one place, from anywhere with messaging, file and screen sharing, video meetings, and whiteboarding.
Webex Calling
Secure, easy-to-manage cloud calling that's simple to set up and even goes with you on the road.
Webex Devices
Conference equipment that brings high-quality video, whiteboarding, and AI to your collaboration rooms.
Webex works well with others
Integrate with the apps you love to use everyday, so your work remains connected.
Meet face to face. Wherever you are.
Video conferencing is as simple and seamless as meeting in person. With the Webex mobile app, you can meet absolutely anywhere. Hosting is easy and joining is easier—simply click on your link to join. You can even learn about the people you're meeting for the first time, with instant access to participants' background and company.
Get on the same page.
Seeing is believing. Share your screen so everyone can view your document, spreadsheet, or application. Hosts can record the meeting so others can get up to speed later.
Invite anyone or everyone.
Schedule and join meetings from where you work. Everyone you invite can join your online meeting, no matter how they're connecting, even guests. Big crowd? Not a problem. You can meet with up 100,000 people.
Click or tap to join.
Easily start or join using Productivity Tools. Now you can join a video meeting with no dialing in. You can also host or join without a download by using the Webex app.
Host events. Train your team. Support your customers.
Webinars
With Cisco Webex Events, host interactive webinars with HD video and broadcast-quality audio for audiences up to 3,000.
Webcasting
Host large-scale virtual events for up to 100,000 participants with expertise from Cisco Webex Webcasting to ensure it's a success.
Online learning
Lead live or on-demand trainings with Cisco Webex Training. Host breakout sessions, testing and automated grading with over 1,000 participants.
Remote support
Cisco Webex Support provides efficient customer service with remote desktop control and live chat.
Call us today (
+971 2 6767019
) to know more informations about Cisco Webex in UAE. Send in your enquiry at 
webex@OfficePlusUAE.com
 to simplify your meeting or conference room bookings.