An immersive visual experience,any size,anywhere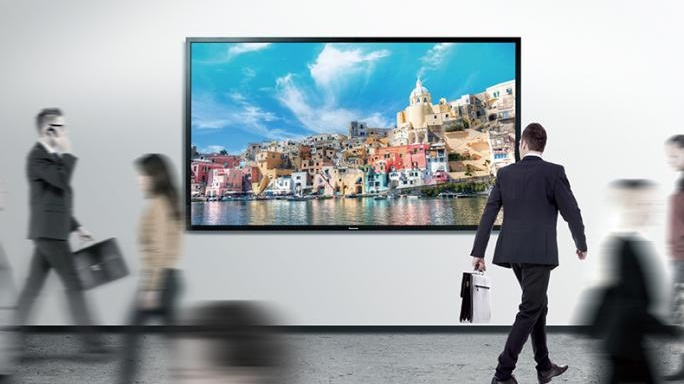 Professional displays in UAE
In the professional AV industry there is often a lot of questions relating to installing Professional displays in UAE (Commercial Displays) as opposed to Consumer Displays in a commercial environment. Many people are not fully aware of all the differences between the two.
Professional displays in UAE – Overview
You have likely seen consumer TVs everywhere you look. You have probably also seen commercial TV displays – you just might not have thought much about it. So what should you choose for your business when you would like to add digital signage for your lobby or other areas, install a TV in a break room, plan for TVs to be used in hospitality applications like hotels and motels, or install a large-screen display or touch display for use in a conference room? What is the difference between a consumer and a commercial or professional display? Are all commercial displays the same, and how do you choose the best one for your application? These are some of the questions that you may have. Let's talk about them. Of course, if you still have questions, feel free to reach out to us and let us help you determine what makes the most sense for your needs.
Ok, first let's take a look at some general application differences. Typically, a consumer TV is designed just for viewing TV so that you can take it home and watch consumer video formats such as TV, Blu-ray, streaming services, etc. and they are normally used a few hours a day, and that's about it. The uses for a display in a commercial setting vary widely. Examples include a display in a lobby or waiting area displaying TV programs, digital signage, way-finding kiosk, menu board at a restaurant where there can be higher temperatures, more exposure to dust, grease, etc., or perhaps a large-screen touch enabled display for use in a conference room. The amount of time they are typically on vary anywhere from a couple hours a day to 24/7 and 365 days a year. Because of this, there a wide variety of commercial displays built for different types of applications; most professional displays have quite a few differences, so let's take a look at some of the key differences.
Digital signage or dynamic signage is a process of displaying information's or adverts through audiovisuals in public places. They are centrally controlled distribution systems that enables digital contents to be played back through high contrast screens. Digital signage can be used to pass any information ranging from adverts, drama, documentary, flight, jingles, sports, weather forecast, and lots more. They can be used to relay one category of information or a wide range of categories.
Office Plus deals with the following brands of professional displays in UAE
At OfficePlus LLC we have wide variety of Professional Displays in UAE with different size and model varieties. They are also available in different brands like Viewsonic, CTOUCH, Samsung, BenQ etc . OfficePlus is the direct distributor in this region for these brands.
Call us today (+971 2 6767019) for more information. Send in your enquiry at Displays@OfficePlusUAE.com.
Professional Displays in UAE
The displays are designed thrive year-round outside, without worry of extreme hot or cold temperatures.
Samsung Professional Displays cut through the clutter to deliver best-in-class UHD resolution as well as intelligent UHD upscaling all in a slim design.
Signage Displays in UAE
Digital signage is a revolutionary step taken in the field of advertising. The ease of increasing content capabilities beyond static posters and videos to changeable content is one of the vital advantages of digital signage solutions UAE.
ViewSonic Professional Displays are Great for grabbing attention in busy, high-traffic areas
Logic Professional Signage Displays have become a one stop solution for all commercial places, whether it is a small restaurant, shopping mall, garment shop or a travel agency.
We'd love To Meet You In Person Or Via The Web!