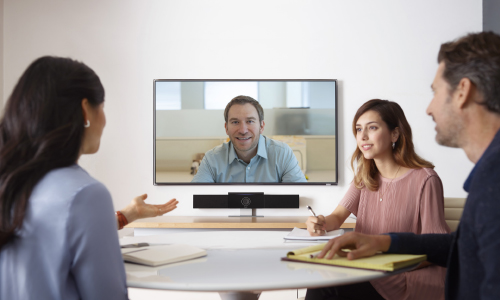 Poly Conference Camera in UAE
Poly offers different cameras. Poly Cube (pictured top left) is Zoom certified, including smart group frames, 4k sensor and 5x zoom. This camera is suitable for small meeting rooms in combination with the RealPresence Group Series and Poly Trio. Poly EagleEye IV 4x and 12x cameras (top right), compatible with the Group Series, have a digital sensor to display details of the speakers.
Polycom Conference Camera in UAE
Moreover, these cameras have a viewing angle of 65 degrees, which can be expanded to 85 degrees with the lens adapter. The MSR Camera is a very good USB PTZ camera for larger meeting rooms. The bottom right is the EagleEye Mini, a USB camera for a meeting with one or two people. Polycom offers a series of EagleEye cameras for both the Polycom HDX and Polycom RealPresence group series video systems. These cameras are designed for varying environments and applications. From small huddle rooms to desktops, to surgical suites to customized board rooms, the Polycom EagleEye cameras deliver incredible video quality to all participants.
Poly conference camera in UAE addresses the following products in UC Space
OfficePlus LLC is the authorized distributor and sales partner for Poly in the UAE. As part of the Polycom partner program, our customers are offered the complete suite of Polycom conference camera in UAE at the best price backed by warranty and support packages.
Our customers in UAE are also informed of the latest product launches from Poly conference camera in UAE. Our Customers can also experience the latest Polycom conference camera product line by an onsite live demonstration.
To connect with us drop in an email at Poly@officeplusuae.com or call us on +971 2 6767019 to speak to our representative.
Polycom Conference Camera
Enhance your video collaboration experience with hands-free camera operation powered by the latest in face-recognition and speaker tracking technologies
Eagle-eye IV provides the ultimate experience to optimize video collaboration.
Eagle-eye Producer changes the face of video collaboration through the automatic, intimate framing of meeting participants.
Polycom USB Camera
Simple USB connectivity gets up and running fast, keeps the technology in the background and you in the foreground, and provides a business-class solution to everybody working in a conference room.
Poly Studio, the premium USB video bar built for small rooms and big ideas.
Eagle-eye IV USB delivers a premium HD video experience with a pan, tilt, and 12x optical zoom capability suitable for medium and large-sized meeting spaces.
Eagle-eye Cube solves this problem with a wide field-of-view and more importantly, intelligent group framing.
Eagle-eye Mini has been engineered for business-class performance in personal and small room environments.
Eagle-eye Director II takes video conferencing to the next level so meeting participants no longer have to worry whether they're in camera view or stop the conversation to grab the remote control.
We'd love To Meet You In Person Or Via The Web!