Collaboration,Wireless Presentation and Knowledge sharing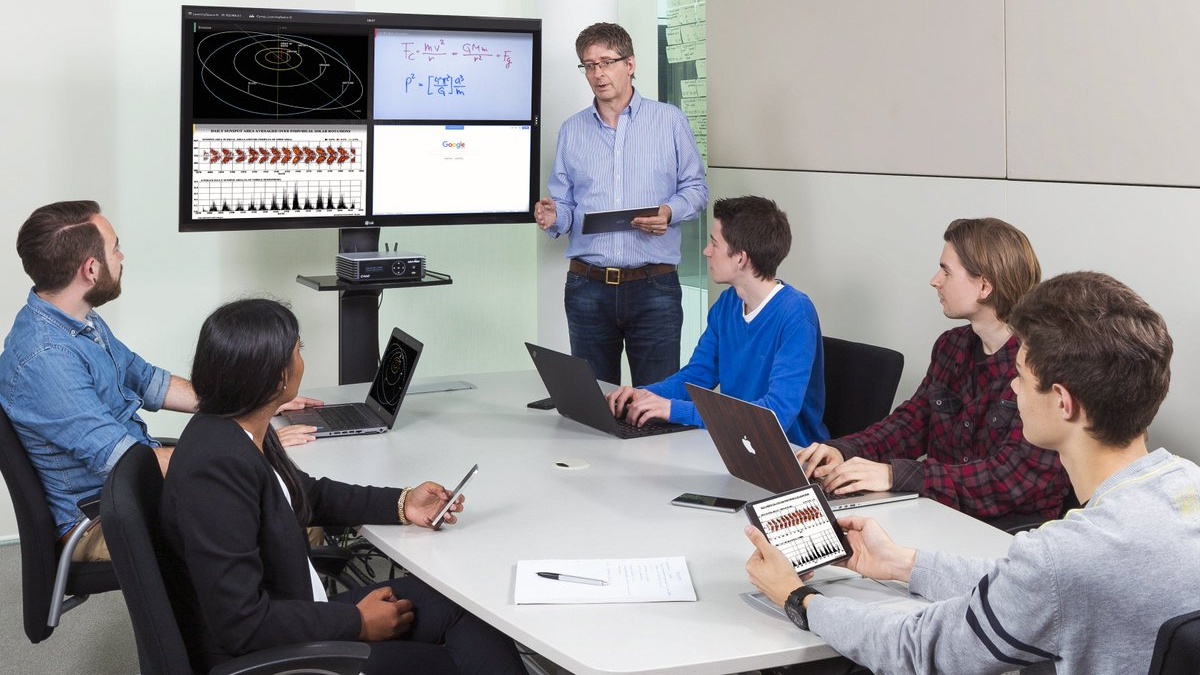 WolfVision Cynap in UAE
The demand of presenting wirelessly from computer to smartphones (BYOD) are increasing at rapid pace, to cope up with this demand enterprise IT is looking forward for innovative ideas. We at OfficePlus LLC always constantly bringing the latest technologies available in the market to meet the demand.
WolfVision Cynap in UAE
We have an array of wireless presentation devices to choose from which will be suited to small, medium and large size meeting rooms. User can present using Chromecast, Miracast, Airplay etc from laptop, desktop or smartphones.
WolfVision Cynap in UAE transforms your meeting room into an outstanding wireless BYOD presentation environment, with professional level features such as best-in-class security encryption, and remote administration capability.
Featuring outstanding mirroring performance, plus plug and play setup, we offer a robust and flexible solution, with free firmware updates included, perfect for classrooms, meeting rooms, and huddle spaces of all sizes – where high quality, easy-to-use, wireless screen sharing onto a central shared screen is the primary focus.
With 4K output resolution, up to 4 windows on-screen display, plus app-free, dongle-free, support for all iOS, iPadOS, Android, Windows, Chrome OS, and macOS devices, this powerful wireless BYOD solution is an exciting compact addition to the Cynap wireless presentation in UAE
WolfVision Cynap in UAE addresses the following Categories in the Wireless Presentation :
Environments that Cynap Wireless presentation products are used in UAE:
Huddle spaces
Conference rooms
Meeting Rooms
OfficePlus LLC is the authorized distributor and sales partner for WolfVision Cynap in UAE. As part of the Cynap partner program our customers are offered the complete suite of Cynap wireless presentation products at the best price backed by warranty and support packages.
Our customers in UAE are also informed of the latest product launches from Cynap Wireless presentation division. Our Customers can also experience the Cynap Wireless presentation demonstration by calling into our full fledged demo center.
To connect with us drop in an email at Cynap@OfficePlusUAE.com or call us on +971 2 6767019 to speak to our representative.
WolfVision Cynap Wireless Collaboration
For larger active learning classrooms and collaboration spaces where multiple workstations are required, Cynap and Cynap Core systems can be integrated together into existing network infrastructure, providing a truly scalable, high-performance AV over IP collaborative working and learning environment.
WolfVision Cynap  plays, displays, records, and streams all commonly used media simultaneously, providing incredible versatility during meetings, lectures, and collaborative sessions.
Cynap Pure A compact BYOD wireless presentation solution, perfect for classrooms, meeting rooms, and huddle spaces of all sizes, where high quality, easy-to-use, wireless screen sharing onto a central shared screen is the primary focus.
WolfVision Cynap Wireless Presentation
Cynap Pure Pro With all the functionality of Cynap Pure, plus some of the features of our larger Cynap systems, Cynap Pure Pro is an ideal add-on to existing infrastructure, providing high-performance wireless screen mirroring, combined with a range of popular collaboration tools.
Cynap Core provides the core essential features you need for effective collaboration, and wireless presentation.
We'd love To Meet You In Person Or Via The Web!