Efficiently manage your workspaces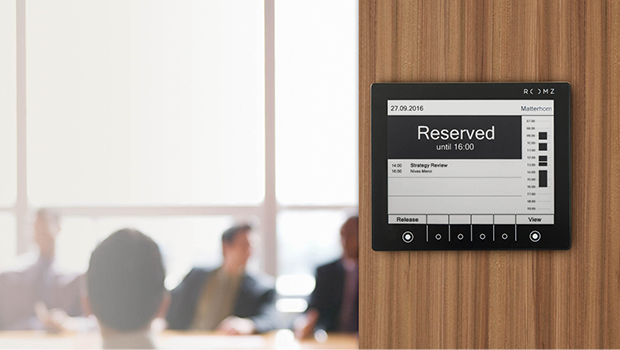 ROOMZ DISPLAY
Provides the right information at the right time, right where it's needed. Puts an end to guesswork in corridors and lets employees book available spaces right on the spot.
Roomz Display in UAE – Overview
Optimize the use of your meeting rooms
Once installed, you will immediately start using your shared spaces more efficiently. The ROOMZ Display will eliminate guesswork in corridors by displaying the accurate booking
information right in front of the meeting room. Furthermore, its configurable touch panel allows you to book and release meeting rooms on the spot.
Roomz Display in UAE – Features
EASY INSTALLATION
No cabling, no drilling – the ROOMZ Display is installed within minutes and connects using your existing WiFi network.
INTUITIVE USER INTERFACE
The user interface has been conceived so that any user can quickly read and interact with the screen.
EVERY DETAIL MATTERS
A ROOMZ Display can be installed in a shared workspace or in a corridor of meeting rooms. The combination of a paper-like display inside a quality aluminium frame makes it a very elegant solution.
ADAPTED FOR ALL SURFACES
Whether it is on glass, wood or stone, a ROOMZ Display fits perfectly and easily
CLEAR AND PRECISE INFORMATION
Easily check the reservation status of a room, the name of the organizer, the title and duration of upcoming meetings.
MULTI-VIEW
Switch from daily to weekly view.
TOUCH PANEL
The main functions enable you to interact with the ROOMZ Display. To book a room spontaneously, simply press Book and then select the duration. To release a room, press Release and
then Confirm.
Roomz Display in UAE – TECHNICAL SPECIFICATIONS
Format
Dimensions: 196 x 165 x 7 mm (7.71 x 6.49 x 0.27 in)
Weight: 400 g (14.11 oz)
Screen
Size: 7.8"
Resolution: 1872 x 1404 pixels
Communication
WiFi: 802.11 a/b/g/n (2.4 GHz and 5 GHz), WEP,
WPA2-Personal (PSK), WPA2 Enterprise (802.1x)
Security: HTTPS, fully secured TLS 1.2 and SSL 3.0
Connectivity: WLAN, NFC
Battery
Capacity: 8000 mAh, 3V
Autonomy: 2 – 4 years (depending on usage)
Operating
Operating Temperature: 0 – 40° C
Operating altitude: max. 2000 m
OfficePlus is the authorized partner of Roomz in UAE. Our installed base of customer spans across key verticals like HealthCare, Finance, Oil & Gas, Government, Education etc. As a certified reseller of Roomz display, our customers are assured of great support, right from product demonstration, installation, and ongoing support.
office plus has direct support from both the manufacturer and distributor which results in a great flow of technical and sales inputs which can help the customer immensely in choosing the right product.
To connect with us drop in an email at Roomz@officeplusuae.com or call us on +971 2 6767019 to speak to our representative.