Enterprise video conferencing with real-time messaging and content sharing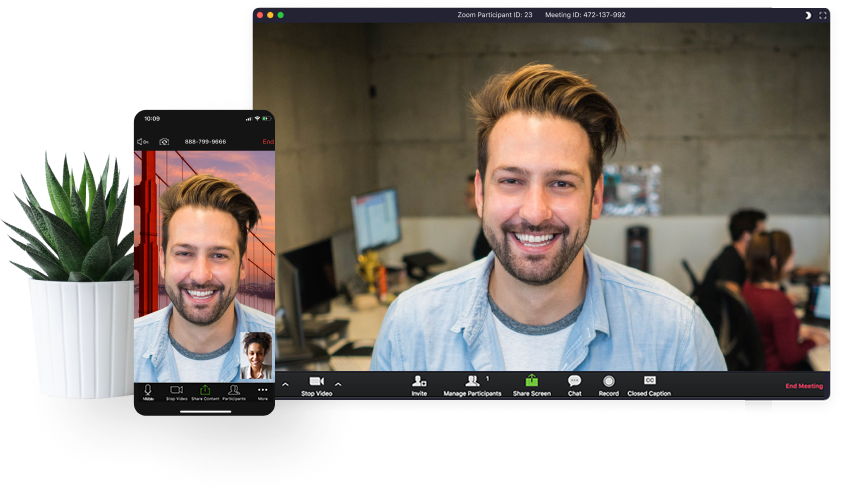 Zoom Meetings in UAE
Zoom offers Simplified video conferencing and messaging across any device
Unparalleled usability
Enable quick adoption with meeting capabilities that make it easy to start, join, and collaborate across any device.
Join anywhere, on any device
Zoom Meetings syncs with your calendar system and delivers streamlined enterprise-grade video conferencing from desktop and mobile.
Powerful meeting security
Robust security settings for hosts and admins ensure disruption-free meetings.
Zoom meeting in UAE
Zoom is a cloud-based video conferencing service you can use to virtually meet with others – either by video or audio-only or both, all while conducting live chats – and it lets you record those sessions to view later. Over half of Fortune 500 companies reportedly used Zoom in 2019.
When people are talking about Zoom, you'll usually hear the following phrases: Zoom Meeting and Zoom Room. A Zoom Meeting refers to a video conferencing meeting that's hosted using Zoom. You can join these meetings via a webcam or phone. Meanwhile, a Zoom Room is the physical hardware setup that lets companies schedule and launch Zoom Meetings from their conference rooms.
Zoom Rooms require an additional subscription on top of a Zoom subscription and are an ideal solution for larger companies.
Zoom meeting in UAE – Overview
Focus on your zoom meeting – click record to leave the note taking to Zoom's auto-generated, searchable transcripts.
Share and play videos with full audio and video transmit without uploading the content
Look meeting-ready with Virtual Backgrounds and Touch Up My Appearance
A thoughtful approach to mobile meetings
Today's mobile professionals need to be able to work and video conference wherever they are. Zoom Meeting in UAE for mobile provides the same great experience that you'd expect from the desktop client and more.
Turn on Virtual Backgrounds and select the image of your choice (iPhone 8+ required)
Share your screen and co-annotate
Use Safe Driving Mode or Apple Carplay (iPhone only)
Zoom conferencing in UAE – Zoom Chat
Integrated persistent messaging streamlines workspace collaboration across the desktop and mobile clients.
Create private or public groups
Share files and search content
Seamlessly start a meeting
Keep participants engaged
Power interactive Zoom meeting in UAE from any location.
Enable polling and Q&A
Allow virtual hand-raising
Track engagement with Attention Indicator
Zoom meeting in UAE -Administration and remote assistance made easy
Centralized IT management and remote assistance simplifies deployment and support.
Track utilization and usage trends
View version distribution
Assign granular permission settings (account, group, and user level)
Expanded Audio
Add audio options for everyone.
Free VoIP and toll-based dial-in for 55+ countries
Global toll free and call-out
Dedicated dial-in numbers
Zoom app downloads
The desktop app is available for Windows and macOS, while the mobile app is available for Android and iOS.
All the apps let you join a meeting without signing in, but also let you sign in using a Zoom account, Google, Facebook, or SSO. From there, you can start a meeting, join a meeting, share your screen in a Zoom Room by entering the meeting ID, start Zoom Meetings, mute/unmute your mic, start/stop the video, invite others to the meeting, change your screen name, do in-meeting chat, and start a cloud recording.
If you're a desktop user, you can also start a local recording, create polls, broadcast your Facebook live on Facebook, and more. In other words, the desktop app is more fully featured, although, if you're a free user, you can still get a lot of mileage from the mobile app.
Call us today (+971 2 6767019) for more information. Send in your enquiry at Zoom@OfficePlusUAE.com to simplify your meeting or conference room bookings.