SMART CONFERENCE PHONE FOR ANY MEETING SPACE.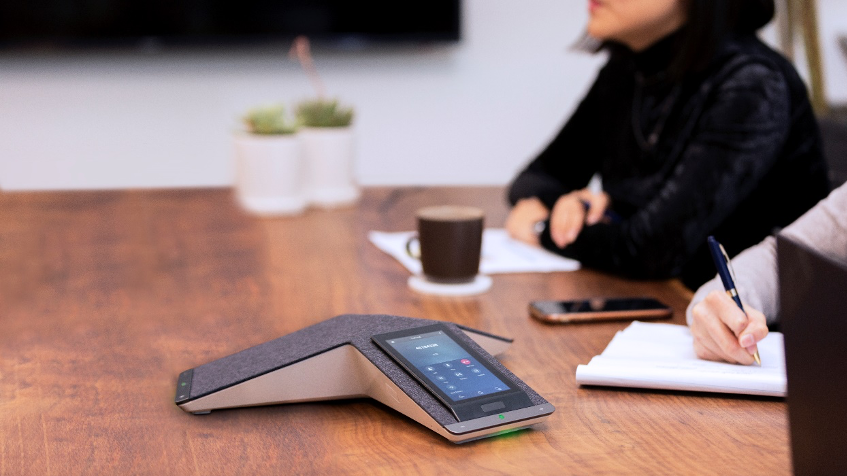 Poly conference phones in UAE
Polycom Conference phones are needed when a group of people wants to use the phone at the same time. A typical phone with speakerphone functionality has the ability to deliver far-end audio and able to pick personal voice however it's not enough to be used in a group meeting.
Poly Conference Phones in UAE – Overview
With Polycom conference phone, manage conference room calls with simple, productivity-enhancing phone features. Polycom Conference phones available in a range of models and costs offer stylish and sophisticated phones for just about any size conference room. Polycom's the best sound in the industry make every group meeting sound great.Polycom's range of conference phones offers solutions for each and every situation.Probably the most traditional strategy for conducting video or Audio conferencing is like gathering onsite colleagues in the conference room and calling other participants on the telephone. Good quality of sound is important to keep concentration levels high and meetings efficient
At OfficePlus LLC we have wide variety of conference phones works with Analog telephone line & SIP (open SIP) standard conference phones. They are also available in wired and wireless. Trend of USB audio and Bluetooth is on.
Poly conference phones address the following Categories in the UC Space
VOICE
Conference Phone
VoIP Desk Phones
VoIP Adapters
Installed Audio
Microsoft Solutions
Voice Accessories
CONTENT
VIDEO
Mobile/Personal
Room
Immersive Telepresence
Collaboration Infrastructure
Microsoft Solutions
Video Peripherals
INNOVATIONS
Different Polycom Conference Phones available through Office Plus UAE are:
OfficePlus LLC is the authorised reseller and sales partner for Polycom in the UAE. As part of the Polycom partner program our customers are offered the complete suite of Poly conference phones in UAE including Analog Conference Phones, VoIP Conference Phones, Microsoft Conference Phones & USB Speakerphones.
With our special agreements with Polycom distributors in UAE we offer Polycom products to our customers at the best price backed by warranty and support packages. Our customers in UAE are also informed of the latest product launches from Poly conference phones in UAE. Our Customers can also experience the demonstration by calling into our full fledged demo center or having us demonstrate the Polycom devices at your office.
To connect with us drop in an email at Polycom@officeplusuae.com or call us on +971 2 6767019 to speak to our representative.
Poly Trio Conference Phones
No matter what size your conference room, you demand exceptional quality—video and audio that makes it feel like you're in the same room.
Poly Trio C60 plays nicely with everyone, delivering native experiences on your favorite collaboration platforms.
Poly Trio 8800 Polycom Trio can easily transform conference rooms of all sizes into collaborative, hassle-free team environments.
Poly Trio 8500 Polycom Trio 8500's incredible adaptability allows you to use it as a conference phone
Poly Trio 8300 Poly Trio 8300 transforms any small conference hub into a smart collaboration space with the touch of a button
Polycom SoundStation Conference Phones 
People in the same meeting aren't always in the same room—but with Poly conference phones, they'll feel like they are.
Poly SoundStation2, Polycom's next-generation conference phone, is redefining the standard for business-quality voice conferencing
Poly SoundStation IP 6000 is an advanced IP conference phone that delivers superior performance for small to midsize conference rooms.
Poly SoundStation IP 5000 conference phone delivers remarkably clear conference calls for small conference rooms and executive offices.
Poly SoundStation Duo delivers the most robust standards-based interoperability in the industry.
Poly Unified Conference Stations
Unified Conference Station delivers a unique HD voice and video conference call experience for Skype for Business
Polycom CX5100 provides remote participants with 1080p HD active-speaker video camera that automatically tracks the flow of conversation.
Polycom CX5500 unified conference station brings the powerful collaboration capabilities of voice, video and content together through a unique 360-degree panoramic view of the entire room
Polycom Voice Station 300 is a small conference phone ideally suited for desktops, offices, and other small rooms
We'd love To Meet You In Person Or Via The Web!