Incredibly rich color on slim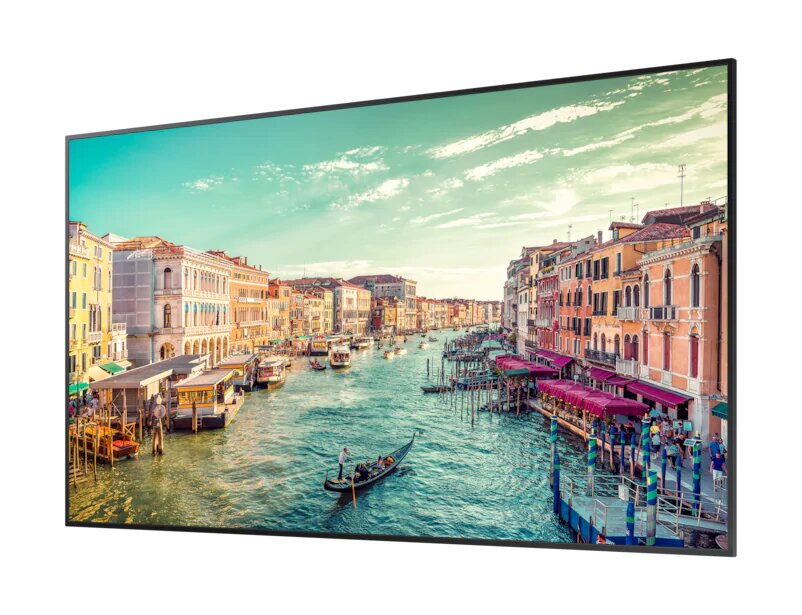 Samsung QMR Series
Professional Display QMR Series 75"
Share
4K Picture Quality
UHD Upscaling
Noise Reduction
Samsung QMR series – Overview
Time to upscale your display
Samsung's new QMR series displays cut through the clutter to deliver best-in-class UHD resolution as well as intelligent UHD upscaling and rich flawless colors with Dynamic Crystal Color all in a slim design.
Incredible 4K picture quality
Samsung's new QMR series provides ultra high-definition 4K resolution, creating lifelike images with sharper picture quality than ever before.
Samsung QMR series in UAE -Features
Intelligent UHD upscaling
Samsung's cutting-edge intelligent UHD upscaling technology performs edge restoration and noise reduction to deliver perfect UHD picture quality even with lower resolution content. This "future-proof" solution ensures best-in-class picture quality regardless of the original content resolution.
Dynamic Crystal Color
The QMR series features Dynamic Crystal Color, using 10 bit processing for flawless color expression, allowing viewers to enjoy a wider spectrum of colors up to one billion shades.
HDR+ functionality converts standard definition content to HDR quality for sharper contrast and more vivid colors.
Perfect view with non-glare display
The QMR series features reliable, non-glare panels that provide better visibility from all angles, anytime of day allowing businesses to deliver accurate information 24/7 in locations where clear and accurate information is crucial such as airports and commuter stations.
Slim and symmetrical design
The QMR series features an all-new symmetric design simplifying wall mounting and ensuring installation is seamless. The flat back and slim depth will ensure a display that will stand the test of time.
Clean cable management
With QMR's new cable guide feature, retailers are able to tuck away messy cables from view. This allows for a clean and visually-appealing shopping expeience for customers, even when the back of the display is visible.
WiFi and Bluetooth built-in
Built-in WiFi and Bluetooth allow for more personalized and interactive services as well as simplifying how businesses showcase content. Whether it's to make networking simpler or enabling interactive beacon technology in-store, Samsung QMR series Signage displays in UAE help businesses move into the future of retail.
OfficePlus LLC is the authorized distributor and sales partner for Samsung in the UAE. Our customers in UAE are also informed of the latest product launches from Samsung Display solutions
Our Customers can also experience the demonstration of Samsung QMR series in UAE by calling into our full-fledged demo center.
To connect with us drop in an email at Samsung@OfficePlusUAE.com or call us on +971 2 6767019 to speak to our representative.