Barco Wireless Conferencing
Plug into Simplicity, Tap into Amazing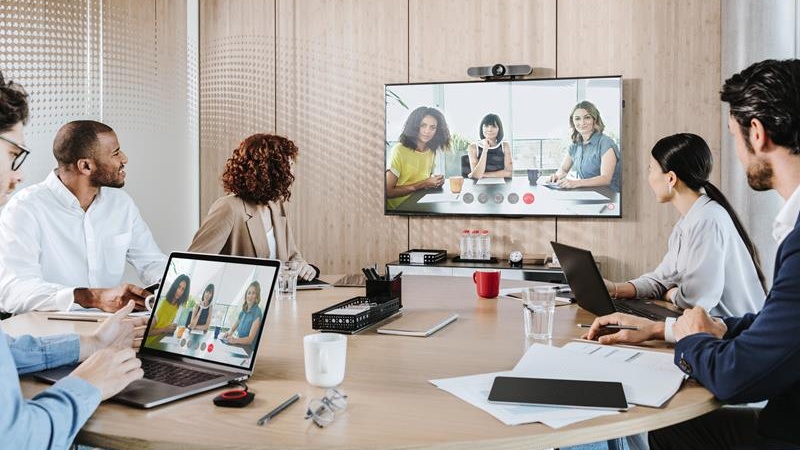 Barco Wireless Conferencing in UAE
Intuitive teamwork, hassle-free sharing, central management, and robust security are the hallmarks of ClickShare. With our wireless conferencing systems and collaboration tools, you can 'bring your own meeting' from anywhere. You can connect with any device and start to collaborate with remote colleagues and virtual attendees with a minimum of fuss. You give hybrid collaboration solutions in your workplace.
You bring video conferencing to a whole new level in any meeting room, huddle room, or conference room. Unlike a traditional conference system, a video conference in any meeting space with ClickShare Conference is simple, easy, wireless.
Barco wireless conferencing in UAE
For closer collaboration and immersive conferencing experience, Barco ClickShare wireless conference systems have just what your business needs. Connectivity is at the heart of modern business, and with wireless conferencing technology from ClickShare you can link up with colleagues in a matter of seconds. Intuitive teamwork, hassle-free sharing, and robust security are the hallmarks of ClickShare. With Barco wireless conferencing in UAE, you can 'bring your own meeting' from anywhere and with any device, allowing you to link up with remote colleagues with a minimum of fuss. The ClickShare Conference range takes conferencing to an entirely new level. The way we work is being fundamentally transformed, and our increasingly digitized lifestyles are being reflected in how we work alongside one another. Barco wireless conferencing in UAE allows you to collaborate much more closely and efficiently with colleagues scattered across different locations.
What is ClickShare Conference – and how can it benefit your business?
Simple, easy, wireless. That's how ClickShare Conference shares the apps from your laptop on the meeting room display. ClickShare Conference wirelessly connects them to the cameras, speakers, and mics in the room for better hybrid meetings.
Our range of wireless conferencing solutions is designed to work wirelessly with your existing video conferencing system and a wide range of USB audio-visual peripherals like mics, soundbars, and cameras. There's no hassle of physically connecting them to your laptop using cables and adapters. This makes hybrid meetings as intuitive and straightforward as face-to-face meetings.
Start wireless conferencing with the ClickShare App or ClickShare Conferencing Button for the next virtual meeting on your agenda. Touch or touchless, Button or App. It's your way of working, your decision, matching your digital workplace strategy. What's more, ClickShare Conference systems come with a range of outstanding and useful features.
Barco ClickShare addresses the following Categories in the Wireless Conferencing :
Barco CX 20
Barco CX 30
Barco CX 50
Environments that Barco ClickShare products are used in the UAE:
Huddle spaces
Conference rooms
Meeting Rooms
OfficePlus LLC is the authorized distributor and sales partner for Barco in the UAE. As part of the Barco partner program, our customers are offered the complete suite of Barco ClickShare products at the best price backed by warranty and support packages.
Our customers in UAE are also informed of the latest product launches from the Barco wireless conferencing in UAE and Wireless Presentation in UAE division. Our Customers can also experience the Barco ClickShare wireless presentation or Barco ClickShare Wireless conferencing demonstration by calling into our full-fledged demo center.
To connect with us drop in an email at Barco@officeplusuae.com or call us on +971 2 6767019 to speak to our representative.
Wireless Conferencing for Small Meeting Rooms
Transform small meeting rooms and huddle spaces into inspiring conference facilities.
ClickShare CX20 provides encouraging creative innovation through seamless wireless conferencing, ClickShare CX-20 can make meetings more inspiring and more productive.
Wireless Conferencing for medium-sized conference room
Seamless, wireless conferencing for small to medium-sized meeting and conference rooms
Barco ClickShare CX 30 can turn small to medium-sized meeting rooms into an innovative meeting and conference facilities
Wireless Conferencing for Board Rooms
Bring premium wireless conferencing and remote collaboration to your meeting rooms and boardroom
Barco ClickShare CX 50 allows you to use your preferred conferencing tool and start a meeting from your device, providing an immersive conferencing experience with exceptional audio-visual quality
We'd love To Meet You In Person Or Via The Web!