ClearOne Professional Cameras
Professional cameras to meet a wide range of applications and environments.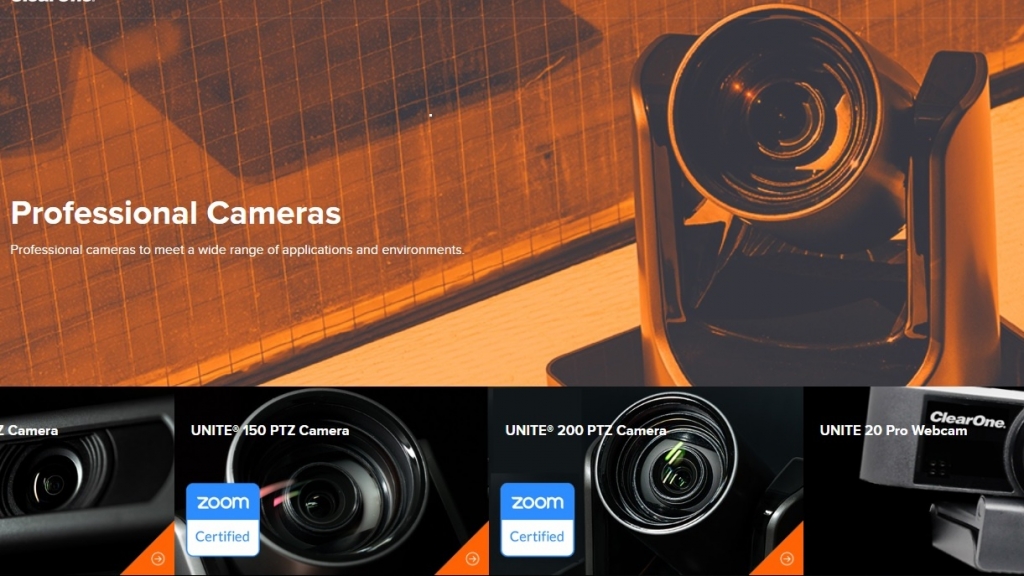 ClearOne Cameras
Start meetings with ease using this professional-grade plug-and-play USB PTZ camera for conference rooms.
ClearOne USB camera in UAE
AT OfficePlus LLC, our wide range of ClearOne USB Camera in UAE ensures your videoconferencing experience is simply the best. We have USB web cameras for every budget, be it using with applications like Skype on the PC or Laptop or using with applications like Microsoft Lync or Cisco WebEx in the Conference room. We even have ClearOne PTZ camera webcamera that can be Panned, Tilted or Zoomed so that your meeting attendees can sit on their favorite seats even while attending a Cisco WebEx meeting. Our range of USB full HD or 1080P web cameras are fully compatible with professional video conferencing desktop based applications like LifeSize Desktop Connections, Vidyo Telepresence, Polycom CMA desktop , Polycom Real Presence Desktop, Zoom, LifeSize Cloud or even Cisco Jabber.
So whether you want fixed lens USB web cameras for use on laptops or USB PTZ HD cameras for use in meeting rooms we have solutions that can meet your every budget. Since we offer free live demonstration of the ClearOne USB camera in UAE over the internet we are able to address your requirement in Abu Dhabi, Al Ain, Ajman, Dubai, Fujairah, Ras al-Khaimah, Sharjah, and Umm al-Quwain.
ClearOne addresses the following Categories in the UC Space:
Camera
Microphone
Amplifier
Expander
Environments that ClearOne USB Camera in UAE are used in:
Boardrooms
Conference rooms
Training centers
Lecture halls
Courtrooms
Telemedicine facilities
Available models for ClearOne camera in UAE 
OfficePlus LLC is the authorized distributor and sales partner for ClearOne in the UAE. As part of the ClearOne partner program, our customers are offered the complete suite of ClearOne Conference Camera products at the best price backed by warranty and support packages.
Our customers in UAE are also informed of the latest product launches from ClearOne Conference Camera division. Our Customers can also experience the latest ClearOne Camera productline by an onsite live demonstration.
To connect with us drop in an email at ClearOne@officeplusuae.com or call us on +971 2 6767019 to speak to our representative.
Versatile professional-grade PTZ camera with USB, HDMI, and IP connections. Full HD 1080p video, 12x optical zoom, and wide-angle capability to capture all participants in the room with advanced noise reduction.
Professional-grade HD USB PTZ camera for conference rooms, webconferencing, UC applications and more.
Enjoy an ultra wide-angle field-of-view for visual collaboration in huddle spaces at an affordable price. Combine 120 degree field-of-view and digital zoom with your own choice of mic and speaker to enjoy an exceptional collaboration experience.
Pro Webcam with 120° ultra wide-angle field-of-view for use on your PC or laptop display to provide a full 1080p30 image.
We'd love To Meet You In Person Or Via The Web!