HuddleCamHD Audioconferencing
Wireless USB Speakerphone Solutions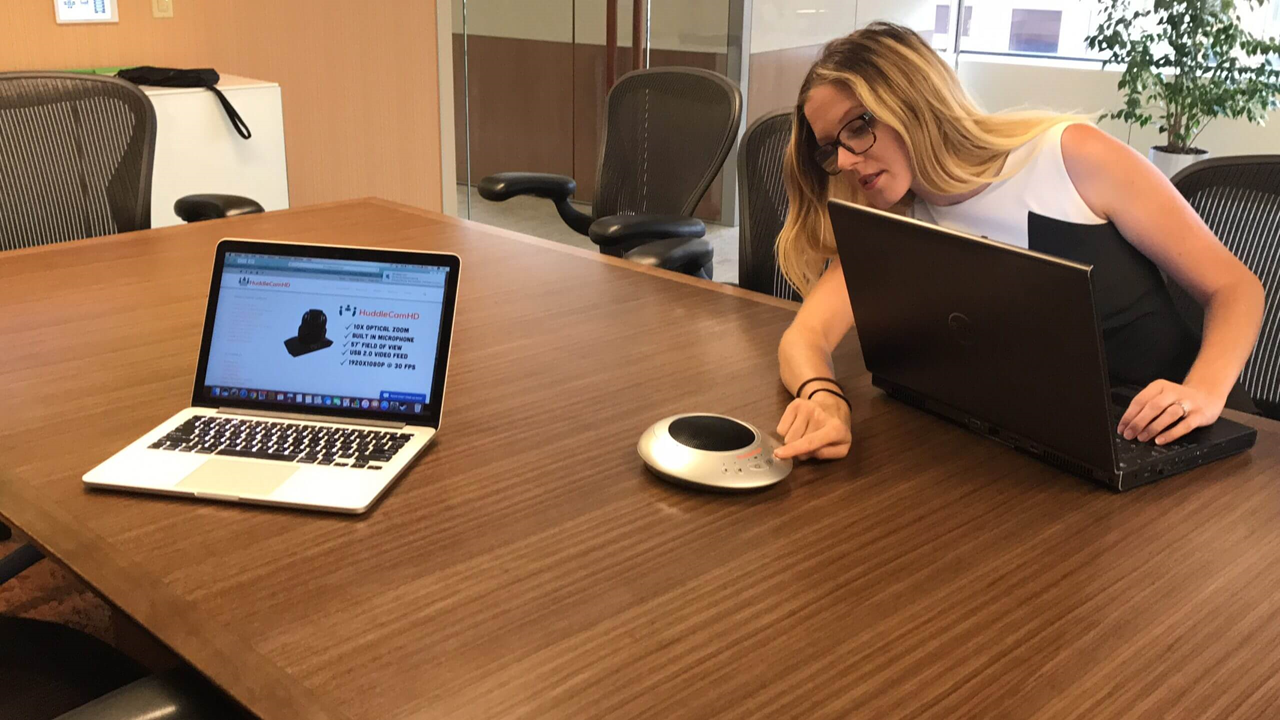 HuddleCamHD Speakerphones in UAE
This 2.4GHz HuddleCamHD Speakerphone is ideal for high-end audio/video conferencing. It is perfect for any software-based conferencing system. This palm-sized, portable device features plug-and-play functionality without the need for custom driver installation.
HuddleCamHD audioconferencing in UAE helps us to use external speakers, amplifiers, and/or headphones. USB and 3.5mm audio ports are provided
HuddleCamHD Speakerphones in UAE
Complete Systems
HuddleCamHD audioconferencing in UAE now offers complete USB-based video conferencing systems designed to work with any online meeting software such as Skype for Business, GoToMeeting, WebEX and Skype. The HuddleCamHD Team and Team Plus systems are easy to install kits designed for video conferencing, live streaming, webinars, and more.
Each system includes a fully configured Intel NUC computer with Windows 10, 8GB of Ram, a 256 Solid State Hard Drive and 4 USB 3.0 ports. These systems include everything you need for installation including all the necessary mounting hardware and installation manuals.
CABLING
HuddleCamHD Speakerphones in UAE offer all of the cables you will need for your next video project with the exception of USB extension systems. We do offer a Wireless USB 2.0 extension system called the USB2Air although please note this product has a 25-foot maximum distance and only works with Windows computers.
HuddleCamHD wireless speakerphone cabling options are available in increments of 25 feet up to 100 feet. If your project requires longer cabling you can contact our team for a custom quotation. So whether you want speakerphones for use in huddle rooms or to use in a conference room, we have solutions that can meet your every budget. Since we offer a free live demonstration of the Wireless speakerphones over the internet we are able to address your requirement in Abu Dhabi, Al Ain, Ajman, Dubai, Fujairah, Ras al-Khaimah, Sharjah, and Umm al-Quwain.
HuddleCamHD in UAE addresses the following Categories in the UC Space:
Cameras
Speakerphones
Wireless Presentation device
Camera Mounts
Camera Controllers
HuddleCamHD wireless speakerphone is used in:
Office
Huddle Room
Small Room
Medium Conference Rooms
Large Conference Rooms
Board Room
Multi-purpose Room
Classroom or Training Room
OfficePlus LLC is the authorized distributor and sales partner for HuddleCamHD in the UAE. As part of the HuddleCamHD partner program, our customers are offered the complete suite of HuddleCamHD audio conferencing in UAE  at the best price backed by warranty and support packages.
Our customers in the UAE are also informed of the latest product launches from the HuddleCamHD Speakerphone division. Our Customers can also experience the latest HuddleCamHD speakerphones by calling into our office for a live demonstration.
To connect with us drop in an email at HuddleCamHD@officeplusuae.com or call us on +971 2 6767019 to speak to our representative.
Wireless USB Chatpod for Video Conferencing
The HuddlePod Air is the ideal wireless USB conference phone. With a full-duplex Omni-directional microphone the HuddlePod Air takes advantage of a direct 2.4GHz wireless USB receiver which is much better than Bluetooth.
Dual Wireless Speakerphones
The HuddlePod Air2 Duo provides high-quality audio conferencing without cumbersome wires draping over your conference room floor. With 256 ms echo cancellation and full-duplex audio conferencing, your conference calls will sound crystal clear.
We'd love To Meet You In Person Or Via The Web!