See the big picture without the borders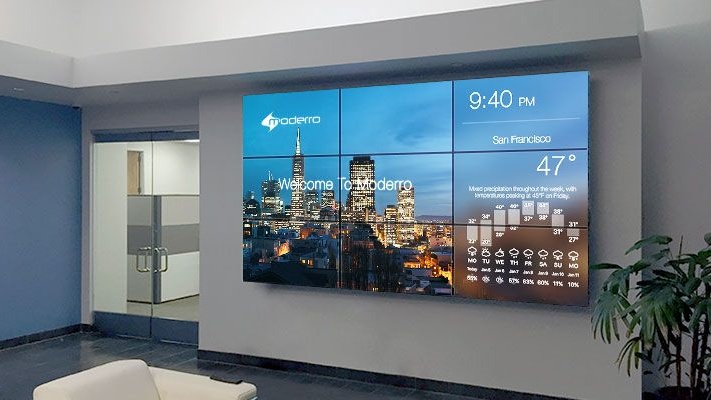 Video Wall in UAE
video wall display solutions are always the highest quality available on the market. Available in different technologies (LCD, direct view LED, LED rear-projection and RGB laser rear-projection), sizes and resolutions, our portfolio always contains the perfect solution for your application. Our dedicated software and a range of professional services make sure you get the most out of your video wall..
Video Wall in UAE
Two retail applications of video walls particularly common. The first is that wall of consumer televisions, common in the TV section of electronics stores, with all the monitors conveying the benefits of that particular brand, or sometimes the retailer showing the same image across multiple brands for comparison.
The second uses an array of displays aligned edge-to-edge in a grid (1×2, 2×2, 3×3, 4×4, etc.) to combine in a larger single "video monitor" – more accurately a wall of monitors or a "video wall." While the video wall of multiple displays enables a much larger single "image" it also permits creative applications where multiple images are sync'd within subsets of the larger grid or on individual monitors within the grid.2
Workplace Trends
Adoption rates for video walls is increasing as costs become more budget friendly.
Interactive displays in restaurants and retail stores are attracting users who have a comfort level with the technology, giving them an experience that they can control.
Video walls aren't just being used to convey information through digital signage. The array of configurations they can accommodate allows them to be used as works of art.
Corporations are using video walls to set themselves apart by promoting their brand message. LG has excellence resources on how its displays can be combined to elevate your corporate identity.
Shift to OLED allows for video display arrangements that suit your content and engage viewers.
Office Plus addresses the following brands in Video Wall category,
To connect with us drop in an email at Displays@OfficePlusUAE.com or call us on +971 2 6767019 to speak to our representative
Video Wall Solutions in UAE
A video wall consists of multiple monitors or television to form one single digital display.Screens used in video wall has narrow or no bezels.
Samsung Video Wall delivers an impactful and seamless experience. Its modern, slim design allows the display to blend into any business environment.
Video Wall Solutions
it's easy to build dynamic and engaging video walls that will attract attention even in the most visually stimulating environments.
Barco Video Wall  Barco's video wall display solutions are always the highest quality available on the market.
Video Wall in UAE
Video Wall solution is a simple, cost-effective communication solution designed to create a high impact visual experience in stunning detail with Ultra High 4K definition.
LG Video Wall Create Visually stunning video walls that are easily installed, maintained, and managed when you choose commercial display products from LG.
We'd love To Meet You In Person Or Via The Web!