Interpretation System Rental
We help you speak to the world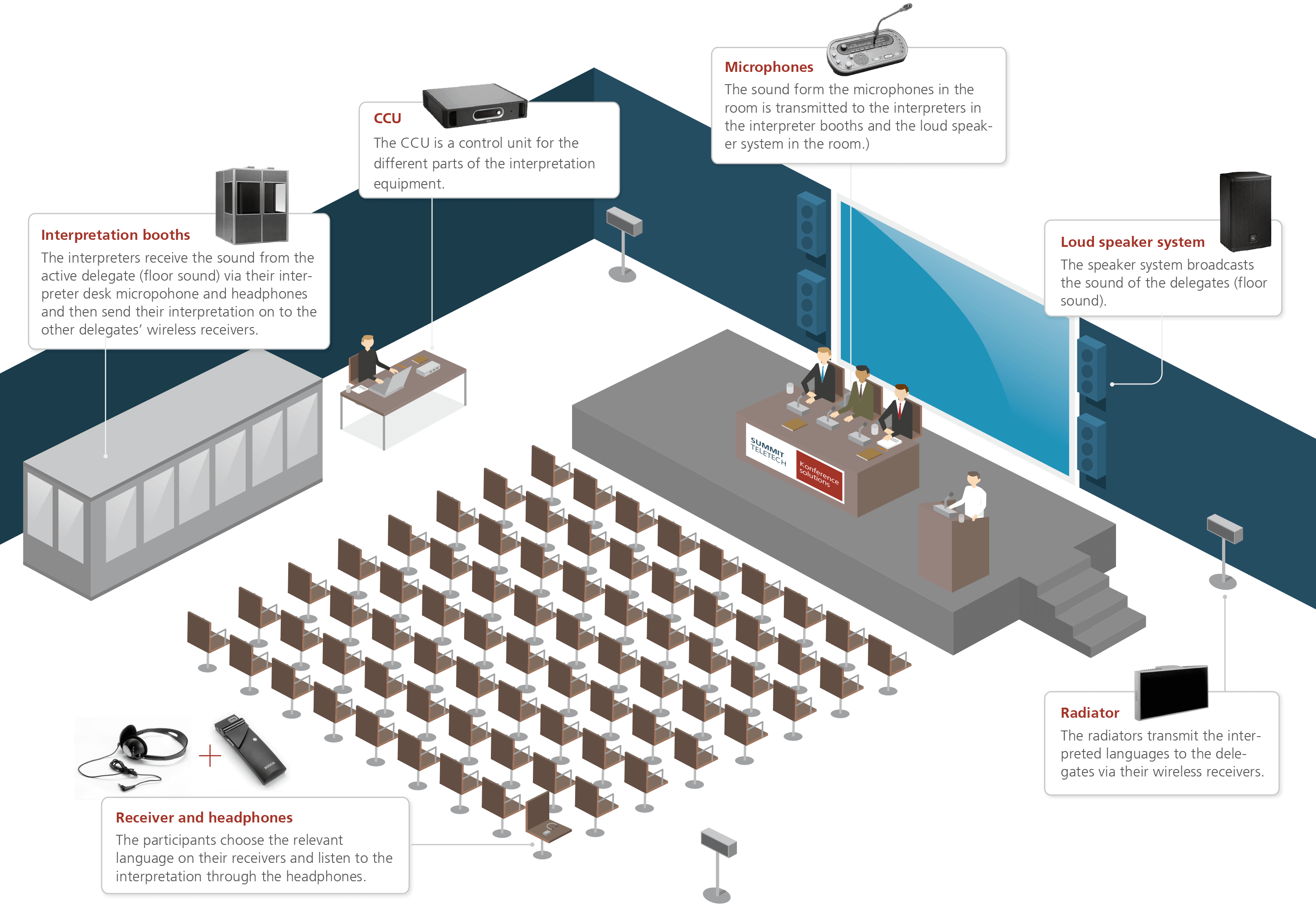 Interpretation System Rental
OfficePlus LLC is your one stop shop for interpretation system rental in UAE. At OfficePlus LLC, we are committed to making your event a success. With over a decade of experience in the Audio Visual Industry, our knowledge and expertise virtually guarantees your success when it comes to simultaneous interpretation.
Interpretation System Rental – Overview
Whether you want to rent or buy any of the translation or interpretation system rental in UAE  Office Plus LLC is the only one stop solution for all your requirements. Starting from console, booth, digital infrared receiver, stationary, transmitters, portable equipment, audio response system, headphones, IR systems, listen ADA kits, microphones, tour guide system, listening system, transceivers, WS-headphones, WS-microphones, loudspeakers or general equipment, we are fully equipped to help you anytime
Simultaneous interpretation Equipment Rental in UAE
Simultaneous interpretation is a demanding, highly skilled craft which is used for communicating in multiple languages in sales meetings, industry conferences, training seminars, site-tours or government officials meeting on an international agenda, where the prime concern is always "effective" communication. Two of the most common language for interpretation (also referred as language translation) is done in UAE are English and Arabic. However in many official government meetings depending upon the delegation there is a demand for other widely spoken international languages like Chinese, French, Spanish etc.
We rent simultaneous interpretation equipment of unsurpassed quality, including soundproof interpreters booths, digital conference/language distribution systems,  digital 2 to 6MHz infrared interpretation systems, digital interpreter consoles, and all other related sound/audio components.
The equipment includes: multi-channel digital infrared language distribution systems, digital interpreter consoles, certified interpretation booths, and microphones with built-in language channel selector. Andalus Translation LLC helps you design the best system for your meeting, and select interpreters with the right experience. We also provide you with the onsite staff needed for assembling, operating, and dismantling equipment.
While the main factor that guarantees the success of any simultaneous interpretation are the interpreters, our technological expertise ensures that the interpreters can focus on their job, while our systems ensure they can hear the presenter clearly while completely shutting down all other noise or voices. We seat our interpreters in sound reduction booths, listen to the presentation and simultaneously interpret into their target language. Each booth's signal is routed to the appropriate transmitter and is received by participants using individual receivers and headsets. The systems we use are completely wireless and based on infra red technology. This ensures that there are no seating restrictions and no cabling works required to setup the equipment. By using infrared based systems we can ensure complete confidentiality and privacy of the meetings.
In order to quantify your requirementsa
Please list the languages for which simultaneous interpretation is required.
Number of delegates that would need receivers and headsets to listen to the interpretation service.
Do we need to provide the interpreters? Please note that OfficePlus LLC does not have interpreters on its payroll. We are dependent on professional interpreters whom we book for the duration of conference.
Duration of simultaneous interpretation required each day.
To make your next conference in Abu Dhabi, Dubai or anywhere in UAE a success, contact us now. Book your rental requirements by completing the form below.
Alternatively If you are ready to rent or hire our interpretation system just drop in an email at rentals@officeplusuae.com with your specific equipment requirements or just give us a call at +971 2 6767019
| Part Number | Description |
| --- | --- |
| Philips/Bosch Interpretation System | Central Control Unit, Infrared Transmitter, Radiators, Interpreter Desk, Light Weight Head Sets, IR Philips Receivers, Cables & Accessories |