Samsung Interactive Display
Make your environment interactive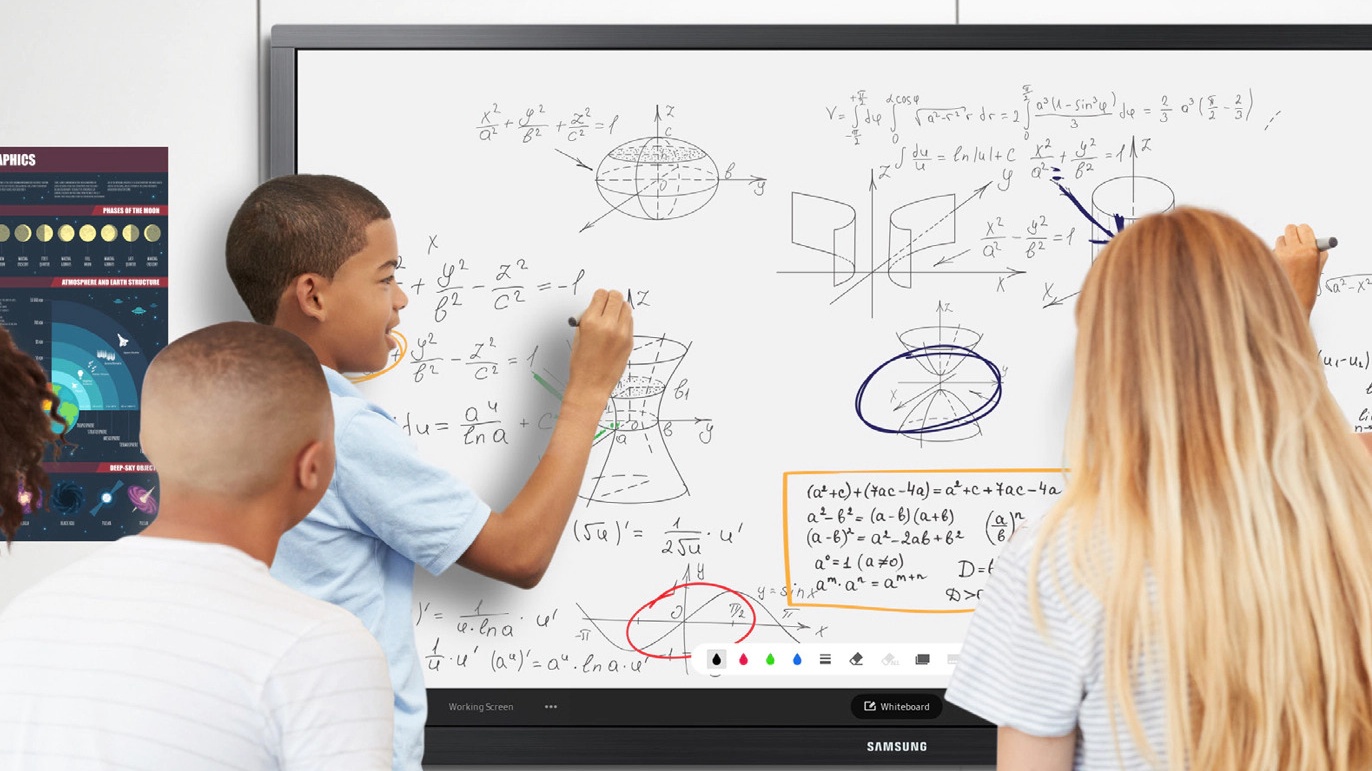 Samsung Professional Displays
Samsung's interactive displays and digital signage enable collaboration and communication in the workplace through simple, effective touch interactions and versatile connectivity.
Samsung Interactive Displays in UAE
From corporate boardrooms and classroom collaboration to restaurant menus, in-store product locators, and maps, Samsung's interactive touchscreen displays add interactivity to business environments in a variety of industries.
Corporate
Use interactive digital signage to simplify meetings and increase collaboration. Participants can use their personal devices to easily share content on the board. And built-in creative tools allow employees to craft eye-catching presentations in the moment.
Education
Our interactive displays create a lively classroom that inspires teachers, motivates students and impresses parents. Teachers can supplement lessons with engaging visual content. An intuitive interface makes collaborating easy. And no matter the size of the classroom, there's a display that fits.
Retail
Transform first impressions into immersive ones. Engage your shoppers and customers to stop, shop and buy at your retail environment with Samsung's in store digital signage and digital menu boards.
Samsung Touch screen displays in UAE – Collaboration Solutions
Samsung's suite of innovative and fully-integrated interactive displays and touchscreen signage seamlessly transform the workplace or classroom and enable workers or students to create new ideas, boost in-person collaboration and increase productivity from anywhere, anytime.
Samsung addresses the following series of professional Displays in UAE
OfficePlus LLC is the authorized distributor and sales partner for Samsung in the UAE. Our customers in UAE are also informed of the latest product launches from Samsung Interactive displays in UAE
Our Customers can also experience the demonstration of Samsung Interactive touchscreen displays in UAE by calling into our full-fledged demo center.
To connect with us drop in an email at Samsung@OfficePlusUAE.com or call us on  +971 2 6767019 to speak to our representative
Samsung Flip allows teams to hold and recap meetings with incredible ease. It drives greater collaboration, expands presentation capabilities and is ideal for all types of meetings, training or group brainstorming.
Samsung PMF Series Interactive Displays
Samsung's PMF series is an all-in-one signage solution including an integrated media player and content management tools, plus multi-point capacitive touch technology with up to 10 simultaneous touch points.
Samsung QBR Series
Samsung's QBR-T Series small digital signage displays feature touch interactivity and brilliant, high-resolution picture quality to entice and engage your audience An embedded media player lets you easily show your content without the need for an external PC.
We'd love To Meet You In Person Or Via The Web!