Reclaim your workday. The meetings platform that makes you more productive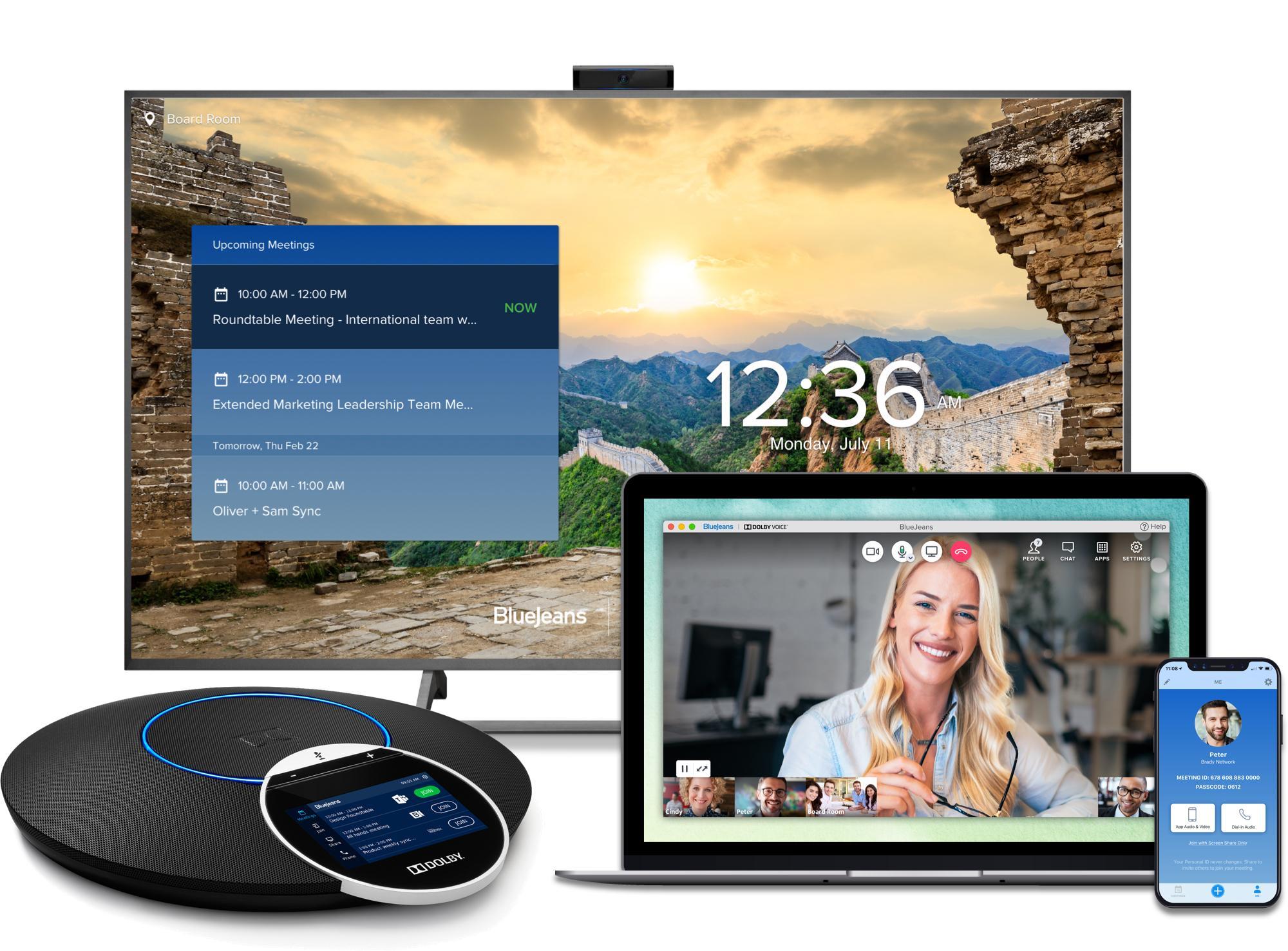 Bluejeans Products available in UAE
BlueJeans Meeting
BlueJeans Rooms
BlueJeans Events
BlueJeans Gateway
BlueJeans Meetings in UAE
Bluejeans Conferencing in UAE Known for its High-Quality HD Video Communications and its adaptability with Different Room System Solutions. BlueJeans Network is a company that provides an interoperable cloud-based video conferencing service that connects participants across a wide range of devices and conferencing platforms. It is headԛuartered in Mountain View, CA. Bluejeans VideoConferencing in UAE can connect many users across different devices, platforms, and conference programs. Every BlueJeans member has a private "meeting room" in the BlueJeans cloud to schedule and host conference meetings.
Bluejeans videoconferencing in UAE
One of the biggest problems large-scale enterprises face is finding effective ways to share content and collaborate in real-time across multiple time zones and geographic locations. As a result, ideas take a while to get fleshed out, and decisions get pushed back. For enterprise companies looking to reduce those gaps and delays, cloud video conferencing is changing their day to day operations, both internally and externally. From sharing content in a high-resolution format to discuss the latest project updates, Blue Jeans is there every step of the way.
The meeting experience users love
Instantly join, host or manage a video, audio or web meeting from a conference room, your desk or a remote location. Then engage in a productive virtual meeting with the power of immersive HD video and Dolby Voice® audio.
Smart Meetings
Bolster productivity with in-app intelligence to capture the most important discussion points, assign action items, and quickly replay meeting highlights. Manage and prioritize post-meeting follow-through with time-saving solutions to bring projects to completion and establish accountability across the organization.
Powered by Dolby Voice
Enjoy more natural, high definition sound with Dolby Voice, including background noise cancellation in video and audio meetings across multiple devices and locations. Hear the Dolby difference.
Zero download meetings
Join full-featured video meetings right from your favorite browser. With immersive video and spatial audio you'll be collaborating face-to-face within seconds. Nothing to download or install.
BlueJeans Rooms
Make any conference room or huddle space a one-touch meeting place that's easy to deploy, simple to use and centrally managed.
Simplify and modernize your meeting rooms
BlueJeans is on a mission to transform traditional meeting rooms into modern workplaces. We have a portfolio of room solutions to meet your needs today and in the future.
Make any room a video conference room
BlueJeans Rooms transforms any room into an easy-to-use video conference space requiring little to no end-user training and effortless IT management, while increasing workforce collaboration.
One-touch meetings
Easily reserve rooms for ad-hoc or scheduled meetings through our seamless Microsoft and Google calendar integrations. Start and control a BlueJeans meeting with one touch and share content from the room, your laptop or mobile device, without cables or dongles.
Works with existing room systems
With BlueJeans meetings, you can provide a consistent and unified end-user experience regardless of the hardware used. BlueJeans interoperates with any H.323 or SIP room system so you can leverage your existing room systems from vendors like Dolby, Polycom, Cisco and LifeSize.
Connects to other conferencing services
Our MultiService capability connects you to any service that you need — BlueJeans, Microsoft Teams, Zoom, Cisco Webex — using the hardware that you already have. Avoid vendor lock-in and get ultimate flexibility and choice with BlueJeans Rooms.
Easy for IT to deploy, monitor and manage
Easy installation and simple IT management minimizes setup costs and deployment time, and centralized management through BlueJeans Command Center improves efficiency with bulk provisioning, remote device monitoring, and diagnostics.
BlueJeans Events
Host and manage live interactive events, town halls and webcasts for large audiences around the world.
Employee all-hands meetings
All-hands meetings should include everybody. Transform your next all-hands meeting into an open forum where anyone, anywhere can ask questions, explain what's on their mind, make announcements or share information — all through a live, interactive webcast.
Marketing webinars
Engage customers and prospects with a modern, interactive webinar experience that brings together HD video with Q&A, polling and rich moderator controls. Now with Marketo access to nurture your leads pre- and post-webinar.
Training educasts
Transform online education and training events from one-way webcasts to interactive learning experiences that engage learners through immersive video, audio and content sharing, multi-way idea exchanges, Q&A and polling.
BlueJeans Gateway for Microsoft Teams
The easiest way to connect your existing conference rooms to Microsoft Teams Meetings.
Cloud Video Interop for Microsoft Teams
BlueJeans Gateway, a Microsoft-certified, cloud video solution, is the easiest way to bring the power of Teams video meetings into your conference rooms and huddle spaces. BlueJeans meetings interoperates with thousands of room system configurations, like Cisco, Poly and Lifesize, making the most of your existing hardware investments and giving you the ultimate flexibility.
Call us today (+971 2 6767019) to know more informations about BlueJeans. Send in your enquiry at BlueJeans@OfficePlusUAE.com to simplify your meeting or conference room bookings.