Passion for our customers and innovation is in our DNA.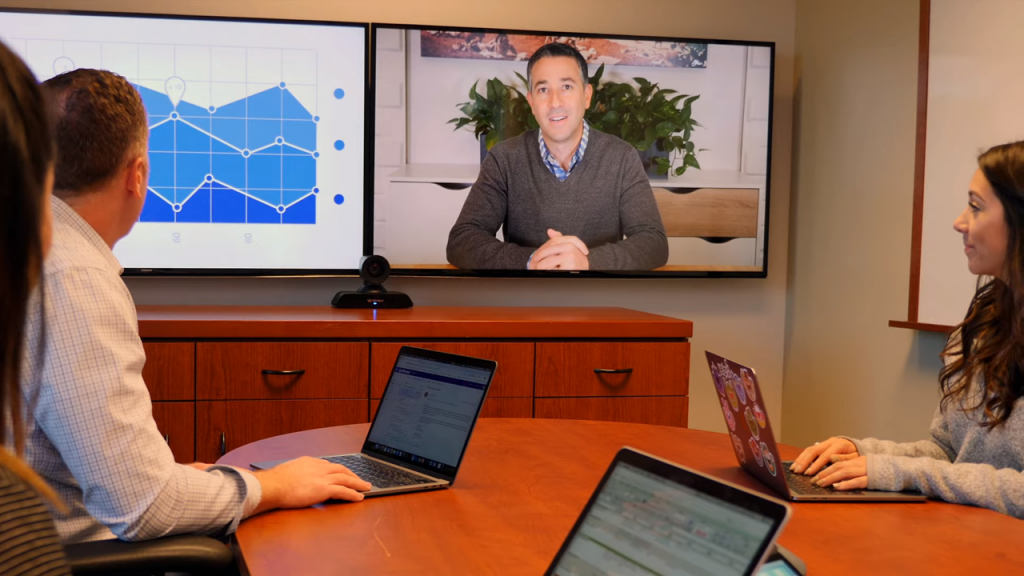 The vision of LifeSize is to connect people to make their workplace great
For more than a decade, Lifesize has been at the forefront of video collaboration delivering high-quality technology designed to bring people together. Our focus is on developing market-leading products that deliver easy-to-use and scalable audio, web and video conferencing. We combine an integrated, best-in-class cloud-based conferencing experience, with award-winning, easy-to-use HD camera systems and HD phones so that you can connect to anyone, anywhere. It's a meeting experience like no other.
Wherever you are, that little smiling Lifesize icon is ready to instantly connect you face-to-face with the people you work with every day. Lifesize is the cloud video service that connects you with people, lets you see them to truly understand them and build authentic relationships.
Whether using your mobile phone on the go, laptop at home or having a team meeting in a conference room, Lifesize lets you connect and share your screen seamlessly on any device, anywhere, at any time. Lifesize is the future of collaboration. It's the industry's premier 4K video conferencing service at its core, but obsessively engineered for ease of use and flexibility.
Lifesize does away with extension numbers and passcodes and replaces them with names. Names that have faces and puts faces to names you are meeting for the first time. Anyone can join a Lifesize call without having to download an app making it the perfect solution for connecting face-to-face with your business partners, clients and potential customers.
You use Lifesize when you don't want to wait in traffic or pack an overnight bag but still want to be present and engaged during the meeting. You use Lifesize when you recognize the value that a video-first culture has on productivity and building authentic relationships. That human connection is too important – and Lifesize lets you connect on a deeper level to push the limits of possibility.
Features of Lifesize video communication in UAE
Higher productivity, better engagement
Increased interaction
Reduced travel – saving time, saving money
Less time out of office, more time making decisions
Reduced carbon emissions
Lifesize addresses the following Categories in the Video Conferencing Space:
Video Conferencing
Audio Conferencing
Wireless Presentation
Industries that Lifesize video communication in UAE are used in,
Banking and Finance
Education
Global Business and Technology
Government and Public Sector
Health Care
Legal
Manufacturing
Media and Entertainment
Oil, Gas and Energy
Environments that Lifesize video communication in UAE are Used listed below,
Offices
Huddle Room
Small Room
Medium Conference Rooms
Large Conference Rooms
Board Room
Multi-purpose Room
Classroom or Training Room
OfficePlus is the authorized partner of Lifesize videoconferencing in UAE. Our installed base of customer spans across key verticals like HealthCare, Finance, Oil & Gas, Government, Education etc. As a certified reseller of Lifesize our customers are assured of great support, right from product demonstration, installation and ongoing support.
OfficePlus has direct support from the manufacturer which results in great flow of technical and sales inputs which can help the customer immensely in choosing the right product.
Call us today (+971 2 6767019) for more information. Send in your inquiry at Lifesize@OfficePlusUAE.com to simplify your meeting or conference room bookings.
With LifeSize Cloud we can collaborate over video more effectively. In addition to video calls, we can share content, chat, and connect with people outside of our group. It works on all your devices – from laptop to tablet to smartphone.
Only LifeSize delivers end-to-end cloud video conferencing that's as easy, as lifelike and as remarkable as meeting in person. We do it by connecting our award-winning room video systems and mobile apps to our radically simple cloud service. Now everyone, regardless of location, is just one video call away from having a seat in the meeting.
LifeSize Meeting Room Devices
Built by more than a decade of hardware engineering experience. Smart devices for smart collaboration.
Our line of audio and video conferencing equipment is built for plug-and-play simplicity and designed to connect you with your teams and get out of the way. By connecting our innovative, easy-to-use video conferencing hardware to our award-winning, cloud-based video conferencing app, Lifesize helps turn any space into an instant video meeting room in seconds.
Meet our revolutionary new line of 4K conference room systems. LifeSize Icon 300 | LifeSize Icon 500 | LifeSize Icon 700
Award-winning conferencing equipment for every meeting room. LifeSize Icon 400 | LifeSize Icon 450 | LifeSize Icon 600 | LifeSize Icon 800
Wireless screen sharing and room automation for the modern meeting space.
Multiple applications. A single, automated experience.
Add useful tools to your meeting spaces — not overwhelming complexity. Lifesize Share™ brings a range of connected technologies together seamlessly so that your online meetings start on time, your presentations run smoothly and you capture the attention of everyone in your audience.
We'd love To Meet You In Person Or Via The Web!