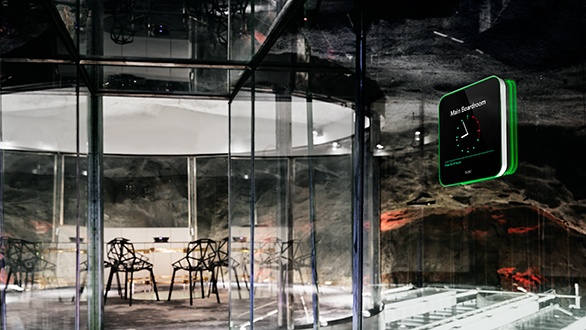 EVOKO Meeting Room Manager in UAE
Evoko is a Swedish tech company who develop, market, and sell innovative products that help modern meeting spaces to become more efficient. Our mission is to make meetings magnificent and we want our products to bring a sublime experience for people who use them. Our first generation of room managers emerged in 2009 and quickly received numerous awards for innovation and design. Today you can get our meeting solutions in more than 80 countries and we continue to define the future of meetings.
Evoko Meeting Room manager – Overview
Evoko meeting room manager in UAE is a global brand with sales across six continents in more than 50 different countries and our head office is in Stockholm, Sweden.
You are always more than welcome to contact our local distributors for more information on our other products. Our mission is to present innovative and delightfully simple office products with clear advantages. Making sure you're always set for a perfect professional meeting.
Evoko Liso is the new intelligent touch-screen solution for all your meeting rooms. Making sure they're being used in a truly effective way. Book easily with your favorite digital calendar, or directly on the screen. Smooth, helpful, bright.
Evoko meeting room manager in UAE addresses the following Categories in the UC Space
Meeting Room Manager
Audio Conferencing products
Products of Evoko meeting room manager in UAE, available through OfficePlus LLC
OfficePlus is the authorized partner of Evoko in UAE. Our installed base of customer spans across key verticals like HealthCare, Finance, Oil & Gas, Government, Education etc. As a certified reseller of Evoko our customers are assured of great support, right from product demonstration, installation, and ongoing support.
office plus has direct support from both the manufacturer and distributor which results in a great flow of technical and sales inputs which can help the customer immensely in choosing the right product.
To connect with us drop in an email at Evoko@officeplusuae.com or call us on +971 2 6767019 to speak to our representative.
Evoko in UAE
Ecoko helps you to make sure all your meeting rooms are being used in a truly effective way and maximizing their utilization.
Evoko Liso makes it easier than ever to book a room with your favorite digital calendar, or directly on the screen using your fingertip.
Evoko Room Manager  is a beautiful touchscreen solution for all your meeting rooms.
Evoko Naso books the room so you can focus on the meetings.
Evoko Meeting Room Signage Solution
Complete system for workplace communication – Plug & Play
Evoko Pusco  is an indoor electronic sign and works like a freestanding digital posting board where you can easily communicate internal and external messages to your visitors and employees.
Evoko Audioconferencing Solutions
Say hello to the most important participant in your future meetings and try our new conference phone.
Evoko Minto is an intelligent, wireless conference phone that's really easy to work with and super stylish.
We'd love To Meet You In Person Or Via The Web!