Yealink Video communication
All-in-one Design Creates Easier Meeting Experience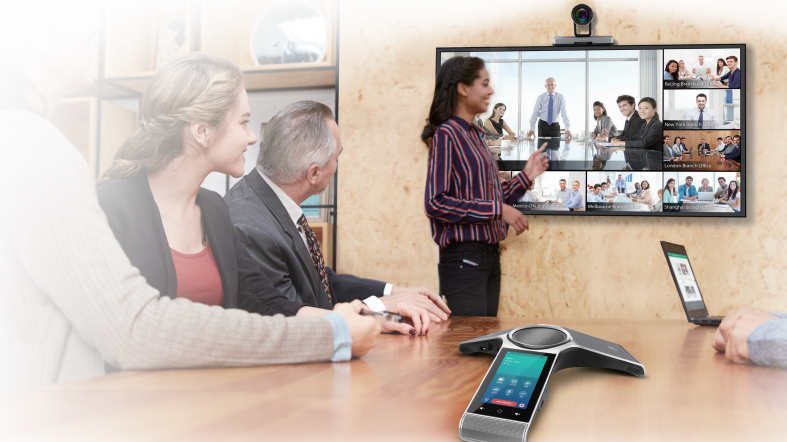 Yealink Video communication in UAE
Yealink, the worldwide SIP phone providerhaving the new range of full HD VC series video conferencing system Dubai , including VC400 (for headquarters), VC120 (for branches) and further CP860 Audio-Conference IP phone. In accordance with the Easy Collaboration concept, Yealink VC series is developed with powerful functions that enable business users to experience multi-point video collaboration in varied web-based environments as well as on multiple devices, profiting from the series' extensive compatibility and versatile interoperability. Geared towards SMEs, Yealink VCS series ensures a great balance among top quality, ease-of-use and cost-efficiency.
Yealink Videoconferencing in UAE – Overview
Yealink VC series video conference system has committed to advanced HD video technologies that deliver realistic face-to-face communications for remote participants, including 18x optical zoom HD camera and 360-degree omnidirectional pickup microphone. Its built-in powerful MCU allows four-sited 1080p video along with a 1080p content sharing.
Moreover, despite having such high-definition audio and video experience, VC series needs no additional dedicated network (1080P at 1Mb bandwidth, 720P at 512Kb), backed up by the H.264 Much talked about technology as well as its intelligent network adaptability. This advantage relieves SME users from your financial burdens of upgrading the company's Network.
Yealink addresses the following Categories in the Video Communication Space:
Video Conferencing
Yealink Meeting Room Server
VC Room System
Video Phone
PC Desktop Software
VC Mobile APP
VC Cloud Management
Yealink addresses the following devices in the video communication space through Office Plus LLC :
Environments that Yealink Video Communication products are used in UAE:
Huddle spaces
Conference rooms
Meeting Room
OfficePlus LLC is the authorised distributor and sales partner for Yealink in the UAE. As part of the Yealink partner program our customers are offered the complete suite of Yealink Video communication products that can be used for all your uc applications at the best price backed by warranty and support packages.
Our customers in UAE are also informed of the latest product launches from Yealink video communication division. Our Customers can also experience the Video communication products demonstration by calling into our full fledged demo center on any of the commonly available UC calling platform like Skype, Skype for Business, Web-Ex, LifeSize Cloud or Collaborate Space.
To connect with us drop in an email at Yealink@officeplusuae.com or call us on +971 2 6767019 to speak to our representative.
Video Conferencing System
VC200 is an entry-level smart video conferencing endpoint designed for small and huddle rooms.
VC500 is ideally designed to ensure everyone to have an immersive communication in the workspace.
VC800 is the second generation full-HD video conferencing system launched by Yealink. Equipped with the strongest embedded MCU within the industry
VC 880 a full HD video conferencing system, is designed to maximize your collaboration experience with cutting-edge technologies.
Collaboration Touch Panel
Facilitate participants to focus more on the topics of discussions.
CTP20– CTP20 is a collaboration touch panel that can be paired with Yealink's new generation video conference solutions
We'd love To Meet You In Person Or Via The Web!