The icon of modern desk connector panels.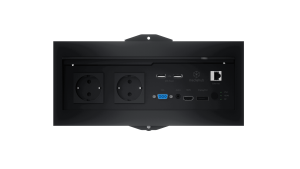 Purelink cable manager has Integrated technology, exquisite materials and easy control.
Purelink Mediahub in UAE
Symbiosis of design and technology
The contemporary use of digital media in conferences and meetings requires a flexible all-in-one solution for power, network and A/V connections. mediahub™ by PureLink combines innovative technology with usability and a high-quality design.
The housing of the mediahub™ desk connector panels are made of high-quality wet-coated, brushed stainless steel from European production, are available in four high-quality versions (see below) and can be mounted flush with the tabletop (in-table) or overlying (on-table). The smooth mechanism ensures a frustration-free opening and closing of the mediahub™ and this way perfectly adapts to a flexible office environment with variable requirements.
The perfectly manufactured, modular cartridge-system is upgradable and thus enables a scalable and highgrade multimedia interface integration. This makes it possible to incorporate different power outlets for various EU countries in one housing and also replace them afterwards. In all housing versions, two power outlets, a Cat.6
Ethernet connection as well as two USB-A fast charging ports with 2.1A are available.
Purelink Mediahub :- Overview
All-in-one" desk connector panel for power, Ethernet, A/V, etc.
Available for decentralized daisy-chains and centralized star-topologies
Two housing versions for flush in-table and overlying on-table installations
Replaceable power outlets for DE / UK / CH / DK, etc.
Four high-quality wet-coated color versions
Smooth and frustration-free mechanism
Modular cartridge-system – scalable and upgradable
Always included: 2x USB fast charging, 1x Ethernet, 2x power outlets
Mediahub cable manager – Connectors
Signal Magic
No more compatibility problems in presentations – that is the idea behind the Presentation Switcher from Luxi Electronics. The switcher is equipped with inputs for HDMI, DisplayPort and VGA, including stereo audio from a 3.5mm jack and this way covers all available input signals. It also splits the input signal and distributes it to both of the HDMI-A output ports to transfer a mirrored image to two displays at the same time. The audio signal can be broken out separately from the Pheonix ports, regardlesss of the input signal type.
Always the right signal format
The integrated scaler in this switcher converts the input signal of any source into a display compatible output format, so no individual format changes have to be made anymore. This is important if more than one source signal is using the Presentation Switcher and all signals should have the same output format. The Active Input Detection ensures an automatic signal switching and scaling, as soon as an input device is removed or becomes inactive. Furthermore, the multi-level picture-zoom compensates the so called "overscan" and perfectly matches the picture size with the display format. All functions incl. scaling are easily controllable with the integrated RS232 port.
Purelink Mediahub in UAE – Available models
mediahub™ SHD310
Multiformat Presentation Switcher incl. Scaler and Dual Output
The SHD310 Presentation Switcher incl. an integrated scaler distributes an HDMI, DisplayPort or VGA input signal incl. audio latency-free to up to two mirrored HDMI outputs including analog stereo audio breakout. In addition, an analog audio signal can be mixed in or completely replace the audio output signal in via a 3.5mm stereo jack. When distributing the actively detected input signal, it atomatically scales into a compatible output signal so no individual format changes have to be made anymore.Additionally, the Presentation Switcher features breakout ports for each single "Show Me" button, an LED status indicator and an RS-232 connector for external controls. Therefore it is the perfect solution for use in conference rooms and the distribution of different signal types from one central point.
Overview:
Supports VGA, HDMI and DisplayPort inputs
Additional 3.5mm stereo audio signal can be mixed in or completely replace the output audio
Scaling function for the compatibility of all signal formats and resolutions
Perfect for centralized topologies
Auto-Switch function
Active input detection
RS232 connector for external controls
Stereo audio breakout via Phoenix connectors
Resolutions up to FullHD / 1080p@60Hz / WUXGA
Single "Show Me" breakouts for each signal type
Many control options: Front Panel, breakout push buttons, RS232, etc.
Picture and/or audio mute function incl. screensaver and OSD deactivation
Auto-switching can be enabled / disabled at the push of a button
mediahub™ TPR150
Multiformat Presentation Switcher incl. Scaler and Daisy-Chain Technology
The multiformat transmitter TPR150 can transmit an HDMI, DisplayPort or VGA A/V signal via one single Cat.6 cable to the receiving units. In combination with repective receivers, the TPR150 can replace switchers and splitters of any size with a scalable, flexible daisy-chain system. By cascading multiple transmitters and receivers, a decentralized distribution system comes into existence which is able to distribute the signal in a nearly unlimited distance an in different directions. The integrated scaler scales the input signal to always perfectly match the connected display format.
Overview:
Replaces centralized A/V topologies with a decentralized daisy-chain system
Completely scalable: The system is nearly unlimitedly extendable and / or reducible
Only one Cat.6 cable in between adjacent units – no more space-consuming cable bundles
Daisy-Chain: 18 GB/s bandwidth with max. 6 feeds – Max. 9 GB/s per feed
Signals can be distributed over nearly unlimited distances
Power-over-Cat reduces the number of required power supplies significantly
Show-Me push button for controlling the input signal
mediahub™ THB350
Multiformat HDBaseT Presentation Switcher incl. Scaler, Audio-Extraction, etc.
World's smallest high performance all-format, all-purpose, HDCP compliant signal converter, scaler, switcher, splitter as well as audio mixer, embedder and de-embedder. The mediahub™ media technology module by Luxi Electronics™ is suitable for all kinds of use cases and offers full HDCP-compatibiliy including a high efficiency fanless design with rack and under-table mounting options. The dual output to an HDBaseT as well as a mirrored HDMI output enables an easy and frustation-free distribution to more than one display at the same time. Further functions, such as audio extraction and an integrierated scaler make the device a sure choice for professional surroundings. There is no HDBaseT receiver included in the delivery – Available under LU-RHB-350.
Overview:
HDBaseT transmits A/V, RS-232 and PoC to an HDBaseT receiver
HDBaseT receiver sold separately (LU-RHB-350)
Integrated scaling-function for different signal formats and resolutions
"Show-Me" control button for easy and fast presentations
Individual, external "Show Me" connectors
3,5mm stereo audio output for a separate audio extraction
RS-232 connector for external control
Auto Switch function including active signal input detection
OfficePlus LLC is the authorised distributor and sales partner for Purelink in the UAE. Our customers in UAE are also informed of the latest product launches from Purelink Mediahub in UAE
To connect with us drop in an email at Purelink@OfficePlusUAE.com or call us on +971 2 6767019 to speak to our representative.