Skype makes it easy to stay in touch. Talk. Chat. Collaborate.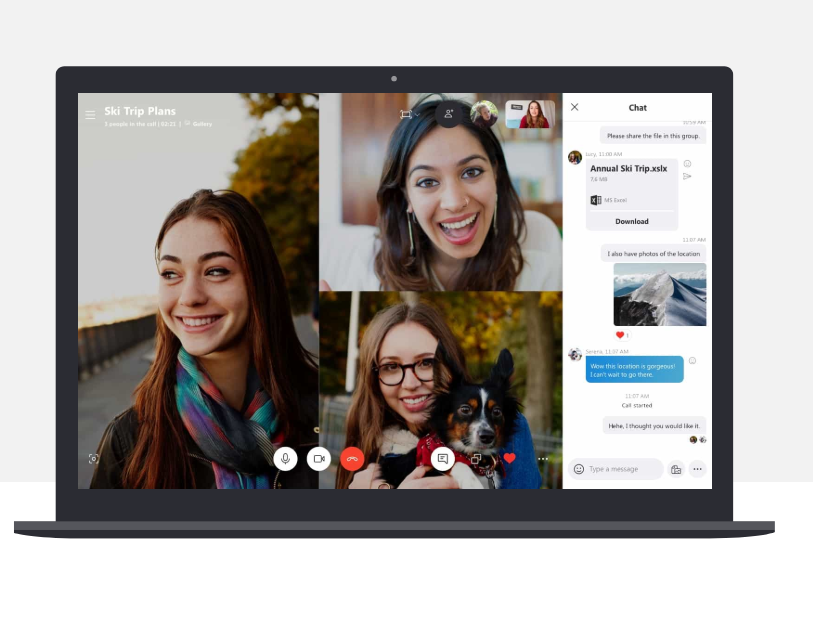 Microsoft Skype in UAE – Overview
Screen Sharing and Record Calls
Capture, save and share all of life's moments with Skype. Whether you want to record calls for meetings, screen share a presentation or use 'record my screen' to remember happy video conversations, Skype's many functions hold countless opportunities.You can start anytime on both desktop and mobile devices.
Share My Screen with Multiple People
From PowerPoint presentations to videos, photos and even on-screen polls, screen sharing makes collaboration easy. With integrated screen sharing, simply drag and drop files up to 300 MB into your conversation window and everyone on the call will have access.
Working in a group setting? Gathering the family for a remote get-together? Sharing silly photos with friends around the world? You no longer need Skype Premium to participate in group screen sharing like you used to.
Now you can share screens with two or more people without the extra cost.
Capture Important Information and Special Moments
With Skype's recording features, you can capture audio and onscreen projections for review later. Save company phone calls or archive a video of a chat with that special someone in your life through call and screen recording.Both call recording and 'record my screen' options are completely cloud-based, ensuring you are comfortable in the knowledge that your information is totally secure.
How to Record Calls and Record My Screen:
During your call, tap the +More options button for screen sharing.
When the recording starts, everyone on the call will be notified.
Still having trouble recording your calls? Check out these easy directions.
The final recording will be posted in the Skype chat, and it will remain available for 30 days. To access, download the file as an MP4 and save to your desktop or mobile device. You can also forward the recording directly from Skype or from your desktop or mobile device.
Microsoft Skype in UAE – Features
Use Skype to call phones
Call landlines and mobiles from anywhere in the world at great low rates using Skype.
Skype Number
Get a local phone number in another country or region and answer calls on Skype.
HD video calling
Experience HD one to one or group video calling—now with call reactions.
Live subtitles
Read the words that are spoken during an audio or video call.
Mobile screen sharing
Share anything from presentations to holiday photos during a call.
Skype call recording​
Capture those special moments in a Skype call with your loved ones or record important meeting with colleagues.​
Microsoft Skype in UAE – Other features
Share location
Find each other during a first-time meeting, or tell your friends where the party's at.
Background blur
Turn this feature on and your background will be instantly and subtly blurred, leaving just you as the only focal point.
Send files
Share photos, videos, and other files up to 300 MB by simply dragging and dropping files into your conversation window.
Skype Translator
Enjoy real-time translation of voice calls, video calls and instant messages.
Search within a conversation
Select the Find button button under the chat header or press Ctrl + F on Windows and Command + F on Mac.
Forward calls
Not logged into Skype or can't pick up the call? Simply get your Skype calls forwarded to any phone.
Voicemail
Too busy to talk? Set up a voicemail on Skype for your friends and family to leave a message for you.
Caller ID
When you set up caller identification, your mobile number or Skype Number is displayed when you call mobiles and landlines from Skype.
Skype To Go
Call international numbers from any phone at low calling rates with Skype To Go.
Cortana
Cortana suggests smart replies or useful information based on your chat, like restaurant options or movie reviews.
Share button
Get people sharing and talking about the content on your website. Create share buttons.
Skype Connect
Make Skype calls with Skype Connect through your existing SIP-enabled PBX.
Skype for Outlook.com
Go from chat to video in just one click, right from your inbox.
Skype extension
Share your favorite pages, articles, news with your Skype contacts.
Call us on +971 2 6767019 to know more about Microsoft Skype or email your quries to skype@officeplusuae.com.