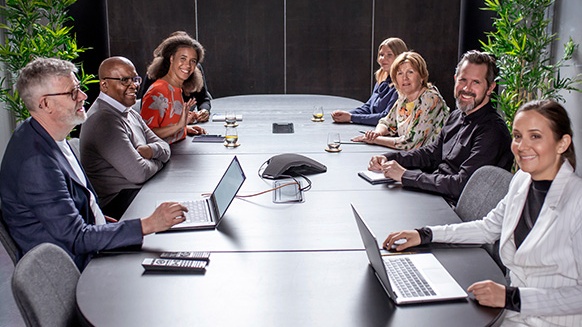 Konftel Conference Phones
Konftel is a pioneer in conference calls. Companies all over the world are discovering the benefits of cloud-based video collaboration tools. You can save time and money, while also holding more effective meetings. Konftel offers a wide range of high-end video & audio solutions for both patient-centered care and healthcare collaboration needs.
Konftel videoconferencing solutions in UAE
For 30 years Konftel's mission has been to help people in businesses around the world hold millions of meetings despite the distance. Our focus has been set on offering the perfect sound. Now it's time to bring video into our meeting solutions. It's time to add a face to the voice. Konftel Collaboration is a range of package solutions that make video conferencing in any type of meeting room incredibly easy and great value.
If you are thinking about upgrading your meeting rooms to support video, it is worth knowing about the two scenarios known as Bring Your Own Device and Bring Your Own Meeting. Cloud-based web conferencing has created a culture where we use our own laptop to run the apps and collaboration services that we prefer or are recommended to use. These are our tools when we hold our own meeting and when we join colleagues to link up for a video conference.
Konftel addresses the following Categories in the video conferencing space:
Konftel Audioconferencing solutions in UAE
Konftel Audioconferencing solutions in UAE support industry standards. In addition, we optimize and certify our products for the leading UC platforms. Together with our partners, we are able to guarantee a combination of performance and functions that ensure ease of use and add commercial value. If your company is thinking about buying a new conference telephone, Konftel has plenty of models available in the model.
KONFTEL EGO

KONFTEL 300IPx

KONFTEL 55Wx
Environments that Konftel conference phones are used in : 
Office
Huddle Room
Small Room
Medium Conference Rooms
Large Conference Rooms
Board Room
Multi-purpose Room
Classroom or Training Room
OfficePlus LLC is the authorized distributor and sales partner for Konftel in the UAE. As part of the Konftel partner program, our customers are offered the complete suite of Konftel Videoconferencing solutions in UAE and Konftel audio conferencing solutions in UAE at the best price backed by warranty and support packages.
Our customers in the UAE are also informed of the latest product launches from the Konftel conference phone division. Our Customers can also experience the latest Konftel conference systems in the UAE by calling into our office for a live demonstration.
To connect with us drop in an email at Konftel@officeplusuae.com or call us on +971 2 6767019 to speak to our representative.
Konftel Videoconference Systems in UAE
There's a shortcut to our super-convenient video solution. Simply add a camera and hub for a system that's just as user-friendly and reliable as the complete packages.
KONFTEL C20Ego is the perfect video collaboration solution for small huddle rooms
KONFTEL C2055/55Wx re the perfect video collaboration solutions for medium-sized meeting rooms
KONFTEL C5055Wx is the perfect video collaboration solution for medium and large meeting rooms,
KONFTEL C50300 Hybrid is a flexible range of premium video collaboration solutions for medium and large meeting rooms
KONFTEL C50800 Hybrid is a premium video collaboration solution for medium to really large meeting rooms.
Konftel Audioconferencing Solutions in UAE
Konftel is a pioneer in conference calls. We've been helping companies and organizations around the world to meet at a distance since our launch in 1988. Konftel conferencing solutions deliver superb audio quality for effective and eco-friendly collaboration.
KONFTEL 800 is a Hybrid conference phone with an intuitive interface.
KONFTEL 300Wx allows you to hold meetings wherever is convenient for you – without worrying about network and power outlets.
KONFTEL EGO  is a personal speakerphone. It's compact and portable and fits easily in your work bag, wherever you're going.
KONFTEL 300IPx together with the Konftel Unite app brings a whole new easiness to conference calls.
We'd love To Meet You In Person Or Via The Web!