Revolabs Audioconferencing
Enjoy clear, high-quality sound with industry-leading audio technology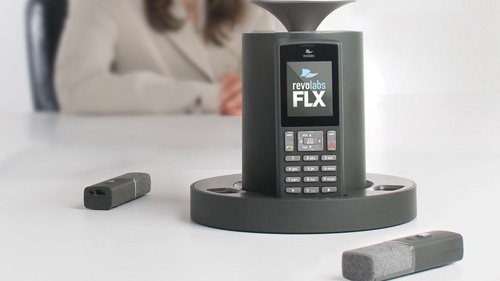 Revolabs audio conferencing in UAE
Revolabs Inc, a wholly-owned subsidiary of Yamaha Corporation, is the premier provider of audio solutions for unified communications, enterprise collaboration, and professional audio applications across a wide range of markets. Offering unmatched audio quality that allows users to "hear every word," the company's teleconferencing and microphone systems are utilized across the globe for a variety of applications. Leading the way in innovation, the company continues to add to its portfolio of value-added audio and telephony systems with superior products
Revolabs Audio Conferencing in UAE – Overview
The first step to captivating an audience? Making sure that your speech or session sounds exactly the way that you intended.
Unless you have the right technology, it's not always simple: the popularity of Wi-Fi and Bluetooth-enabled devices creates a unique challenge for modern performance spaces, posing the risk of signal interference and degradation that interferes with audio quality.
But Yamaha's high-performance solutions are different. Our wireless microphone systems are encrypted and operate on a DECT frequency, safeguarding you against interference and other sound quality issues.
With industry-leading technology supporting every moment, you can confidently deliver an exceptional experience for speakers and audiences alike.
Revolabs audio conferencing in UAE addresses the following Categories in the UC Space
Conference Phones
Microphone Systems
Revolabs audio audioconferencing products, available through OfficePlus in UAE
Revolabs Audioconferencing products available through Office Plus LLC :
Environments that Revolabs audioconferencing products are used in UAE:
Office
Huddle Room
Small Room
Medium Conference Rooms
Large Conference Rooms
Board Room
Multi-purpose Room
Classroom or Training Room
Video carts
Auditorium
OfficePlus LLC is the authorised distributor and sales partner for REVOLABS in the UAE. Our customers in UAE are also informed of the latest product launches from Revolabs Speakerphones .
Our Customers can also experience the Revolabs Speakerphones demonstration by calling into our full fledged demo center on any of the commonly available UC calling platform like Skype, Skype for Business, Web-Ex, LifeSize Cloud or Collaborate Space.
To connect with us drop in an email at Revolabs@officeplusuae.com or call us on +971 2 6767019 to speak to our representative.
Revolabs Audioconferencing in UAE
Designed to provide exceptional audio quality in the most demanding environments.
Revolabs FLX UC 500 – provides exceptional audio quality through the tweeter and mid-woofer speaker elements. As a powered system, the speakers' output audio fill the conference room with sound ensuring that the participant can be heard – whether the system is in an executive office, huddle room, or a conference room.
Revolabs Conference Phones
Enterprise Conferencing needs have expanded beyond just VoIP calling to include softphone, messenger, and video conferencing applications.
Revolabs FLX UC 1000/1500 – The Revolabs FLX™ UC 1000 sets the new standard for enterprise conferencing and collaboration by combining a VoIP phone with USB conference calling. The Revolabs FLX™ UC 1500 provides the answer for the larger conference room by building off the speakerphone the capability of the FLX UC 1000 IP & USB Conference phone with two additional directional microphones.
We'd love To Meet You In Person Or Via The Web!