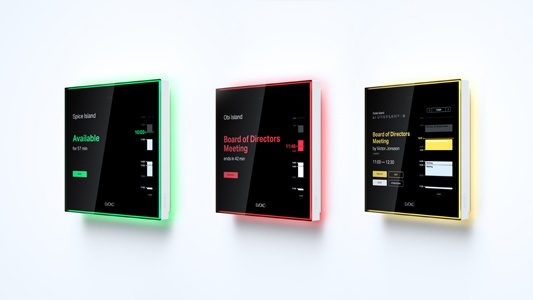 EVOKO NASO
We've developed award winning room bookers since 2009. Our new Evoko Naso takes the room booking experience to a new level of simplicity.
At the same time, our packages allow you to achieve complete workspace coordination.
Evoko NASO in UAE – Overview
Simplicity defined
A room booking system is more than just a list of features. We believe it must be simple to use and look sublime in any office. Created by our award winning design and development team, the Evoko Naso sports an intuitive lighting system that guides you to the right room. There is also a proximity sensor that displays relevant information as you approach the screen. As we build both the hardware and software, we can guarantee best in class quality, security and functionality. This, paired with a seamless set-up process and our trademark intuitive interface, offers next generation simplicity.
Everything a room booker needs – and more
Evoko Naso in UAE books the room so you can focus on the meetings. This digital room booking system prevents double bookings and interrupted meetings. It releases rooms that are booked but are not being used. Furthermore, using the touch screen, you can quickly locate a room for unscheduled meetings.  There's also the added benefit of reporting broken or missing meeting room equipment directly on screen. Icons even detail at a glance what equipment is available in each room. Using our analytics tool, you can gain valuable insight into how frequently rooms are being utilised, helping you to improve your meeting culture. These benefits come as standard but if you're interested in achieving complete workspace coordination we also have that covered. There are three packages of varying capabilities so, there's something for everyone!
Evoko NASO in UAE – Package options
Each package has a different set of features
1. ROSE Room services
Complete room services
For those needing more sophisticated functionality our Rose package is the ideal solution. It offers time-saving features, such as automatic check-in when entering a meeting room, buffer zones before and after meetings and full catering options when booking your room. It also has the option to add maps to guide you to the meeting room and use our sensor connections and open API for automation and integration. There is also a user-friendly mobile app where users can quickly find and book meeting rooms on the go.
2. PEPPER Personal place resources
Coordinating all available workspace
If your organization utilizes hot desking, then our Pepper package is the solution for you. Using your cellphone and the Evoko Naso, you can quickly locate and book workstations and desks. This is great news as finding a free desk can be a major time stealer for open-plan offices. You can also use it to physically find other people in the building.  For facility managers the data collected can also provide insight into how the workspace is actually being used, enabling you to change it for maximum productivity.
3. GUAVA Guest & visitor administration
A personalized welcome
Wouldn't it be great if a visitor walked up to the front desk and was instantly recognized, greeted and shown relevant information about their planned meeting? Well this is possible with our Guava package!
Managing the flow of people entering and leaving the building has never been easier. The meeting organizer is notified as guests arrive, ensuring that you can prepare and give a warm welcome.
Installation is always easy
No matter how you choose to use your Evoko Naso, the installation is a smooth ride. It attaches with adhesive tape or a wall mount. You get a special installer-app that allows you sync devices with Bluetooth without having to enter passwords twice. This crucially saves time for mid or large sized organizations. Once installed, you're ready to go! Updates are installed automatically thanks to the cloud.
Evoko NASO in UAE – Specifications
Technical info
Display
• 8" LCD 4:3 1024×768
• Capacitive multi-touch
Connectivity

Ethernet
• 1000base-t/ 100base-tx/ 10base-te
Wifi
• 802.11b/g/n/ac 2.4ghz
Rfid
• NFCIP-1, NFCIP-2 protocol
• ISO/IEC 14443A, ISO/IEC 14443B PICC mode via host interface
• MIFARE PCD encryption mechanism (MIFARE 1K/4K)
• NFC Forum tag 1 to 4, (MIFARE Ultralight, Jewel, Open FeliCa tag MIFARE DESFire)
• Bluetooth
• Bluetooth 4.2 (BLE)
Power
• Power over Ethernet, PoE RJ45 802.3at PD type 1 (13W)
• DC-Power, 5VDC (DC-Power supply sold seperatly]
Sensors
• Ambient light sensor
• Proximity sensor
Mounting
• 5-way cabling
• Standard wall mount included in package
• Glass wall mount included in package
User interface languages
• English
• Arabi*
• Catalan*
• Simplified Chinese*
• Traditional Chinese*
• Czech*
• Danish*
• Dutch*
• Estonian*
• Finnish*
• French*
• Galician*
• German*
• Italian*
• Japanese*
• Latvian*
• Lithuanian*
• Norwegian*
• Polish*
• Portuguese*
• Russian*
• Spanish*
• Swedish*
* = Coming soon
Weight and dimensions
Size
• Product: 195 x 195 x 35mm [7.7 x 7.7 x 1.37in] • Retail Sales kit package: 290 x 290 x 73mm
Weight
• Product: 0,9 kg [2 lbs] • Retail Sales kit package: 1,6 kg [3.6 lbs]
Compatible platforms
• Microsoft Office 365
• Google G Suite*
* = Coming soon
OfficePlus is the authorized partner of Evoko Naso in UAE. Our installed base of customer spans across key verticals like HealthCare, Finance, Oil & Gas, Government, Education etc. As a certified reseller of Evoko our customers are assured of great support, right from product demonstration, installation and ongoing support.
OfficePlus has direct support from both the manufacturer and distributor which results in great flow of technical and sales inputs which can help the customer immensely in choosing the right product.
Call us today (+971 2 6767019) for more information. Send in your enquiry at Evoko@OfficePlusUAE.com to simplify your meeting or conference room bookings.