Complete system for workplace communication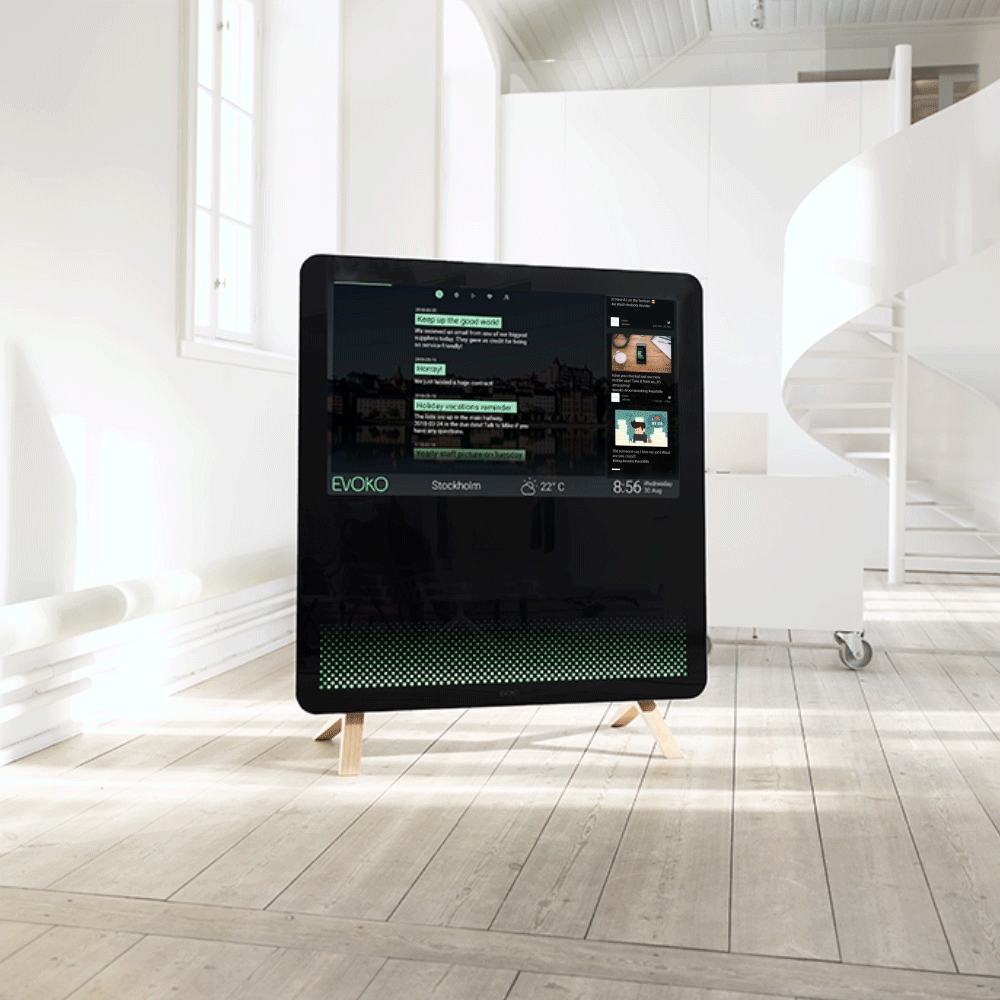 Evoko PUSCO
Plug in
The next level of digital signage for your office or lobby is here. The Evoko Pusco in UAE is an indoor electronic sign and works like a freestanding digital posting board where you can easily communicate internal and external messages to your visitors and employees.
To get started, just plug in two cables and you are ready to reach out with your message
Evoko PUSCO – Overview
Prepare
We have designed pre-made templates to make it easy to create the impact you are after – just select the applications that are right for your company.
Create and schedule a playlist for each Evoko Pusco, or group them together. It's all very easy and guaranteed to look good, every time!
Reach out
Make customers feel welcome in the reception or lobby. Drive employee engagement through project updates and dashboards. Share your company values, twitter feed, latest news or provide an overview of meeting room status.
Evoko Pusco will help increase customer satisfaction, employee motivation and efficiency!
Easy to manage
We've taken a whole new approach to how a "content management system" or "publishing system" should work. Forget complicated settings and having to spend a lot of time on configuration.
Managing your Evoko Pusco is easy and thanks to our templates, different people in the organization can be responsible for updating the content they are responsible for.
Fits any brand
To make Evoko Pusco fit your brand it can be personalized by choosing between a light and dark theme, set the background image and the accent color to match your company color. The accent color will be used for highlights on the screen, as well as the status light at the bottom of the unit.
Evoko Pusco also has built-in speakers for playback sounds and to highlight and emphasize updated content.
Evoko PUSCO in UAE-  Measurements and Weight
  Pusco Floor
Height 1625 mm
Width 1311 mm
Depth 550 mm
Weight 80 kg
  Pusco Wall
Height 1240 mm
Width  663 mm
Depth  107 mm
Weight 50 kg
OfficePlus is the authorized partner of Evoko PUSCO in UAE. Our installed base of customer spans across key verticals like HealthCare, Finance, Oil & Gas, Government, Education etc. As a certified reseller of Evoko our customers are assured of great support, right from product demonstration, installation and ongoing support.
OfficePlus has direct support from both the manufacturer and distributor which results in great flow of technical and sales inputs which can help the customer immensely in choosing the right product.
Call us today (+971 2 6767019) for more information. Send in your enquiry at Evoko@OfficePlusUAE.com to simplify your meeting or conference room bookings.