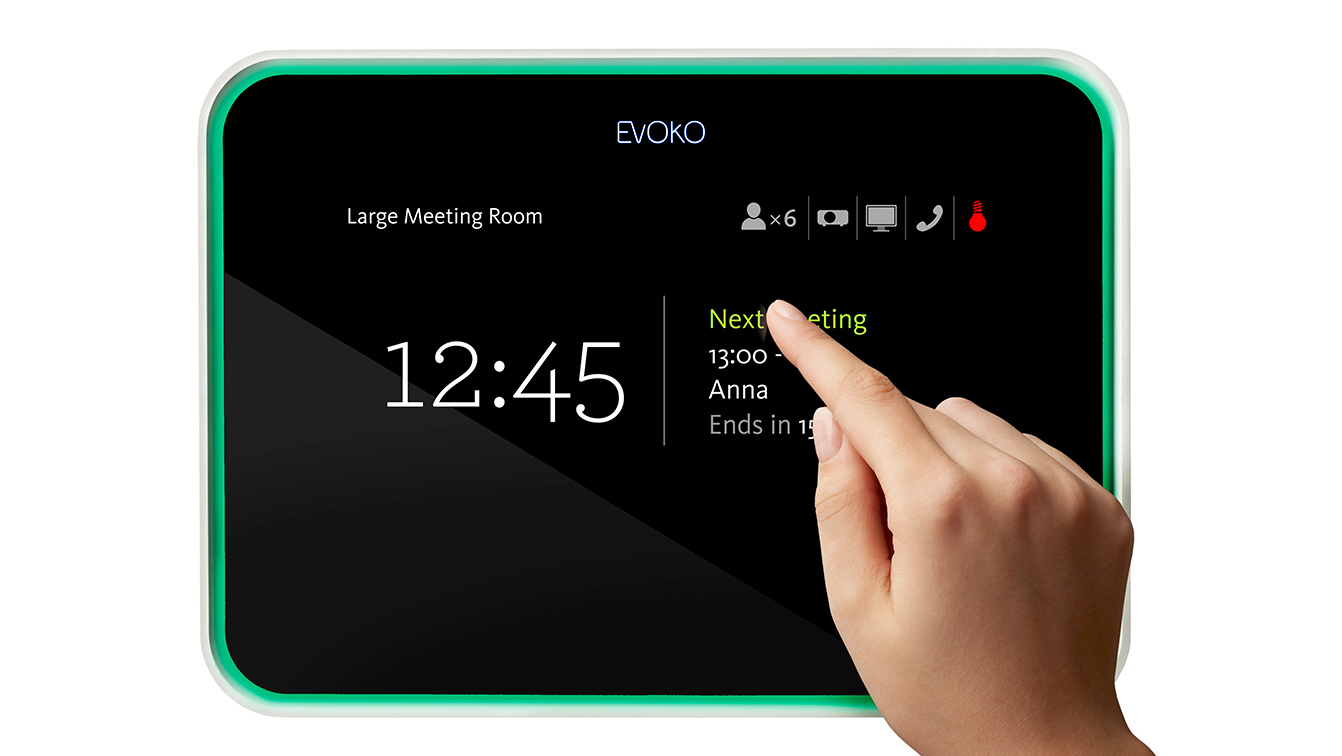 Evoko Room Manager
In touch efficiency
It's only a fingertip away. The Evoko Room Manager in UAE is a beautiful touchscreen solution for all your meeting rooms. Make sure they're being used in a truly effective way. Forget about double bookings, confusion and interrupted meetings. With our room booking system you can easily book conference rooms and then have all information presented on the screen. Integrates seamlessly with the existing e-mail server. Now you'll get full insight into your organization's meeting patterns to optimize resources. Get decision making support that really cuts costs. If you have room for improvement, get in touch with the Evoko Room Manager.
Evoko room manager – Overview
Meeting intelligence
Clairity is key

A meeting should be well planned, yet relaxed. See at a glance if the room is vacant or not by the screen's red or green LED illumination. With Evoko Room Manager, conference room booking couldn't be easier, no training is needed.
Up and running in no time
Evoko Room Manager is a turnkey solution that integrates seamlessly with the existing e-mail server. No additional software is required. Installation on the server is as simple as adding a new employee to the network. Secure, reliable and easy to manage.
Touch.Schedule.Meet.
Book a meeting

Book directly on the screen for ad hoc or get an overview of what other rooms are free
Book in your normal calendar software by simply adding the room to your calendar appointment
Book on a smartphone or tablet by adding the room as an invitee
Clarity is easy
Forget about double bookings, confusion and interrupted meetings. Book conference rooms easily and then have all information presented on the Evoko Room Manager.  Book ad hoc meetings on the screen or use your smart phone or normal calendar software. Anyone can use it, it's that easy.
Optimize the use of rooms
Increase meeting room availability by using the check-in function that releases booked meeting rooms when no one show up. Optimize the resources usage and get valuable decision-making support, by analyzing statistics collected by the units. Open the door to a new more effective meeting culture.
Happy IT department
A patent pending solution with seamless integration to existing e-mail servers. Secure, reliable and with minimal infringement to existing IT environment.
Turnkey solution with everything needed included in the box. No extra hard or software required and no license or subscription fees. A one time cost with everything included.
Remote Management for smooth configuration, updates and overview of the Room Managers.
Beauty contest winner
We are not bragging, we let other do it for us:
Good Design Award 2011 by the Chicago Athenaeum: Museum of Architecture and Design
DFA Award 2011, by Hong Kong Design Centre
"Best Digital Signage Hardware" 2012 at the Best of InfoComm Awards from rAVe Publications
iF product design award for 2011
Evoko room manager in UAE – COMPATIBLE SERVER TYPES
MS Exchange 2010
MS Exchange 2013
MS Exchange 2016
MS Office 365
Google Apps for Work

IBM/Lotus Domino 8.5.3 – 9.x
IBM Domino/SmartCloud
NFS
OfficePlus is the authorized partner of Evoko systems in the UAE. Our installed base of customer spans across key verticals like HealthCare, Finance, Oil & Gas, Government, Education etc. As a certified reseller of Evoko our customers are assured of great support, right from product demonstration, installation and ongoing support.
OfficePlus has direct support from both the manufacturer and distributor which results in great flow of technical and sales inputs which can help the customer immensely in choosing the right product.
Send in your enquiry at evoko@officeplusuae.com to simplify your meeting room bookings or call us on +971 2 6767019.
| Part Number | Description |
| --- | --- |
| ERM1001 | Evoko Room Manager |