Work everywhere that you do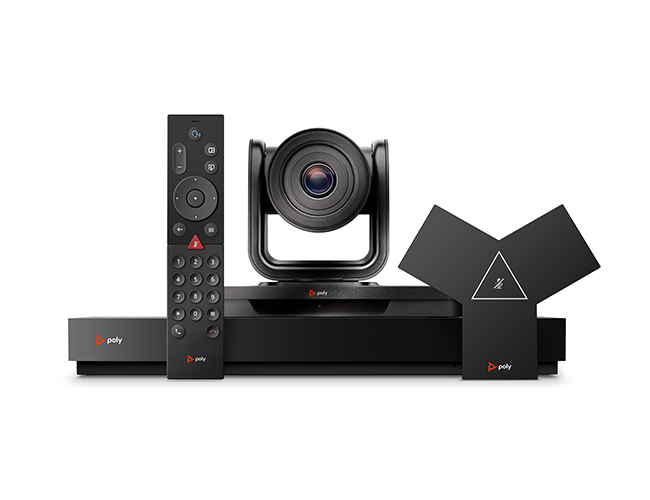 POLY G7500
Video conferencing and content-sharing solution for medium and large conference rooms.
LEAVE NO IDEAS BEHIND
The G7500 puts content at the center of the video conferencing experience. There's a single interface for content sharing and video calls. And anyone can share wirelessly from their own device, capturing content for later use.
Poly G7500 – Overview
Help teams share ideas and express themselves clearly—in Ultra HD 4K. No ideas get left behind because anyone can share wirelessly, annotate and capture content for later use. With detailed visuals and rich audio, people feel like they're together in the same room. With noise cancellation built-in, audio distractions like background noise and side conversations are a thing of the past. Poly G7500 in UAE is deployment friendly too, with an intuitive user interface and flexible set-up that increases adoption and utilization. The Polycom G7500 in UAE runs cloud service applications natively or the Poly Video app for standards-based calling and connection into any provider or video system.
Premium audio quality and voice clarity
Share content wirelessly from any device
Content annotation and digital whiteboarding
Customization and security for room control using REST APIs
Polycom G7500 in UAE – BENEFITS
Simplify the user experience by combining video conferencing and content sharing in one solution
Make people feel like they are together in the same room with Ultra HD 4K for amazing richness and clarity when sharing content
Minimize background noise from disrupting meetings with advanced audio technology including NoiseBlockAI
Native support for popular cloud services eliminating the need for a PC or Mac
OfficePlus LLC is the authorized reseller and sales partner for Polycom in the UAE. As part of the Polycom partner program, our customers are offered the complete suite of Polycom Conference Phones including Analog Conference Phones, VoIP Conference Phones, Microsoft Conference Phones & USB Speakerphones. With our special agreements with Polycom distributors in UAE, we offer Polycom products to our customers at the best price backed by warranty and support packages. Our customers in the UAE are also informed of the latest product launches from Polycom's entire range of Conference Phones. Our Customers can also experience the demonstration by calling into our full-fledged demo center or having us demonstrate the Poly G7500 in UAE.
To connect with us drop in an email at Polycom@OfficePlusUAE.com or call us on +971 2 6767019 to speak to our representative.