A simple user interface for any user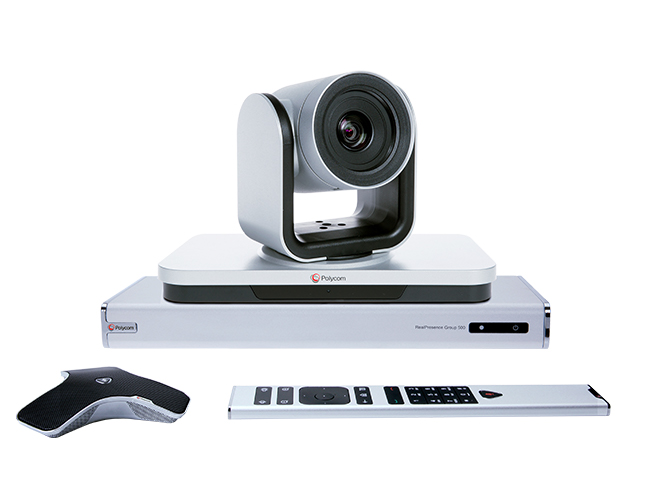 Poly Group 500
Enterprise-grade video conferencing, voice and collaboration experiences to accelerate decision-making and foster innovation.
Poly Group 500 – Overview
Poly Group 500 in UAE is the engine that drives enterprise-grade video, voice and collaboration experiences, accelerating decision-making and fostering innovation. Polycom Group 500 in UAE delivers enterprise-grade video collaboration experiences that bring users closer together and drives meaningful conversations for geographically dispersed teams.
Content Collaboration Experiences
Share content up to 1080p resolution at 60 frames per second – video clips, CAD animations, medical diagrams, or anything else you can dream up.
It's easy to share content using the HDMI or VGA connections or wirelessly from your laptop or mobile device.
For advanced content collaboration and group video conferencing, connect to Polycom Pano for easy wireless sharing from up to 4 users at the same time plus annotation and whiteboarding when using a touch display.
Video Experiences
EagleEye Producer uses innovative facial-tracking algorithms to accurately frame all room participants, or focus on the person speaking— whichever you prefer, eliminating the "bowling alley" view that is all too common in video calls.
For a more immersive feel, EagleEye Director II offers the highest performance speaker tracking experience, transmitting facial expressions and body language for higher impact and more productive group video collaboration.
RealPresence Touch makes it simple and intuitive to start and control calls, including one-touch dialing from the integrated calendar
Wirelessly share content from your own laptop or mobile device.
Audio Experiences
RealPresence Group Series features the ultimate voice clarity, automatically reducing background noises and delivering advanced echo cancellation to keep meetings on track and free from distractions.
Lost Packet Recovery protects the audio and video in challenging network environments, keeping the experience optimal for users even in difficult network conditions.
Polycom NoiseBlock technology keeps annoying sounds such as keyboard clicking and paper rustling from interrupting your meetings.
Polycom Acoustic Fence captures sounds from inside the virtual fence while blocking those from outside, enabling group video collaboration in open workspaces.
Add Polycom SoundStructure to enable highly sophisticated audio tuning and configuration, plus the ability to add dozens of additional microphones, delivering clarity for everyone even in your largest spaces.
Poly Group 500 in UAE – Technical Overview
Interoperability
RealPresence Group 500 in UAE is the only standards-based group video conferencing system that is certified with Skype for Business on-premises and online. (Connection to Microsoft Teams requires RealConnect for Microsoft Teams service).
Poly Group 500 in UAE unique interoperable SVC architecture is the first to provide video calling between both existing video systems and new SVC systems.
Polycom's built-in interoperability with BlueJeans video Meetings and Zoom Meetings delivers an unparalleled quality in-room meeting experience to subscribers of cloud-based group video meetings.
Models to Fit Any Space or Budget
RealPresence Group 310 delivers high-quality video at a breakthrough price for smaller meeting rooms, huddle rooms, and offices.
RealPresence Group 500 delivers powerful video collaboration performance for conference rooms and other meeting environments in a sleek design that is easy to configure and use.
RealPresence Group 700 delivers extreme group video collaboration performance and flexibility for board rooms, lecture halls, and other locations where only the best will do.
Innovative peripherals improve the video experience, make it easier for users to start and control calls, and simplify deployment
Powerful Camera Options
Only Polycom delivers a range of automatic camera tracking solutions that ensure participants can always be seen clearly: EagleEye Producer and EagleEye Director II.
The Polycom EagleEye IV camera offers brilliant visual clarity, 12x or 4x zoom and an optional wide-angle lens adapter, capturing everyone clearly even in odd-shaped rooms.
Polycom EagleEye Acoustic, featuring built-in microphones and small footprint that easily mounts to the top of a flat-panel display, is the perfect fit for an executive office or huddle room.
Packaged Solutions
Polycom RealPresence Medialign delivers the industry's best group video collaboration with an innovative, modern design that deploys anywhere in minutes.
RealPresence Utility Cart 500 allows users to bring in remote participants wherever they are needed. The ease-of-use and flexibility of a mobile cart increase productivity through enabling collaboration when and where you need to be.
RealPresence EduCart 500 is a flexible, movable video collaboration solution that brings educators, experts, students or locations into the classroom no matter where they are located.
RealPresence VideoProtect 500 is a safe, secure solution that delivers video services to citizens no matter where they are located, protecting the components and enabling video to be used in public or judicial environments.
OfficePlus LLC is the authorized reseller and sales partner for Polycom in the UAE. As part of the Polycom partner program, our customers are offered the complete suite of Polycom Conference Phones including Analog Conference Phones, VoIP Conference Phones, Microsoft Conference Phones & USB Speakerphones. With our special agreements with Polycom distributors in UAE, we offer Polycom products to our customers at the best price backed by warranty and support packages. Our customers in the UAE are also informed of the latest product launches from Polycom's entire range of Conference Phones. Our Customers can also experience the demonstration by calling into our full-fledged demo center or having us demonstrate the Poly Group 500 in UAE.
To connect with us drop in an email at Polycom@OfficePlusUAE.com or call us on +971 2 6767019 to speak to our representative.