Easily share ideas, plans and demos in rich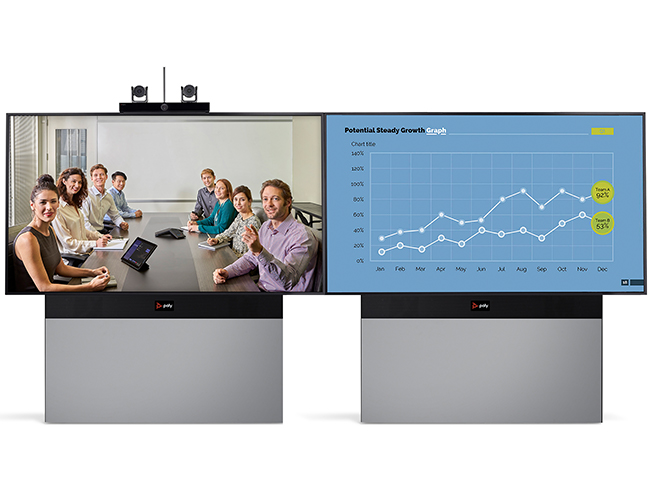 Poly Medialign
A single system for premium video conferencing that helps teams connect and collaborate simply.
COMPLETE VIDEO CONFERENCING
Say hello to seamless communication—even when your teams are spread far and wide. The Poly Medialign complete video conferencing solution makes it possible. Teams can easily share thoughts and ideas, and present plans and demos. All in rich UltraHD video and high-fidelity audio. Inspiring? Most definitely.
Poly Medialign – Overview
ONE SYSTEM INCLUDES EVERYTHING
Get monitors, tabletop mic arrays and a sturdy stand. Plus smart-tracking EagleEye Director II cameras, a powerful codec, and all cables. Installation is quick and simple in any room. It's easy to get end users up and running. And support is always just a single phone call away. Here comes better collaboration.
Simple, all-in-one collaboration
Polycom RealPresence Medialign in UAE includes everything you need to easily deploy video communications. RealPresence Medialign offers single-SKU ordering with patented 'no-tools-required' installation in any location. Perfect for medium to large rooms, Poly Medialign in UAE comes complete with single or dual 55″ or 70″ LED monitors, high-fidelity audio, tabletop microphone arrays, Polycom EagleEye cameras, and the powerful RealPresence Group Series 500 video codec.
Unmatched user experience
With 1080p60 resolution for both video and content and Polycom's legendary audio, RealPresence Medialign offers a best-in-class collaboration experience. But the unique Polycom innovations make all difference.
Hands-free camera operation with Polycom® EagleEye™ Producer or Polycom® EagleEye™ Director II automatically frames and tracks meeting participants.
Polycom® NoiseBlock™ and Polycom® Acoustic Fence™ technologies remove distracting non-speech sounds like typing, shuffling papers and even barking dogs. Polycom® RealPresence Touch™ replaces confusing remote controls with a simple touch-screen interface. Every detail has been addressed to ensure your teams can focus completely on effective collaboration.
Powerful collaboration
Collaborate visually on concepts, images and media—with ease. Polycom® SmartPairing™ connects your BYOD devices for sharing and annotating content
from your device, the web and even cloud storage. Provide virtual whiteboard collaboration for everyone both in and out of a call with embedded Polycom®
VisualBoard™ technology in RealPresence Medialign.
Broad interoperability
With the industry's broadest support for open, standards-based interoperability, native integration into UC deployments including Microsoft Lync / Skype for Business and BroadSoft One, RealPresence Medialign protects your investment from shifting business landscapes.
Polycom Medialign in UAE – TECHNICAL OVERVIEW:
Standard Components
Hardware kit
Front cover (color options: black, white, slate, applewood)
Monitor: 65″ (1651 mm), 75″ (1905 mm) touch or 86″ (2184 mm)
Optional controller: Poly TC8, RealPresence Touch, or Trio with Visual Pro
G7500 or Group 500 codec, G7500, or microphone array, remote and power cord
HDMI content cable, cable bundle and power strip
Dual stereo speakers
Installation document with box identifications
Optional Components
Second monitor: 65″ (1651 mm), 75″ (1905 mm) touch or 86″ (2184 mm)
Height adjusters: 6″ (152 mm ) or 12″ (305 mm)
Long HDMI cable, long power cord and long speaker cable
Codec mounting plate
Additional speakers
Alternate front panel (black, white, slate, applewood)
Side trim panels
OfficePlus LLC is the authorized reseller and sales partner for Polycom in the UAE. As part of the Polycom partner program, our customers are offered the complete suite of Polycom Conference Phones including Analog Conference Phones, VoIP Conference Phones, Microsoft Conference Phones & USB Speakerphones. With our special agreements with Polycom distributors in UAE, we offer Polycom products to our customers at the best price backed by warranty and support packages. Our customers in the UAE are also informed of the latest product launches from Polycom's entire range of Conference Phones. Our Customers can also experience the demonstration by calling into our full-fledged demo center or having us demonstrate the Poly Medialign in UAE.
To connect with us drop in an email at Polycom@OfficePlusUAE.com or call us on +971 2 6767019 to speak to our representative.