Suitable for conference rooms up to 10 seats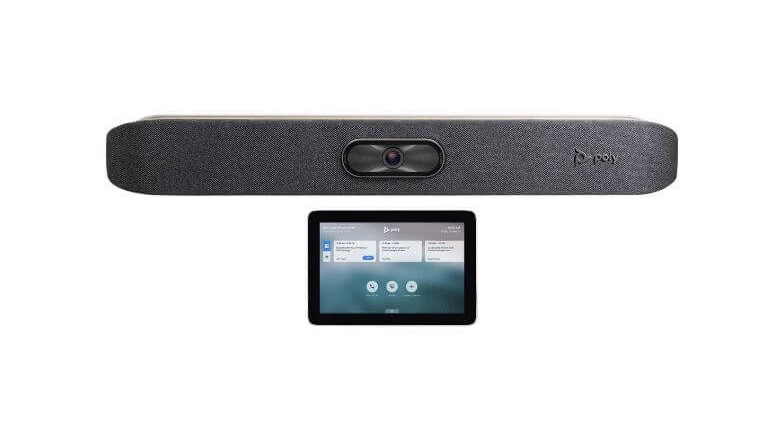 Poly Studio X50 in UAE
Experience full board-room-quality audio, and knock-your-socks-off video, for mid-sized rooms. The Poly Studio X50 all-in-one video bar is radically simple to use with support for leading cloud video services built right in—no PC or Mac required. Voices are crisp and clear. Video feels natural. And wireless content sharing lets users collaborate from their devices without cables or pucks.
Poly Studio X50 in UAE – Overview
Simple Setup, No Drama
Get your medium-sized conference rooms up and running in moments. No PC or Mac is required, with cloud service platform support built-in. It's easy to install, and ideal for rooms of up to 10 participants.
Production-Quality Performance
Feel more connected thanks to intelligent camera framing. Block out distractions with NoiseBlockAl, powered by machine learning, while providing room-filling sound from stereo speakers. pick up voices with our next-gen microphones. Easily share content over wired or wireless connections. Dual monitor support offers great flexibility.
Do Meetings Your Way
Polycom Studio X50 in UAE features native support for Video-as-a-Service (VaaS) platforms, including Zoom, without the need for a PC. Plus, it has H.323 and SIP support for easy connection to any standards-based video solutions or VaaS gateway.
WE WORK EVERYWHERE THAT YOU DO
Poly video solutions make meetings a breeze. Use cloud video apps for full experience with all the features you know and love. Or use standards-based SIP and H.323 compatibility to connect to different cloud video services throughout your day.
OfficePlus LLC is the authorized reseller and sales partner for Polycom in the UAE. As part of the Polycom partner program, our customers are offered the complete suite of Polycom Conference Phones including Analog Conference Phones, VoIP Conference Phones, Microsoft Conference Phones & USB Speakerphones. With our special agreements with Polycom distributors in UAE, we offer Polycom products to our customers at the best price backed by warranty and support packages. Our customers in the UAE are also informed of the latest product launches from Polycom's entire range of Telepresence systems. Our Customers can also experience the demonstration by calling into our full-fledged demo center or having us demonstrate the Polycom Studio X50 in UAE.
To connect with us drop in an email at Polycom@OfficePlusUAE.com or call us on +971 2 6767019 to speak to our representative.