Polycom RealPresence Immersive Studio
New customizable TelePresence-type experience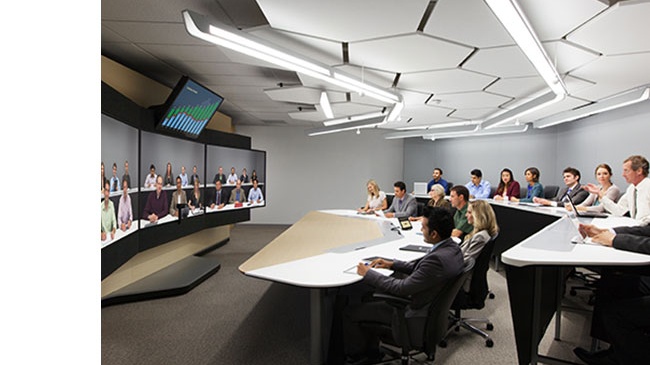 RealPresence Immersive Studio
Fully immersive collaboration for meetings that matter
You need to make better decisions more quickly, no matter where your global teams are located. Conference room and mobile video are great for everyday meetings, but the most important business discussions need to be as life-like and interactive as possible.
Polycom RealPresence Immersive Studio provides a specially designed environment where every detail is perfected to create a visual, audio, and collaboration experience that is so real, you forget about the technology and focus only on the objective and content of your meeting.
Polycom RealPresence Immersive Studio – Overview
Fully Immersive Video
The next evolution in immersive video experiences, with 1080p60 quality on next-generation 4k Ultra HD displays for stunning realism
The 18-foot video wall, with three 84-in. thin-bezel displays plus a dedicated content display so everyone and everything can be seen clearly
Stand up, walk around, get comfortable, and still be seen, unlike other systems that chop your head off unless you stay nailed to your chair
Seats up to 21 participants in each room that can be clearly seen on video, no matter where they're sitting
Polycom 3D Voice delivers extremely clear pinpoint audio which comes directly from the person speaking – far more life-like than stereo "spatial" audio
Share Content Easily and Flexibly
View and share content in a way that works best for you. Display content on the dedicated 55-in. monitor, or move it to the 84-in. displays to see even detailed spreadsheets and diagrams with ease
Annotate and mark up content for all locations to see using Polycom VisualBoard technology
Use your tablet device to easily share and annotate content with RealPresence Mobile, or share content from your laptop with RealPresence Desktop.
Add in the optional RealPresence Content Sharing Suite for even more content flexibility during multi-point calls, including sending and receiving content using a standard laptop browser
Poly RealPresence Immersive Studio in UAE – Technical Overview
Executives and business owners demand high-quality reliable collaboration experiences, but IT is responsible for ensuring it can be managed without adding additional technical burdens. It needs to be simple to use without requiring hands-on help during every call. And it needs to integrate seamlessly with your overall video and UC environment, as well as other telepresence systems.
Polycom RealPresence Immersive Studio in UAE delivers next-generation collaboration experiences, driving higher utilization of video in all environments and adding value to your overall video deployment. The industry's most robust native interoperability simplifies integration with existing video solutions and UC platforms. Plus it is a long term investment that includes next-generation technology today and is designed to be upgraded in the future.
Broadest Interoperability
Polycom offers the industry's broadest portfolio of over 40 video and voice solutions that integrate natively with Microsoft Lync, including RealPresence Immersive Studio. This means that Lync-enabled desktop or room clients can join video calls with RealPresence Immersive Studio, and can share content back and forth with Lync via the optional Content Sharing Suite.
Three-screen design simplifies connections to other immersive rooms so you can get more out of those investments and prevent video islands from forming in your organization.
Fully standards-based to easily connect to any standards-based video, including other immersive rooms, room video systems, desktop and mobile clients.
Easily see all of these different types of video users at once on the 18-foot video wall using the RealPresence Platform for a powerful command-and-control experience
Lowest Total Cost of Ownership
Manage Polycom RealPresence Immersive Studio as easily as any other video device using the Poly RealPresence Immersive Studio in UAE Platform, which provides enterprise infrastructure for deploying and managing video and voice assets across your organization
Room-within-a-room design minimizes room design and construction costs and assures consistent experiences anywhere around the globe
Next-generation technology delivered today, including 84″ Ultra HD displays, minimizes the cost of future upgrades and enables you to easily deploy new features and capabilities as they become available. Be confident you are buying a solution that will grow with you as your needs evolve and technology advances.
H.264 High Profile reduces bandwidth by up to 50% compared with competitor's immersive systems
Modular design is built for upgradeability. As future technology emerges, upgrade just those pieces, not the entire room.
The multi-purpose room can be used during non-video meetings with up to 16 participants around the main table
Our global services team will work with you to ensure a successful installation that is integrated with your video environment and optimized for your business needs. We offer a range of maintenance and support packages, from standard maintenance to 4-hour response for select locations to ensure the room is always available.
OfficePlus LLC is the authorized reseller and sales partner for Polycom in the UAE. As part of the Polycom partner program, our customers are offered the complete suite of Polycom Conference Phones including Analog Conference Phones, VoIP Conference Phones, Microsoft Conference Phones & USB Speakerphones. With our special agreements with Polycom distributors in UAE, we offer Polycom products to our customers at the best price backed by warranty and support packages. Our customers in UAE are also informed of the latest product launches from Polycom's entire range of Conference Phones. Our Customers can also experience the demonstration by calling into our full-fledged demo center or having us demonstrate the Polycom RealPresence Immersive Studio in UAE. To connect with us,call us on +971 2 6767019  to speak to our representative or drop in an email at Polycom@OfficePlusUAE.com .