Built for unrivaled quality, sized for the huddle room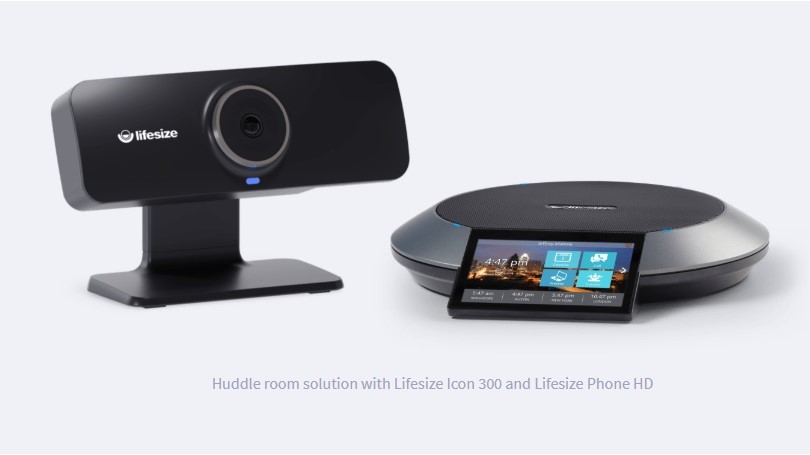 Lifesize Icon 300
Huddle rooms are perfect for short, spontaneous meetings. The Lifesize® Icon 300™ brings simplicity and reliability to your huddle room working sessions giving your teams the flexibility to connect face-to-face with anyone inside or outside of your network. Set up is plug and play, controls are intuitive, and every call is encrypted by default. Pricing starts at $2,999 and includes a Lifesize Phone HD giving you everything you need for incredible huddle room collaboration.
Lifesize Icon 300 in UAE – Overview
Built by more than a decade of meeting room hardware experience
Our professional line of audio and video conferencing equipment is engineered to deliver an amazing meeting experience. From all-hands spaces and boardrooms to small huddle rooms, our cloud-based meeting room solutions bring industry-leading video conferencing and wireless screen sharing to all your meeting spaces.
Lifesize Icon 300 in UAE – Features
An intuitive user interface and robust meeting control perfectly tuned for huddle room video conferencing.
Simplicity matters
One provider and one easy-to-use, secure solution for the huddle room
Ultra-wide FOV
Lens optics perfectly optimized to capture everyone at the table in even the smallest meeting rooms
4K content sharing
Unmatched 4K screen sharing quality lets you present in the huddle room without sacrificing quality
Mounting flexibility
All-in-one video conferencing system easily mounts above or below your meeting room display
Never miss a word
Incredible audio engineered with greater noise reduction, featuring Opus audio, perfectly tuned for human speech
Intuitive touchscreen control
Reduce tabletop clutter and manage Lifesize audio, web and video calls from the highly intuitive, customizable Lifesize® Phone™ HD
Uncompromising value
Long-managed life cycle designed for the reliability and security businesses demand
Centrally managed
Set up is plug-and-play, updates are automatic, and all Lifesize Icons are centrally managed
At OfficePlus LLC we provide our customers Onsite AMS (Assurance Maintenance Services) & AMC (Annual Maintenance Contracts) packages for our customers in Dubai, Abu Dhabi, Sharjah and other emirates of UAE. For customers in the Gulf region we provide remote AMS and AMC packages.
OfficePlus LLC is the authorised distributor and sales partner for LifeSize in the UAE. As part of the LifeSize partner program our customers are offered the complete suite of LifeSize HD videoconferencing products including LifeSize Icon 300 in UAE at the best price backed by warranty and support packages. Our customers in UAE are also informed of the latest product launches from LifeSize. Our Customers can also experience the latest LifeSize Icon 300 in action by calling into our office on launch.
To buy LifeSize Icon 300 in UAE drop in an email at LifeSize@OfficePlusUAE.com or call us on +971 2 6767019 to speak to our representative.
Part Number               Description
1000-0000-1186          Lifesize Icon 300 – Phone HD
1000-2100-1186          Lifesize Icon 300 – DSS – 1 yr
1000-2200-1186          Lifesize Icon 300 – DSS – 2 yr
1000-2300-1186          Lifesize Icon 300 – DSS – 3 yr
1000-2400-1186          Lifesize Icon 300 – DSS – 4 yr
1000-2500-1186          Lifesize Icon 300 – DSS – 5 yr