Award-winning video conferencing systems for every meeting space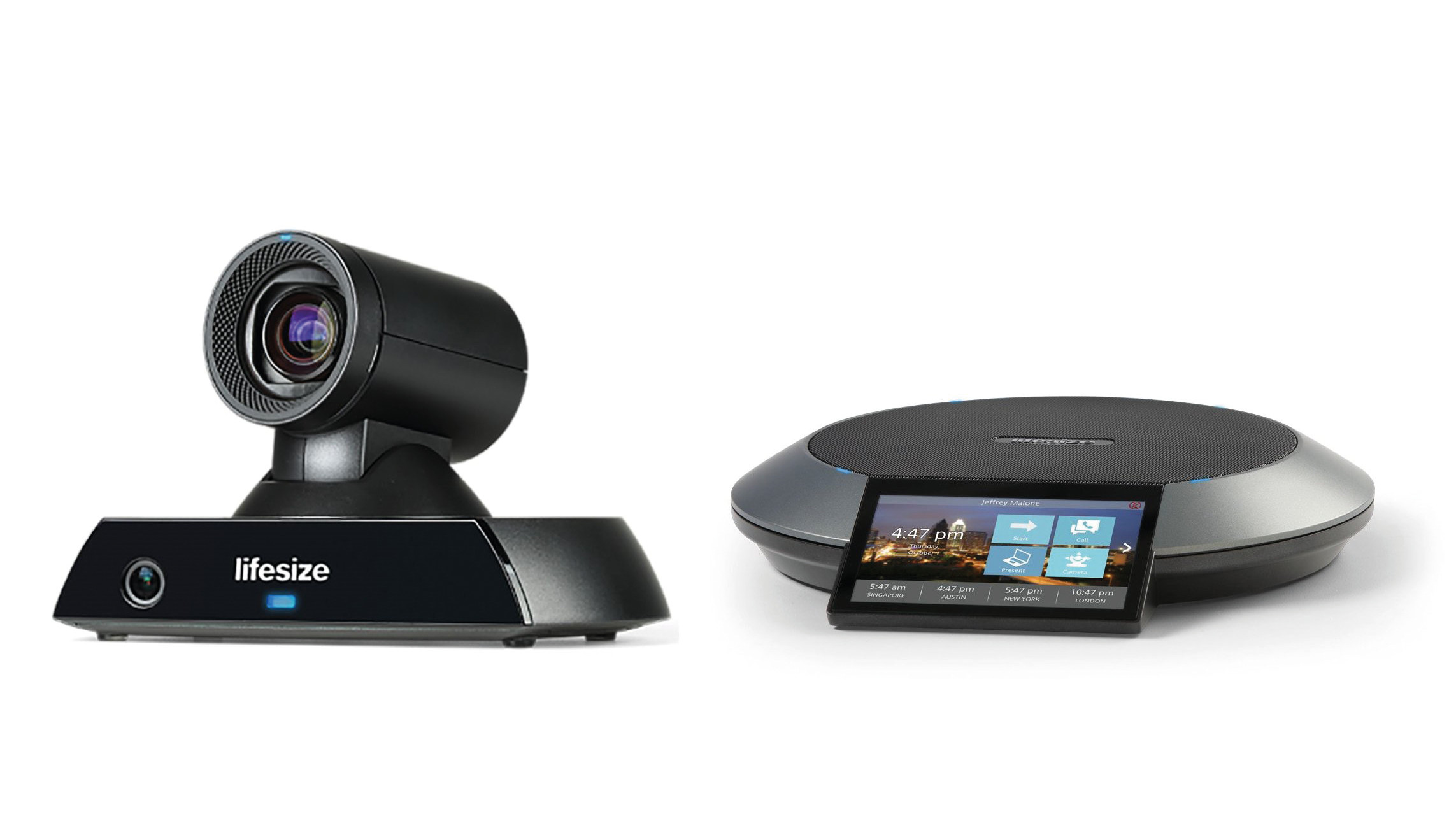 Lifesize Icon 450 in UAE – Overview
Turn any meeting space into a video meeting space with a Lifesize conference room camera system.
We have more than a decade of experience building and perfecting meeting room cameras and phone systems. Setting up a conference room with Lifesize doesn't require a technology degree—just connect the camera to a TV and the internet, give it power and pair it to your account to start making calls—there simply isn't a more powerful or easier-to-use video conferencing solution available. The conference room is the anchor of the meeting experience and we specialize in simplifying that experience for all of the different meeting spaces around your office.
Lifesize Smart framing camera Sensor adjusts to capture all room participants
Integrated pan/tilt/zoom camera
Wide-angle lens with 80-degree horizontal field of view
Auto focus/auto gain
Supports single display
Automatic updates
Available with Lifesize® Phone™ HD
Pairs to the Lifesize app
Lifesize Icon 450 in UAE – Features
Bring everyone into the picture
Starting a meeting over video should be effortless. Wouldn't it be nice to walk into a huddle room and feel confident that everyone in the room is visible and centered in the picture? No fuss or hassles
to adjust the camera — just video communication as it should be. Sharing ideas and collaborating is as easy as if your teammates were right there in the room. With Lifesize, your huddle room is connected to wherever people happen to be — in lifelike, crystal clear HD quality.Focus on your meeting and let Lifesize Icon 450 handle the rest. When you walk in the room, it's ready to go.If you're looking for a simple, scalable way to deploy integrated, plug-and-play conference room systems across your offices, Lifesize Icon 450 is a perfect fit. With the Lifesize® app and Lifesize® Phone™
HD, you get a seamlessly integrated cloud-based audio, web and video conferencing service, programmable touchscreen control and exceptional audio quality. There simply isn't a more powerful and easyto- use video conferencing solution.
Perfectly designed for huddle rooms
Just because huddle rooms are small doesn't make them less important. Many would argue that they are the most productive rooms in the building. Huddle rooms are flexible and allow for spontaneous collaboration. The technology in them should empower teams, not hold them back. Lifesize Icon 450 gets you into the meeting quickly,
connecting people to get work done. Lifesize Icon 450 is perfectly designed to bring the power of video communication to huddle rooms. The smart-framing sensor
automatically adjusts the camera to ensure that everyone in the room is visible during the call. Its exceptionally sharp wide-angle lens provides an expanded field of view, capturing everyone on screen even in small meeting spaces. The HD camera system and smart-framing capabilities are integrated into one compact package, so it's simple to set up and fits easily on a credenza. Its HD video and crystal clear audio erase distance and put everyone into the same space, making meetings more productive and efficient.
Pair with Lifesize Cloud
Simplified setup through auto-provisioning, video network management and secure NAT/ firewall traversal will accelerate deployment throughout your organization. The Lifesize Admin Console gives you the control you need to quickly and easily administer and manage your Lifesize account and your Lifesize HD camera systems and phones. Use the robust dashboard to track usage by call, minutes, users and average call time. All of the information you need to make the most of your investment is right at your fingertips. Capitalize on the power of our cloud-based audio, web and video conferencing service to deliver substantial benefits to your business. Simple one-on-one calls that can quickly escalate to group calls by clicking on a name in a directory are strong enticements to hold meetings via video. You also get instant and scheduled meetings, calendar integration and unlimited audio only calls included for users and guests in 60 countries. Add on Lifesize Amplify to record meetings and share them with any number of viewers with the push of a button. Only Lifesize delivers one solution for simply connecting your conference rooms to everyone who needs to be
in the meeting — from anywhere, on any device.
Touchscreen control with Lifesize Phone HD
Lifesize Icon 450 in UAE and Lifesize Phone HD make a winning combination for the huddle room. Lifesize Phone HD delivers audio quality so clear that you can catch every whisper. This programmable, touchscreen device simplifies your meeting room experience by putting all of the essential conferencing functions at your fingertips. Easily launch calls, share content, add participants, view your meeting calendar and more. With Lifesize Phone HD, you can manage Lifesize audio, web and video conferencing from one highly intuitive device, so there's no need for a separate phone for audio conferences. Reduce complexity and reclaim some space on your conference table. Designed for simplicity, Lifesize Phone HD is the only phone you need in the huddle room.
LifeSize Icon 450 features and benefits with buying information in UAE, installation services in UAE,
Features At-A-Glance
Lifesize Smart-framing camera Sensor Ensures that everyone in the room is visible during a call
Pair to the Lifesize app* Directory with name-based one-click calling, virtual meeting rooms, screen sharing, calendar integration, chat, automatic software updates and more
Record and Share Calls with Lifesize Amplify* Easily record a video call or meeting from any device and automatically publish videos into your own video library
Seamless Call Escalation Accept requests to join your call or add others via your directory with one click
Video Quality Up to 1080p30
Presentation Quality & Screen Sharing HDMI input for 1080p video and audio presentation
HD Display Support for one display
HD Camera Pan, tilt and zoom camera with 80° HFOV and support for up to 1080p30 HD and 5x zoom
Lifesize Phone HD Delivers superior audio quality and an easy-to-use, programmable touchscreen enabling video and audio management
Part Nos for LifeSize Icon 450
1000-0000-1183    LifeSize Icon 450 – Phone HD
1000-2100-1183 LifeSize Icon 450 – LAMS – LifeSize Assurance Maintenance Service (1 Year)
LifeSize Icon 450 – PAMS – Partner Assurance Maintenance Service (1 Year)
What's in the box : LifeSize Icon 450, LifeSize Phone HD, (2) HDMI cables, (1) Ethernet Cable, (1) Power supply cable, (1) LifeSize Link cable (LifeSize Phone HD)
At OfficePlus LLC we provide our customers Onsite AMS (Assurance Maintenance Services) & AMC (Annual Maintenance Contracts) packages for our customers in Dubai, Abu Dhabi, Sharjah and other emirates of UAE. For customers in the Gulf region we provide remote AMS and AMC packages.
OfficePlus LLC is the authorised distributor and sales partner for LifeSize in the UAE. As part of the LifeSize partner program our customers are offered the complete suite of LifeSize HD videoconferencing products including LifeSize Icon 450 at the best price backed by warranty and support packages. Our customers in UAE are also informed of the latest product launches from Logitech Video Collaboration division. Our Customers can also experience the latest LifeSize Icon 450 in action by calling into our office on launch.
To buy LifeSize Icon 450 in UAE drop in an email at LifeSize@OfficePlusUAE.com or call us on +971 2 6767019 to speak to our representative.
| Part Number | Description |
| --- | --- |
| 1000-0000-1183 | LifeSize Icon 450 – Phone HD |