No longer the one-sided presentation tool they used to be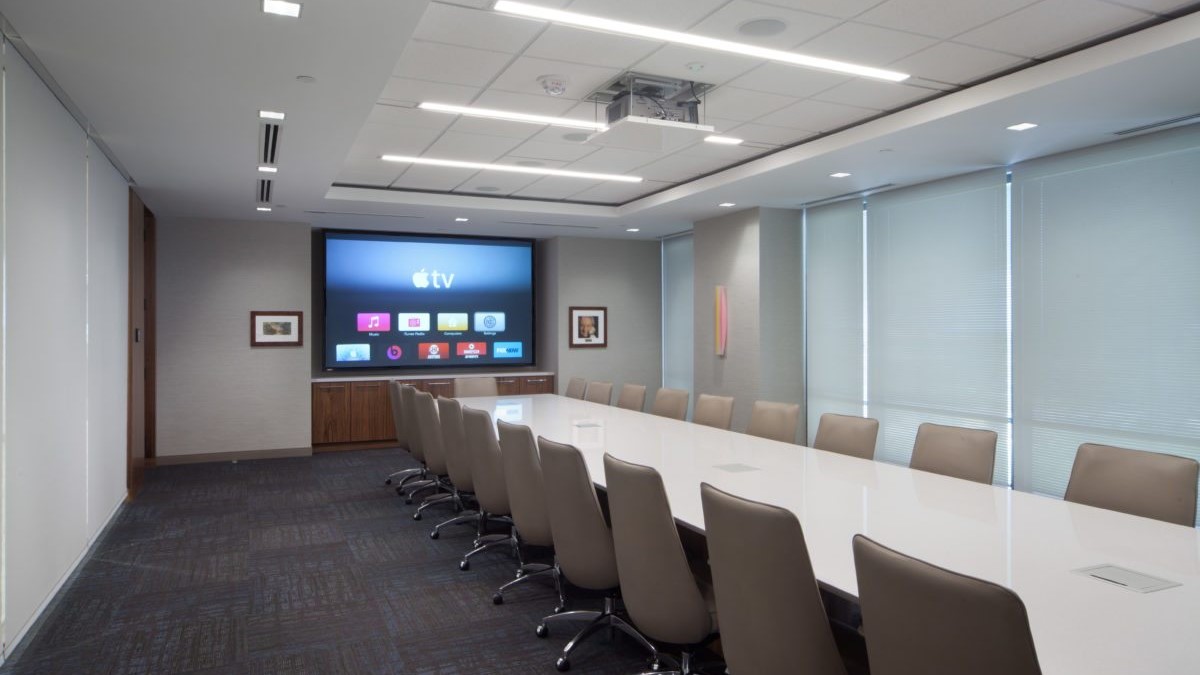 Projectors for Classrooms
Instructors supplement their lecture material with PowerPoint presentations shown with a projector and computer. The teacher projects a PowerPoint slide on a whiteboard and can annotate the image on the board with a marker as she discusses important principles; she can add notes and equations and point out interesting features.
When students make classroom presentations, they, too, can prepare PowerPoint files to serve as a backdrop for their talks.
It's natural to think that brighter is better when it comes to choosing a school projector, but sometimes a projector can be too bright, especially in a dark environment. However, it is true that projectors with a higher ANSI lumen rating will cope better with the onslaught of ambient light coming in through your windows and electric lights on the ceiling. It's all about finding the right balance for the levels of ambient light in your classroom.
If a projector is too bright it can be damaging to the eyes if you look directly into the beam, and the brighter the projector, then the higher the chances of this being an issue. We'd recommend no more than a 4,000 lumen classroom projector for a typical school installation.
At OfficePlus we are pleased to offer free consultation to help you select the best projector in UAE for Classrooms in UAE.
Just give us a call and we can guide you through the buying decision.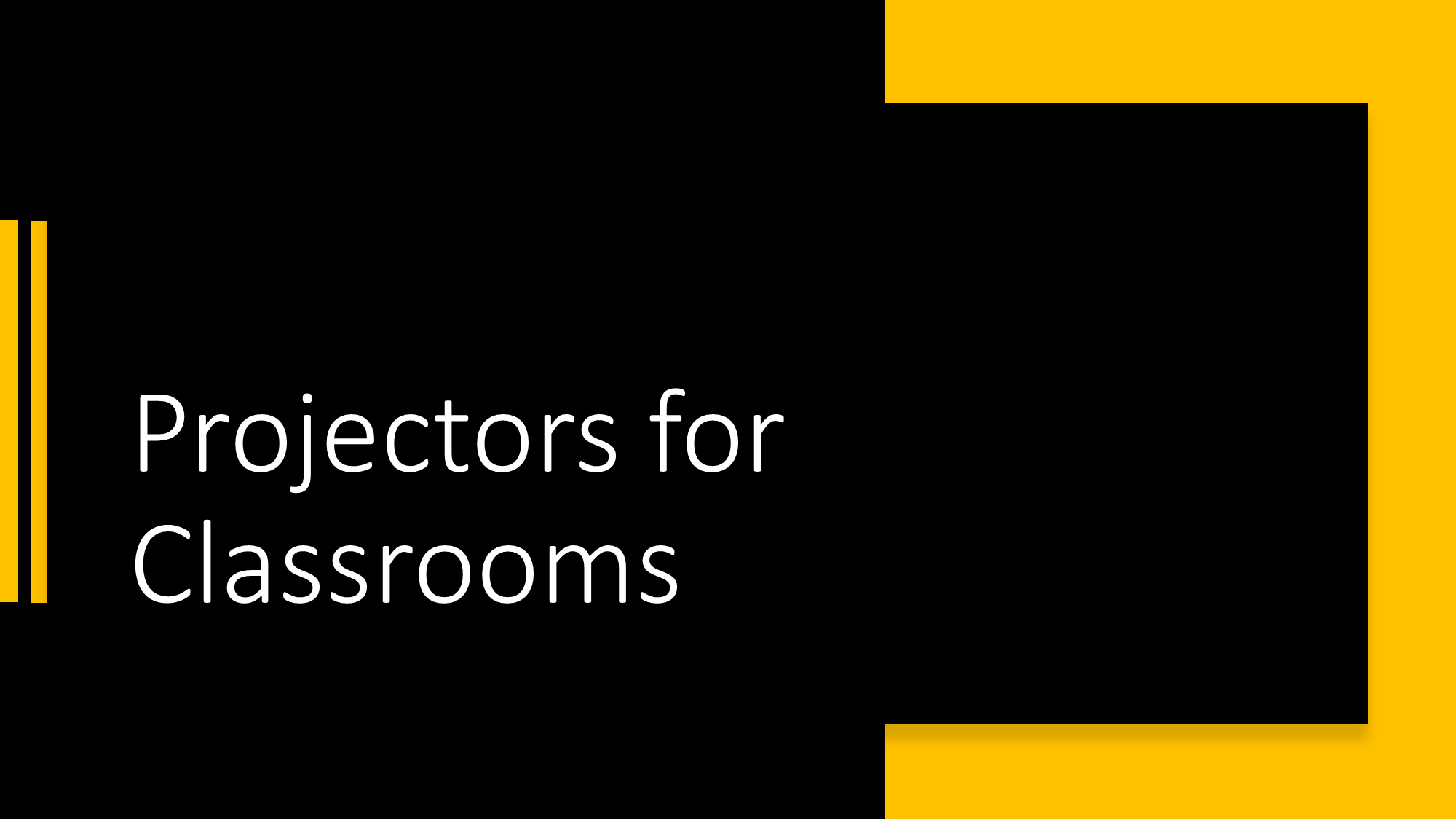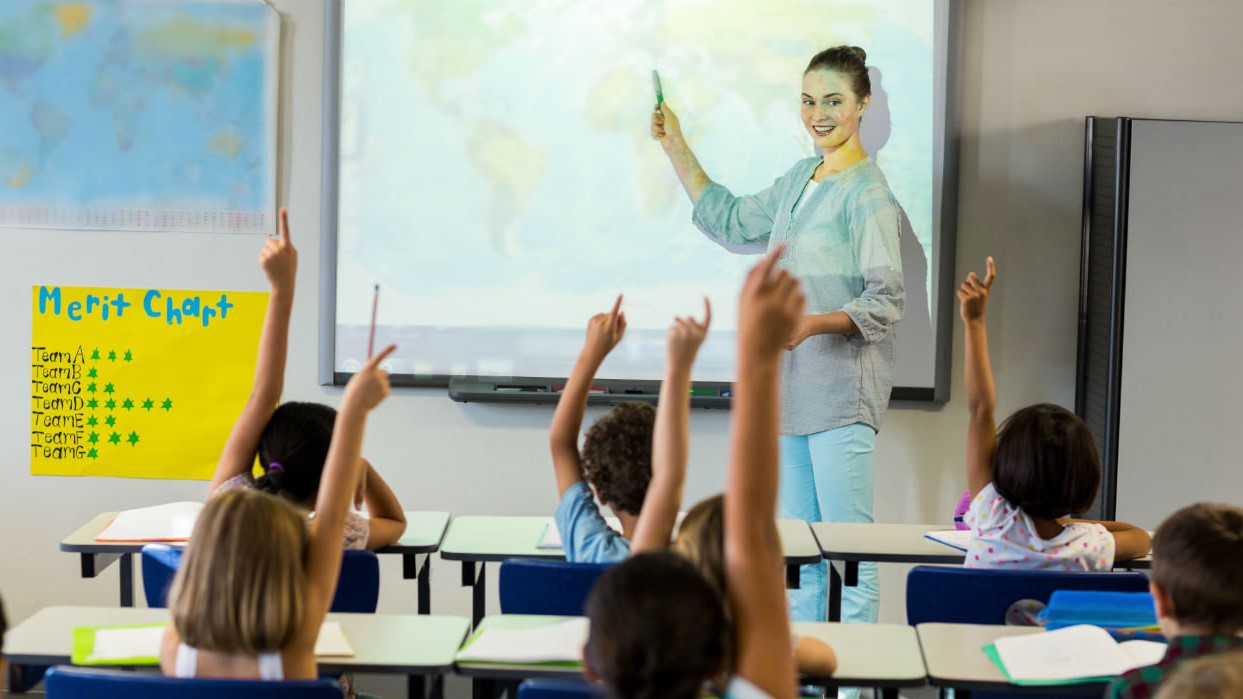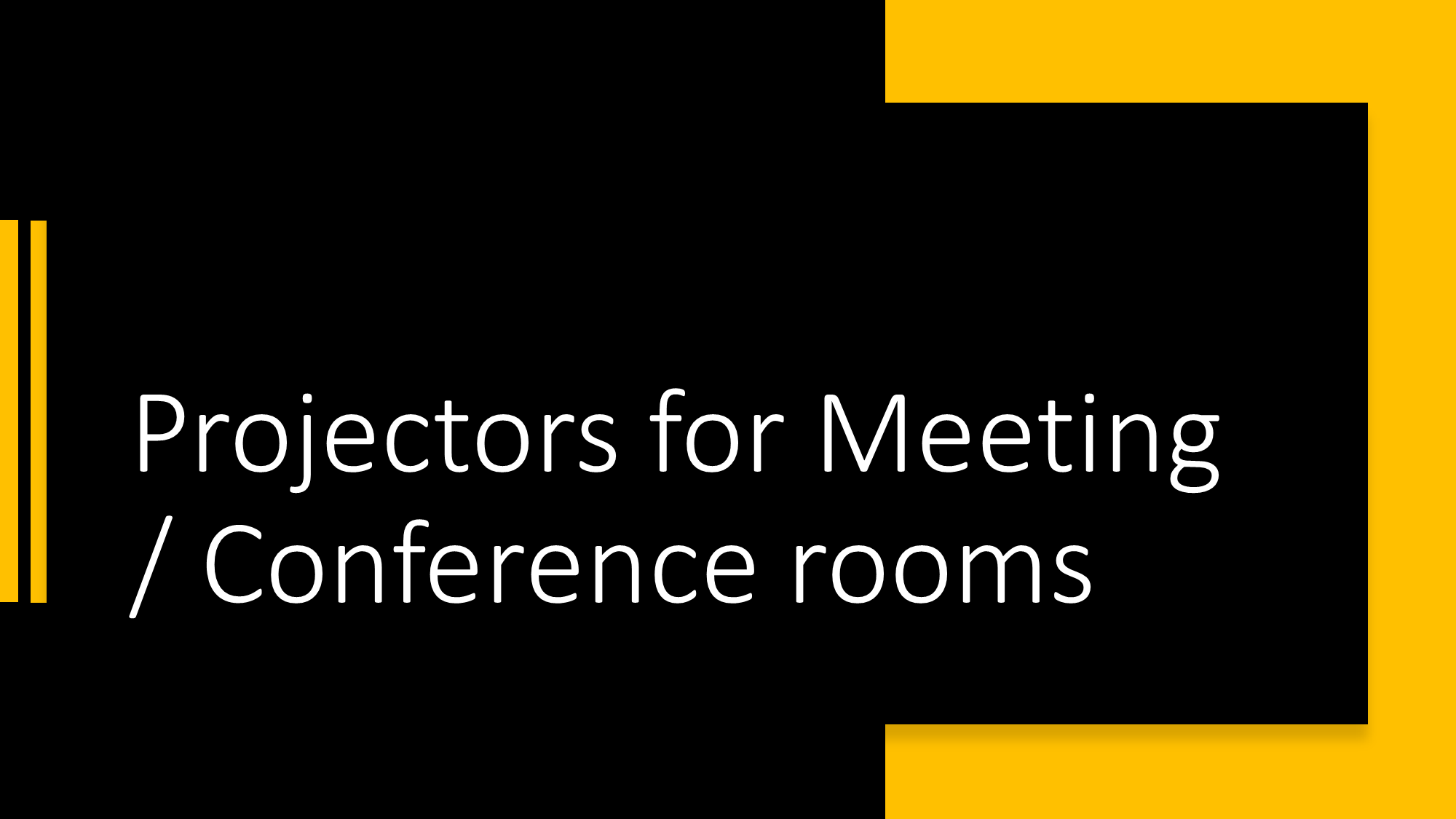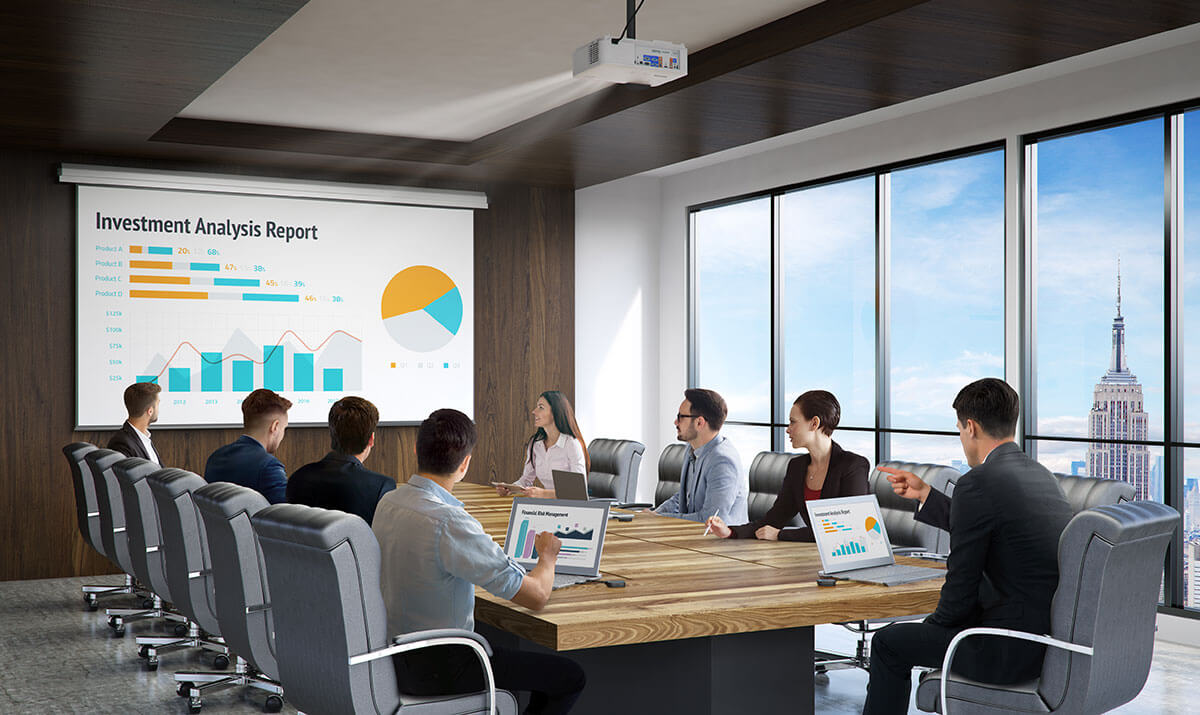 Projectors for Meeting room/ Conference rooms
Do you have a business with a conference room and need to display data for all to see in meetings? Why settle for an average model if you can buy the best projectors for your conference rooms.
You will need one that displays presentations, PDF files, and spreadsheets compared to one handling full-motion videos. Also, a fact is if you select one that can handle videos, well it will be able to display photos as well without any complications.
It will make your presentations engaging and interactive in the meetings leaving you without any embarrassment. Therefore, with us, you can compact devices making it easy to travel.
Furthermore, you can find full-featured projectors with a wide range of ports and high-end image reliability as well.
At OfficePlus we are pleased to offer free consultation to help you select the best Projector for meeting room in UAE or projector for conference room in UAE.
Just give us a call and we can guide you through the buying decision.
Consulting
Schedule a meeting with our experts.
Demonstration
Experience the product from an expert
Quotation
Professional price quote every time
Indoor Projectors
There's never been a bigger need for creating your own home cinema, and the core to any set-up is the best projector that you can buy. While a 65in TV is great for watching films, with picture sizes routinely north of 100in, the best projectors are in a different league. Throw in whisper-quiet operation, a decent AV amp and surround speaker package and you've got yourself a bonafide home movie night.
Like watching your favorite films in a dark room on a massive screen. For that authentic movie theater experience, you'll need a projector (and a popcorn maker).
It's a fantastic time to be considering this classic viewing tech. You used to have to shell out tens of thousands of dollars to get an excellent projected experience, but you can now get a massive, beautiful picture for less than the cost of a flagship TV. Projector in UAE are also much more portable and easier to set up than they were before. There are excellent pocket-sized and short-throw models that make presentations and lawn-side movie nights as easy as finding an extension cord and a level chair to set them on. Below you'll find our favorite models in all shapes and sizes, and a couple of our favorite screens to pair with them.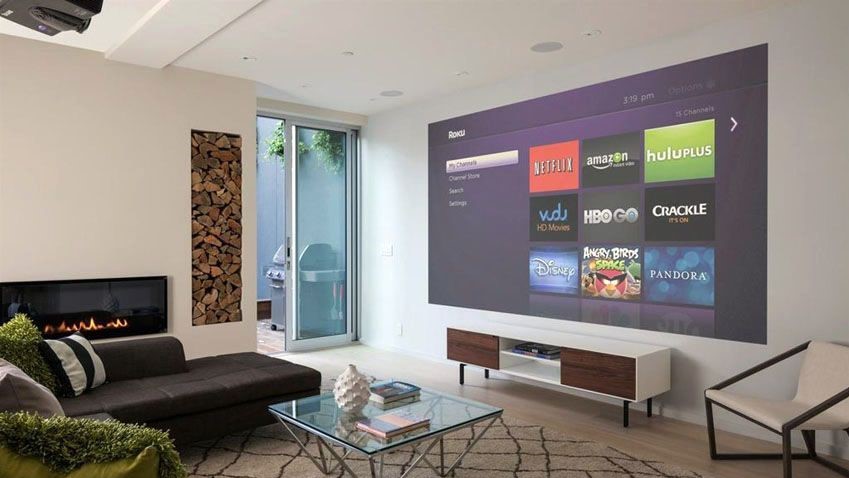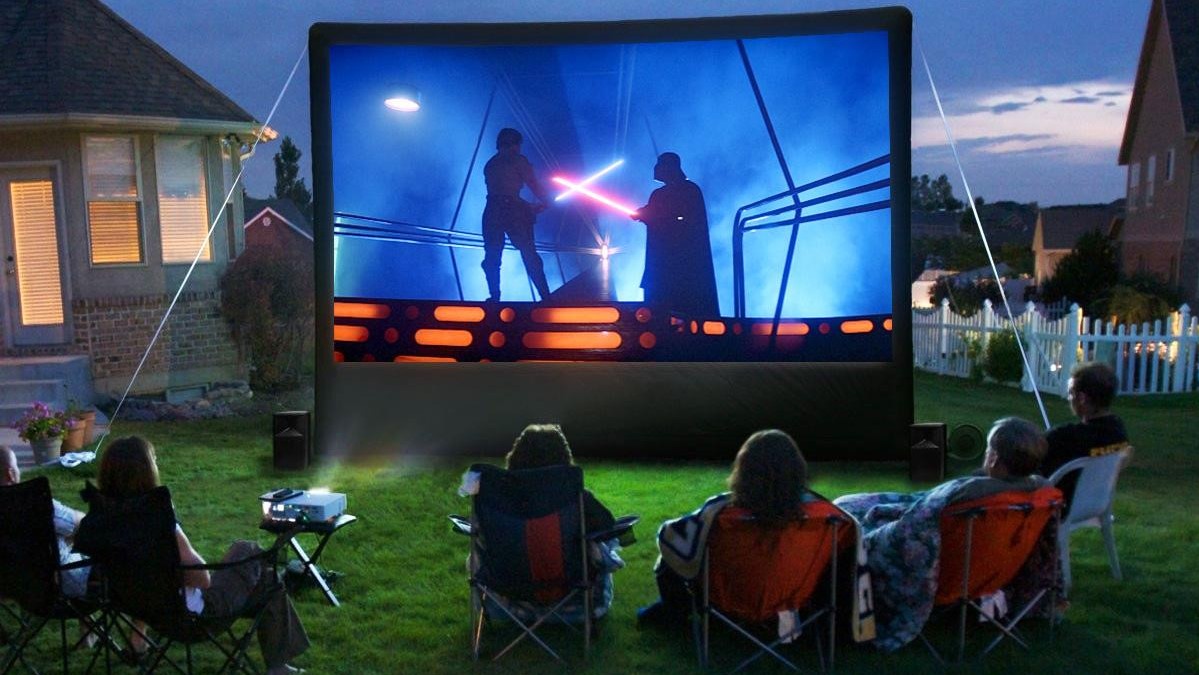 Outdoor Projectors
Are you throwing an old-school movie night in the great outdoors? If you are, then you need the best outdoor projectors to elevate the entire experience. Outdoor projectors are an investment that pays off for years and years. You can use them in parks and yards when you are watching a big game or having a movie night
They are also perfect for camping trips or tailgating trips.
Compact Size – Their small size advantage allows for easy storage when not in use and maintains a subtle presence in your entertainment space.
Portability – You can bring the projector to your friend's house or even do some outdoor screening on a warm summer evening, they are lightweight.
Eye Comfort – When it comes to eye comfort, outdoor projectors offers two-folds of advantages having larger screen sizes displays bigger letters and easy to read, also boast a light effect that makes comfortable to look at big-screen.
Ultra-Short Throw  Projector for classrooms
Classrooms have changed over the last decade with the advent of new technologies and tools to make teaching and learning better for students and educators.
Zero Space Constraints – You don't need a big classroom or a lot of free ceiling space to create a big picture when you've got an ultra short-throw projector in UAE! Teachers can think outside the box to turn every corner into the perfect place for educational use.
Zero Shadow Disruptions – An ultra short-throw projector can be placed close to the screen in front of the class and well out of students' way, greatly decreasing the occurrences of shadow disruptions. Teachers can enjoy teaching without worrying about the class being interrupted.
Zero Eye-Blinding Lights – An An ultra short-throw projector in UAE keeps the projector light from shining directly into everyone's eyes. The intensity of the projector beam may be potentially harmful. So it is best to keep it out of the way.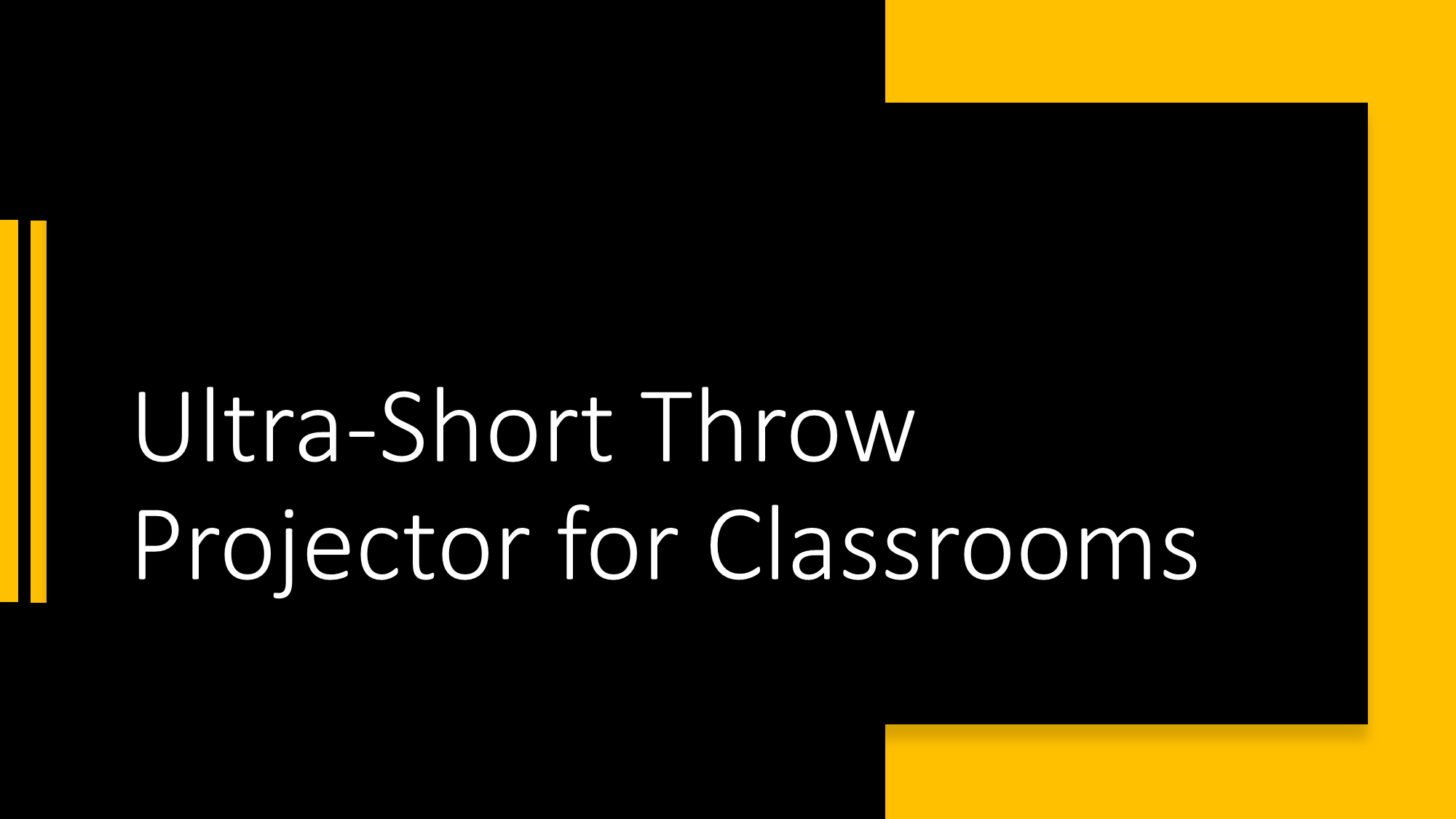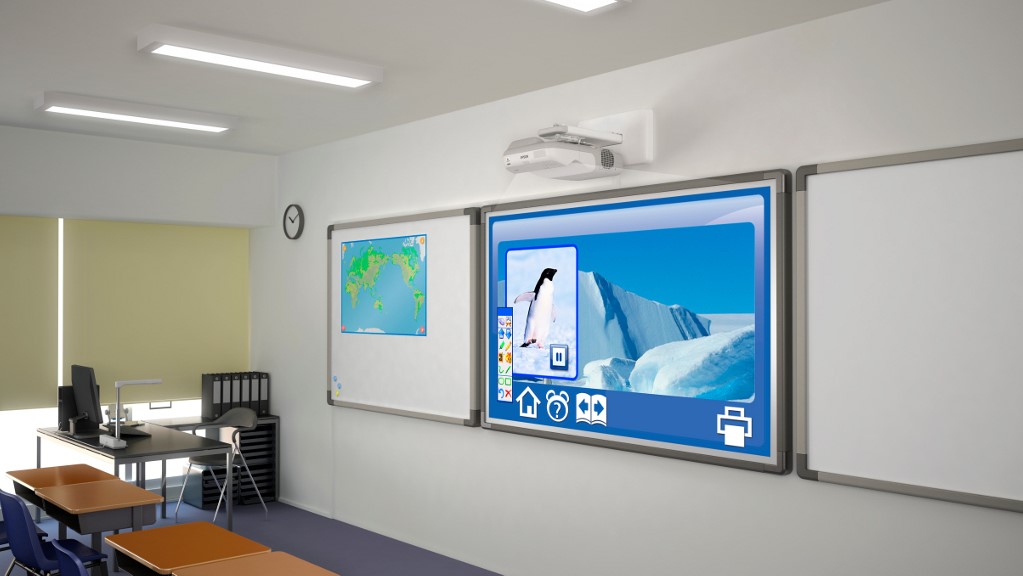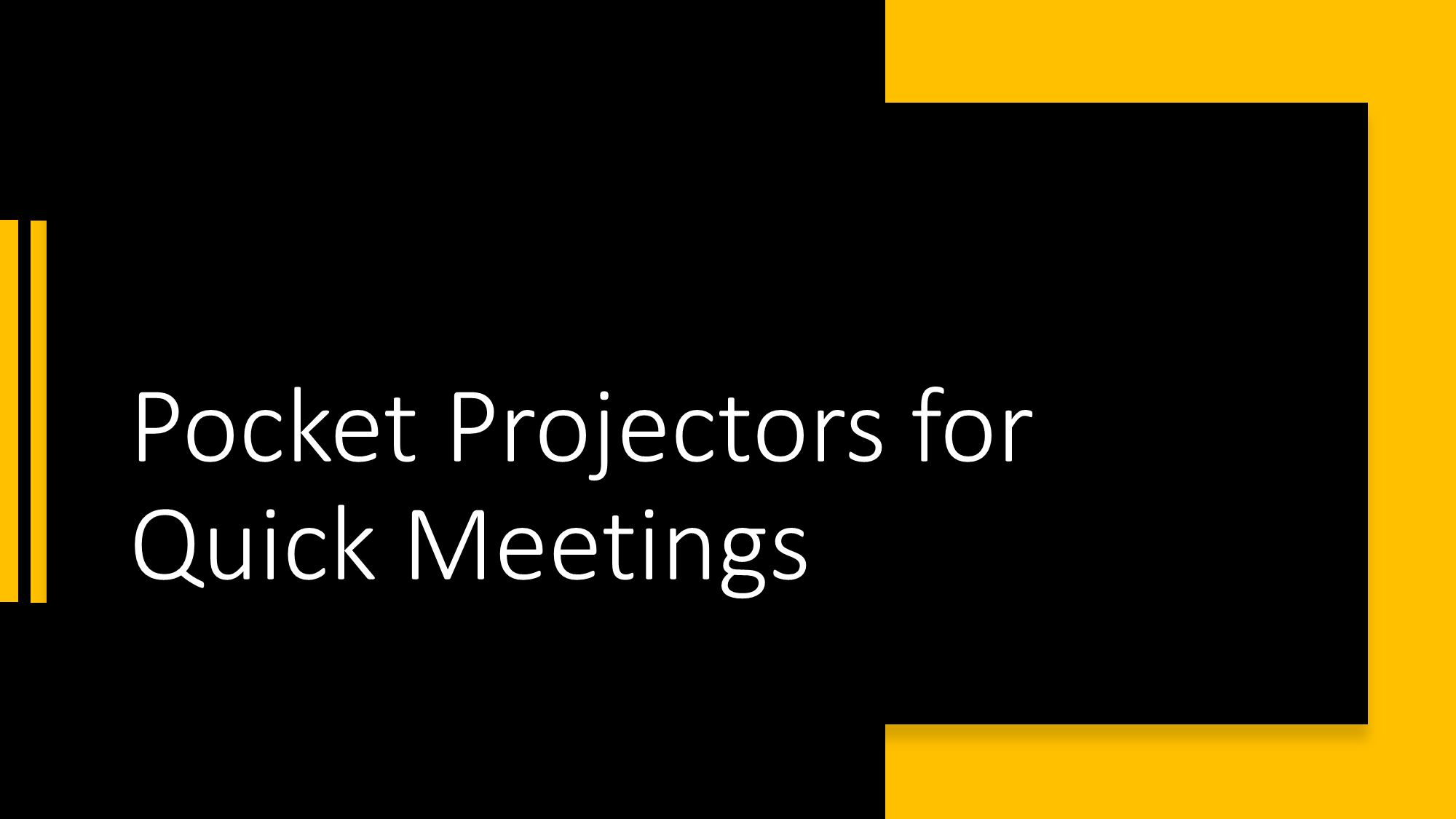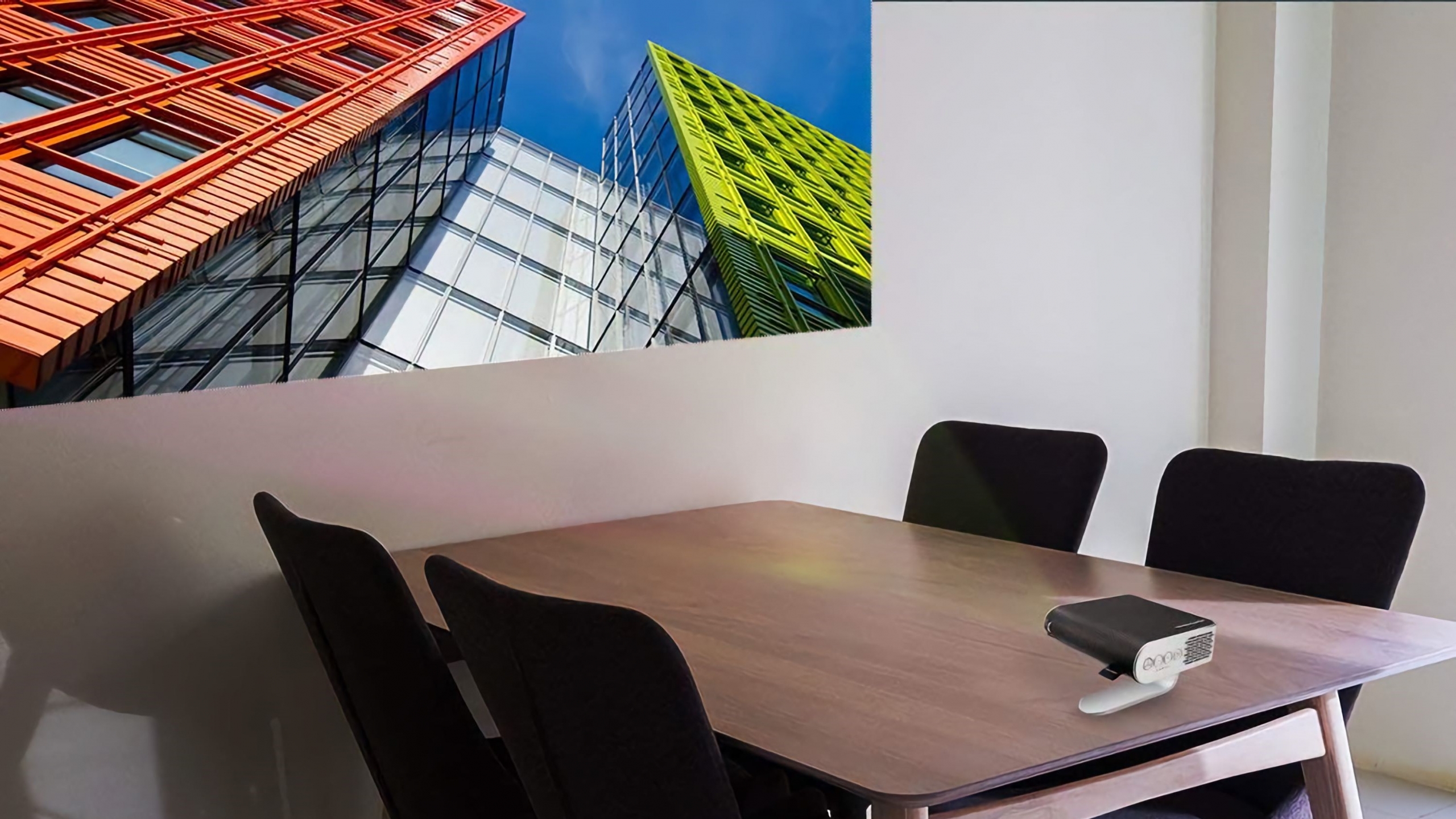 Pocket Projectors for Quick Meetings
Projectors have evolved drastically over the period of time. The models that we today can handle a wide variety of multimedia content, such as power point, movies, photos documents and even games. And along with all other devices becoming portable, projectors also have become a lot more compact and portable. The basics of every portable projectors, includes battery life, laser or LED light source, the combiner optics and a scanning mirror
It comes with a USB port through which movies, pictures and even documents can be conveniently projected on one go from the USB drive. In addition to this, it has some additional features like bluetooth streaming and the contrast ratio of this handheld projector surpasses all other mid-range portable projector in UAE.
Perfect for in-office presentations or to take on business trips, projector supports 1080p HD resolution and uses DLP (digital light processing) technology for sharper pictures, so your video clips and photos always look their best. The brightness making your slideshows and video clips easy to see.
Large Venue Projectors
If you're in need of a powerful projector that can cope with even the most demanding environments, wide range of large venue projectors are capable of making an impact in even the grandest of conference venues, auditoriums, museums, houses of worship, regardless of light levels.
Projectors in UAE are generally over 7000 Lumens, have interchangeable lenses, and more options for the professional installation. These projectors are designed for meeting spaces that seat 100 or more. Keep your audience engaged, even in high ambient light.
Projector in UAE guarantees reliable projection from any angle. Dynamic installation options such as 360° rotation and portrait applications, allows projection onto ceiling, walls, floors or angled signage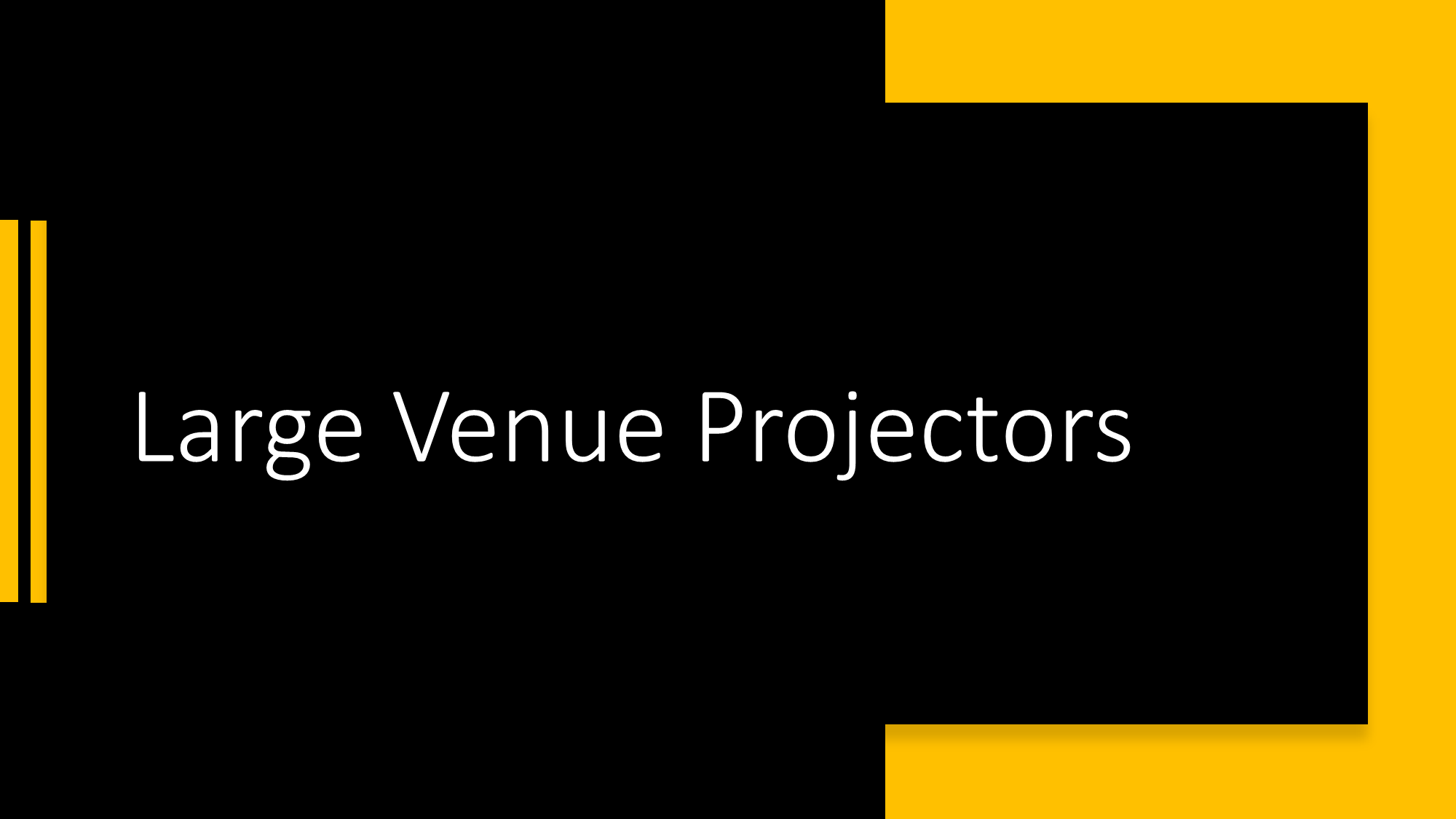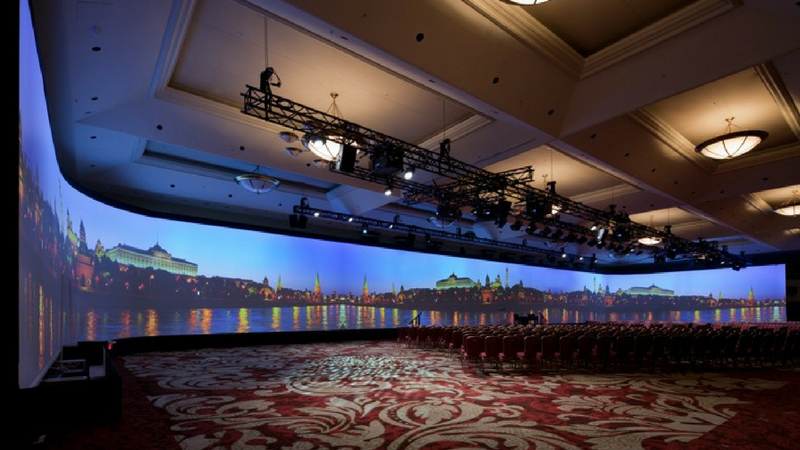 Special Offers, Tips & Tricks alongwith latest News & Developments in the Projector industry.
We'd love To Meet You In Person Or Via The Web!
Main Office:
Phone:
WhatsApp:
Email: