Affordable, software-based collaboration solution for mini spaces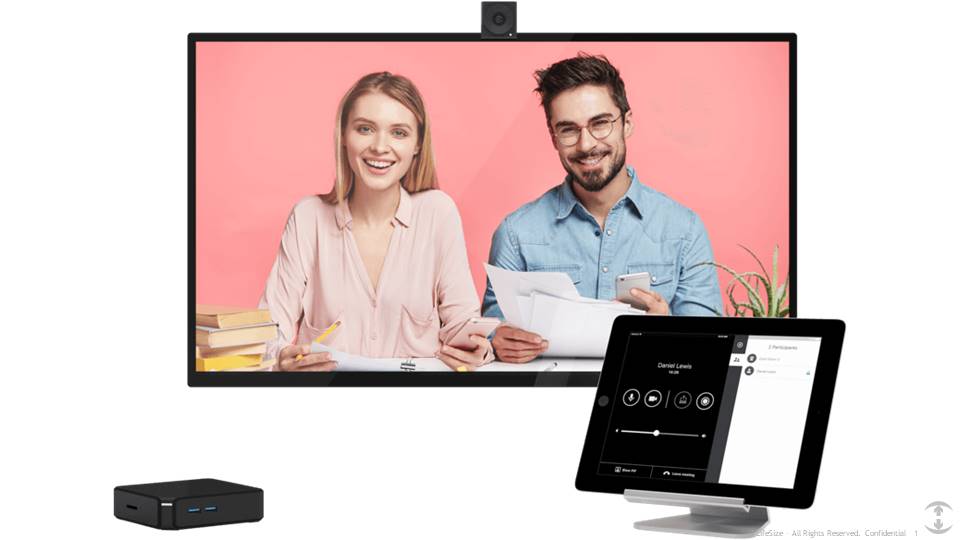 Lifesize Dash Overview
Huddle rooms and mini rooms are perfect for when it's just one or two people in the meeting room. Learn how you can create modern, easy-to-use mini meeting rooms with Lifesize Dash.
LifeSize Dash in UAE – Overview
Start simply, scale effortlessly.
Lifesize Dash™ helps you transform your small, underutilized phone rooms into video-connected, collaboration hotspots so you can deploy modern, cost-effective workspaces in your smallest meeting rooms.
This software-based video collaboration solution uses WebRTC technology to enable video, audio and wireless screen sharing on inexpensive Chromebox devices. Lifesize Dash seamlessly integrates with third-party USB camera and audio devices, giving you the flexibility to use the hardware you want while still getting access to the best-in-class user experience, reliability and centralized management of the Lifesize service.
Lifesize Room Controller
The Lifesize Room Controller is a tablet application designed to bring touch controls to your mini meeting rooms. Search your company directory, join a meeting, wirelessly share your screen and access in-call controls like mute, add participants and call recording all with the touch of a finger.
Configure Your Lifesize Dash Room
We recommend building Lifesize Dash in UAE with the following tested and supported hardware essentials. Supported Dash room hardware can be purchased off the shelf or through our extensive global partner network.
Chromebox
Low-cost processing hardware optimized to run the Lifesize Dash Chrome App
Supported devices:
Asus Chromebox 3
Tablet
Touchscreen interface for the Lifesize Room Controller App
Supported devices:
Acer Iconia One 10
Apple iPad 5th generation
Apple iPad 6th generation
Apple iPad Air, Air 2
Apple iPad Mini 2, Mini 3, Mini 4
Samsung Galaxy Tab A
Webcam
Choose from a variety of recommended third-party cameras
Supported devices:
AVer cam340
Huddly Go
Huddly IQ
Konftel Cam20
Logitech BRIO
Logitech c930e
Speaker/Mic
Add additional speakers and microphones to your Dash Room
Supported devices:
AVer cam340 (built into camera)
Huddly IQ (built into camera)
Konftel Ego (speakerphone)
Logitech BRIO (built into camera)
Logitech c930e (built into camera)
MXL AC-404 (microphone)
Yamaha YVC-200 (speakerphone)
LifeSize Dash – Part Numbers
3000-0000-1153    Lifesize Dash Room License – 1 yr
3000-0000-1154    Lifesize Dash Room License – 2 yr
3000-0000-1155    Lifesize Dash Room License – 3 yr
3000-0000-1156    Lifesize Dash Room License – 4 yr
3000-0000-1157    Lifesize Dash Room License – 5 yr
LifeSize Dash in UAE – Features
Extraordinary Value
Low-cost option lets you stop wasting space and start video calling
Perfect for Mini Spaces
Device flexibility comfortably fits your needs in mini spaces
Easy to Use
Intuitive design built with the user in mind
Centrally Managed
Set up, track and manage all in one place
Tablet-Controlled
All the essential controls are right at your fingertips
Same Lifesize Experience
Different room size, same meeting experience
Wireless Sharing
Eliminate the clutter of cords and dongles
Automatic Updates
No software updates to maintain or manually update
At OfficePlus LLC we provide our customers Onsite AMS (Assurance Maintenance Services) & AMC (Annual Maintenance Contracts) packages for our customers in Dubai, Abu Dhabi, Sharjah and other emirates of UAE. For customers in the Gulf region we provide remote AMS and AMC packages.
OfficePlus LLC is the authorised distributor and sales partner for LifeSize in the UAE. As part of the LifeSize partner program our customers are offered the complete suite of LifeSize HD videoconferencing products including LifeSize Dash at the best price backed by warranty and support packages. Our customers in UAE are also informed of the latest product launches from LifeSize. Our Customers can also experience the latest LifeSize Dash in UAE
To buy LifeSize Dash in UAE drop in an email at LifeSize@OfficePlusUAE.com or call us on +971 2 6767019 to speak to our representative.
| Part Number | Description |
| --- | --- |
| 3000-0000-1153 | Lifesize Dash Room License – 1 yr |
| 3000-0000-1154 | Lifesize Dash Room License – 2 yr |
| 3000-0000-1155 | Lifesize Dash Room License – 3 yr |
| 3000-0000-1156 | Lifesize Dash Room License – 4 yr |
| 3000-0000-1157 | Lifesize Dash Room License – 5 yr |